A class action lawsuit was recently filed against the company BitInstant, which has been shut down while it's updating its services and website. The document, which you can read here, was filed on August 8, but only made public now and published on the bitcointalk.org forum.
The lawsuit was filed by Leandro Iacono, from Florida, Deborah Collins and Ulysses McGhee, both from Pennsylvania, at the District Court of the Southern District of New York.
The plaintiffs are accusing BitInstant of several illegalities like breach of contract, unjust enrichment and negligence. "This case arises from BitInstant's false representations about its services and the inflated fees that it failed to return as promised. This case also arises from BitInstant's violations of the Electronic Funds Transfer Act", it's possible to read on the lawsuit document.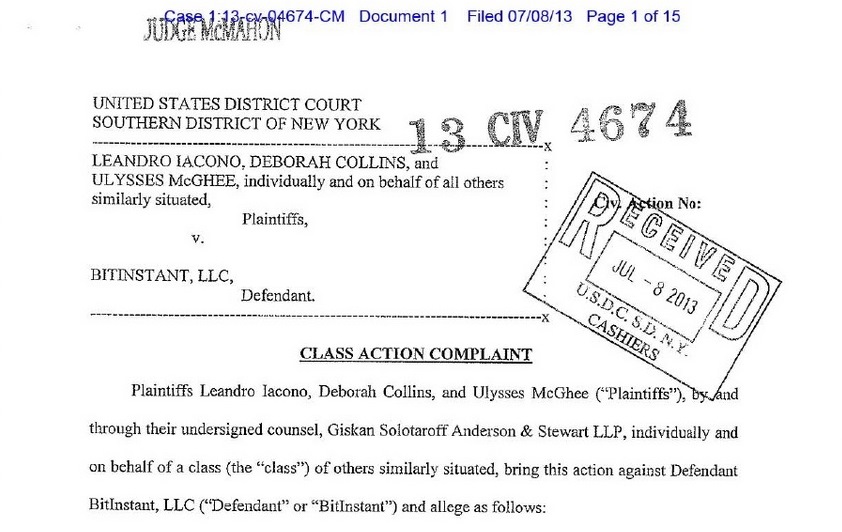 Iacono, Collins and McGhee are claiming that the company's representations are "disingenous" when it comes to its Bitcoin processing services and the time it takes to operate the transactions, as well as the promises to refund its fees to customers who "experience undue delays in the processing of their transactions".
As a form of compensation, the plaintiffs want to recover all fees collected and all profits made by the delays. They are also asking for a statutory compensation for all the damages caused. The document explains that the three complainants lost money due to BitInstant's delays: Leandro Iacono, for instance, claims to have lost $120 due to the platform's slow operations.