So you're looking for ways to make money out of Bitcoin huh?
My guess is that you probably already went through all of the "ordinary" stuff like, trading Bitcoins, trying to mine them, maybe even considering arbitraging the different exchange rates (I know I did). But I think many people overlook one of the most profitable ways you can make money out of Bitcoin today.
For those of you who don't read this blog regularly, nice to meet you. My name is Ofir and I've been running 99 Bitcoins for the past 2 years. You may be wondering how I can run a blog that doesn't show any ads and still stay profitable.
Well here's where it gets interesting:
I use affiliate marketing inside the Bitcoin industry in order to gain a constant recurring income from my blog. Affiliate marketing, for those unfamiliar with the term, is a form of marketing where I get paid for brining in paying customers to existing Bitcoin businesses.
So even if I don't own a Bitcoin business, I can still leverage the existence of other Bitcoin businesses and bring them new customers. I get paid for these new customers and that's how I make money from the Bitcoin industry.
But all this wouldn't be interesting if I didn't show you some live results would it ?
I didn't think so.
So let's take a look at the past 12 months that I've been dealing with this. The first example I'm going to give you is from TREZOR, which is a company that you probably know if you've been dealing with Bitcoin. TREZOR manufactures Bitcoin hardware wallets.
Here are my TREZOR earnings from the past 6 months:

As you can see for the past 6 months I've made almost 6 Bitcoins in total. The average Bitcoin exchange rate around this time frame was around $300. This means I've made $300/month on average from one marketing method (which I will expose soon).
$300/month isn't something to write home about
Indeed, but how about $3000/month ? Let's take a look at a different merchant I'm promoting – Plus500. Plus500 is a Bitcoin CFD trading platform. Simply put, it's a place where people go to trade Bitcoins in order to make a profit on the exchange rate. They don't get to keep the actual Bitcoins themselves (more about that here).
Here are my earnings from the past year promoting Plus500: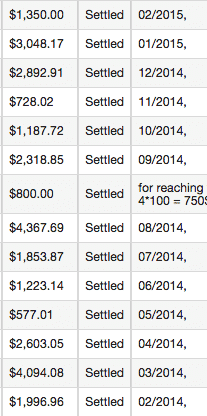 The total of these payments adds up to $29,036 – roughly $2419 a month. Add that to the $300/month from TREZOR and you can see my point – there is big money to be made inside the Bitcoin industry. Of course I have many more companies which provide additional revenue streams.
Here's a sneak peak into how I do what I do
The main idea of creating a business that will generate money from Bitcoin is pretty simple:
Find a Bitcoin problem that needs solving
Give it a solution
Monetize from the solution
As I promised before, let me show you an example of what I did with TREZOR's affiliate program. TREZOR is an awesome product (I use it myself), but most people before buying something online usually look for reviews of the product.
So the problem would be that people need TREZOR reviews, and my solution is to give my own review of TREZOR which I can then also monetize into affiliate earning.
The end result would be that this review will reach the 1st page of Google when someone looks for "TREZOR review". This way I make a passive income stream from TREZOR's affiliate program since Google brings me free traffic.
Now not to brag, but before I move on, feel free to navigate to Google and search for "TREZOR review" and tell me what do you see coming up in the first 3 results.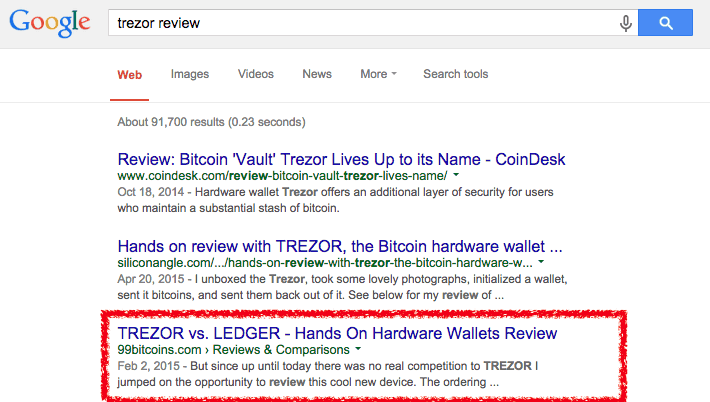 How did I get there ? well it's a long story but one practical tip I can give you is this:
People usually search for "company X vs. Company Y" – and if you write a post that describes such a comparison you can make it to the first page on Google pretty quickly.
Of course I also promote Ledger (TREZOR's competitor) on this page through an affiliate program. This way I can monetize my efforts while staying objective.
Are you telling me all of this just to brag ?
Actually I'm telling you this in order to let you know that what I do isn't really special and it can be done by anyone with some common sense and a willingness to learn. In the past 2 years that I've been working on 99Bitcoins I managed to grow it to an almost 100% automated business that generates $120K annually.
I don't have a big office, I don't have a lot of workers (actually I have no workers). I work from home and deal with something I love that generates me a steady income stream. So many people are looking for ways to make a quick buck with Bitcoin mining and trading, that they fail to look at the obvious methods that have been around for years!
Affiliate marketing has been around since 1994! It's a proven and tested model to make money from any business.
Another great example of how to promote a Bitcoin business
Coinbase offers $1 in Bitcoin for each new paying customer you bring on board. I'm not a big fan of their affiliate program as their commission is pretty low. Nevertheless I never miss an unexploited opportunity 🙂
To start off, go to Google and type in "Coinbase vs. Circle"  and see what it autocompletes. Naturally the first suggestion would be "Coinbase vs. Circle".

Now all you need to do is write a post about Coinbase vs. Circle, deploy some additional (very simple) tactics and you're on the 1st page of Google. Can you guess what website you're going to find if you search for this term in Google now ?
The "Back to the future" method of ranking on Google
This is a cool hack to get ranked on Google for extremely popular search terms before they get crowded with competition. For example, if you'd want to rank for the term "Bitcoin price prediction" it would be almost impossible since you'd be competing with established websites like Nasdad, Coindesk and Pando Daily.
But there's still a way to beat these guys:
What if you were to rank for a search term that didn't exist yet ? For example "Bitcoin price prediction 2016". I mean, no one is writing about this now since we're not in 2016 yet. But if you get a head start then when people start looking for this search term, guess what website will come up ?
I actually used this method in late 2014, and wrote this article about Bitcoin price prediction in 2015. This was a huge success and up until lately I managed to maintain my  1st page position for this term. Almost 2000 people participated in the survey that was on this page!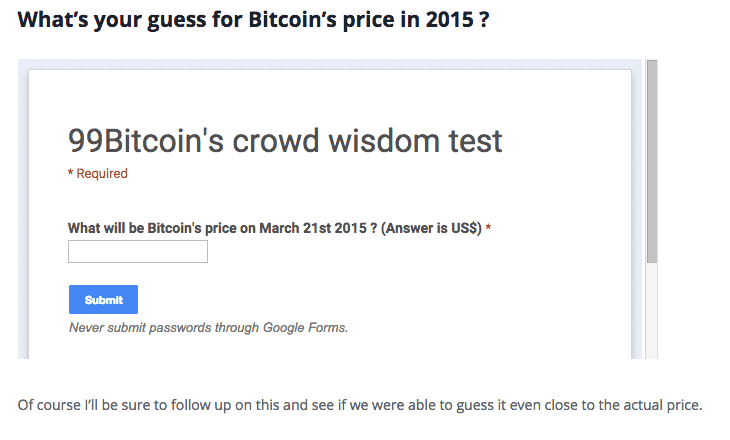 Of course once I got people to my website I could then promote various offers regarding Bitcoin trading to them, I mean I already know they are interested in Bitcoin price predictions.
So think about it for a moment, every time sensitive search term you want to rank for – you can just get a head start by writing about it before it gets searched on Google.
My new eBook is a 278 page guide on how to copy my success
Yes, this whole post is a shameless plug, you got me. But if you found the information on it useful, perhaps you'd like to check out "My Dirty Little Bitcoin Secrets". It's a video course that explains examples like the one you just read and much more.
I won't go on about it since all of the details are on the product page but if you're serious about making money with Bitcoin this would probably be the best way to start.
BTW – The total amount of money I spent on creating 99Bitcoins from my own pocket was only $80. That's the most money I've ever needed to risk in order to generate my success in the Bitcoin industry. If you have any questions about the book or what I've just explained feel free to ask them in the comment section below.