Are you interested in becoming a Bitcoin user? Do you know that you can earn Bitcoins online for free? Yes, that's right, there are websites that pay for some "services" in cryptocurrency. All you need to do is start by creating your own wallet in order to be able to receive your new digital coins.
It's important to be informed, so take a look at Bitcoin's official page, where you will have help establishing your Bitcoin wallet and creating your Bitcoin address. They can also explain to you how to buy Bitcoins with cash, if you want to. But, today, we are going to show you some virtual places where you can get virtual coins for free.
1. BitVisitor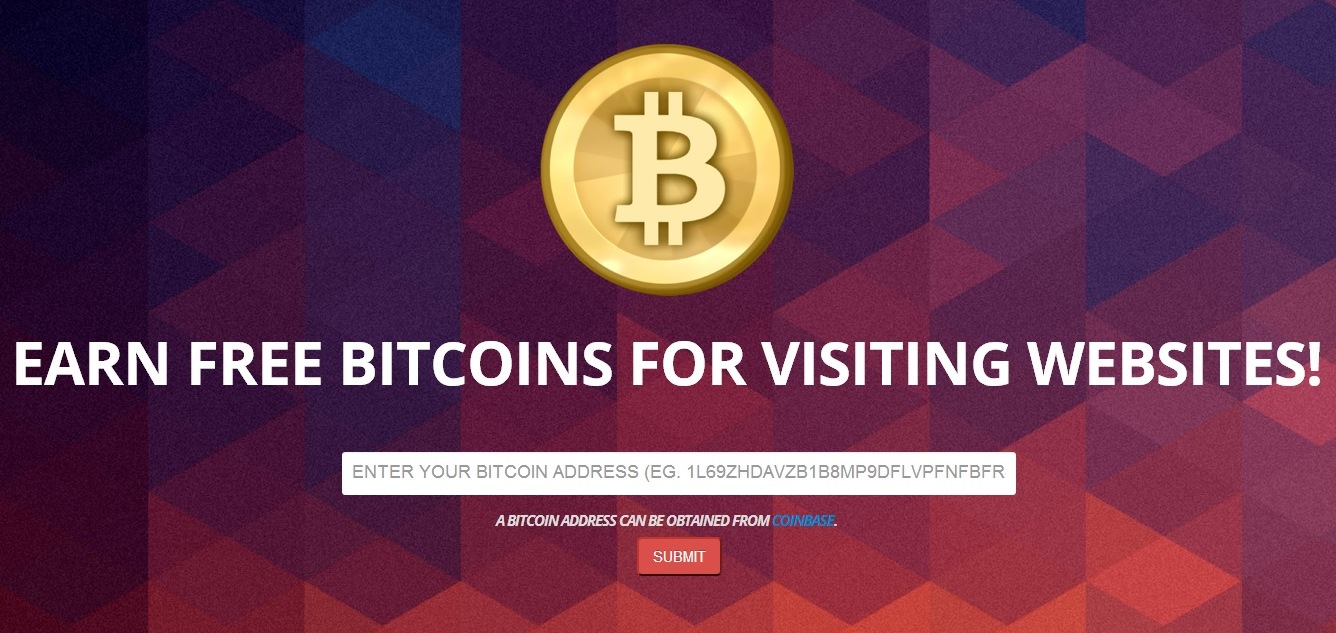 This website is probably one of the most famous places to get free Bitcoins. All you have to do is browse through different sites for a minimum of five minutes. Just enter your Bitcoin address and begin browsing sites to get paid.
2. Daily Bitcoins
Daily Bitcoins gives you free Bitcoins one time per day for visiting its website. The point is to check their ads and increase their number revenues. If you click on the ads, you get even more Bitcoins. They also have a referral program, that you can use to maximize your free earnings.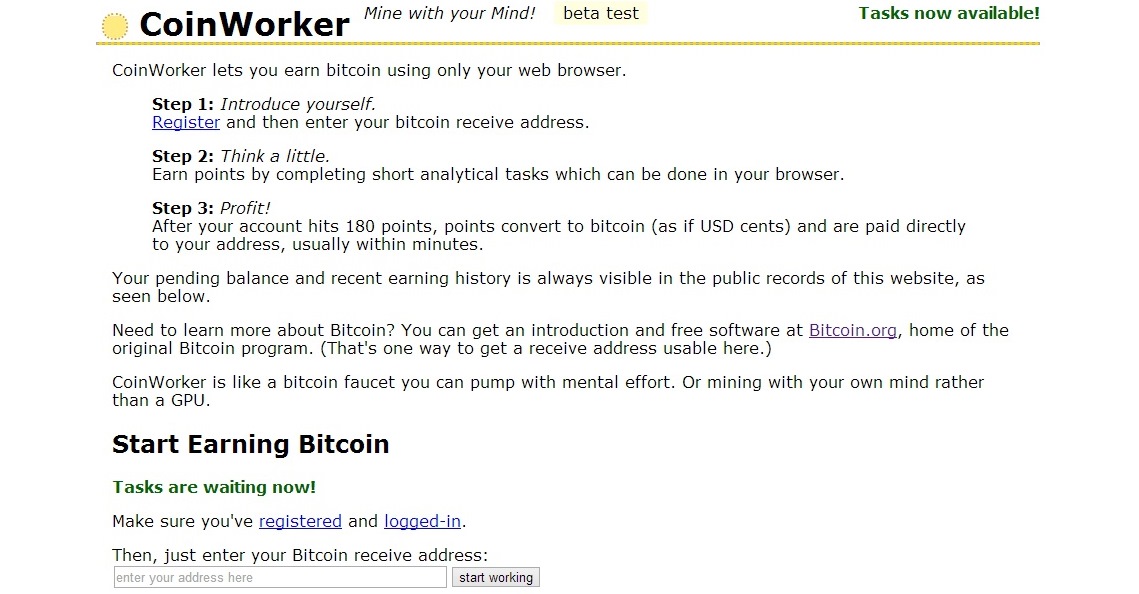 This website pays for doing simple tasks like surveys, search things and submitting reports. You create points with your work and once you have two hundred points, they turn into Bitcoins and are delivered to your address. Just be aware because reaching the necessary points to get cryptocurrency might take a while.
4. CoinURL
This website pays you Bitcoins if you shorten your URLs through their service. When you post the reduced address, people visiting your link will get ads and you are getting paid for it.
5. Paperco.in faucet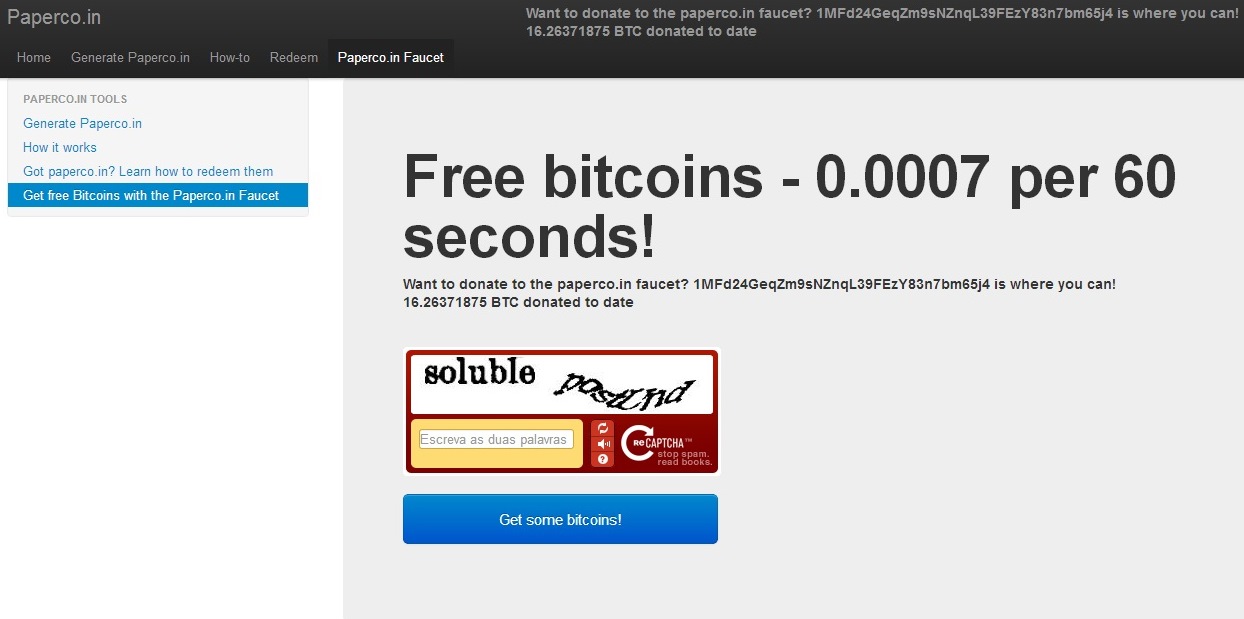 This website additionally offers you free bitcoins for simply visiting their site. It offers coins each one minute.
6. Coin Slot
This website provides you with free Bitcoins for finishing its ads.
7. Free Digital Money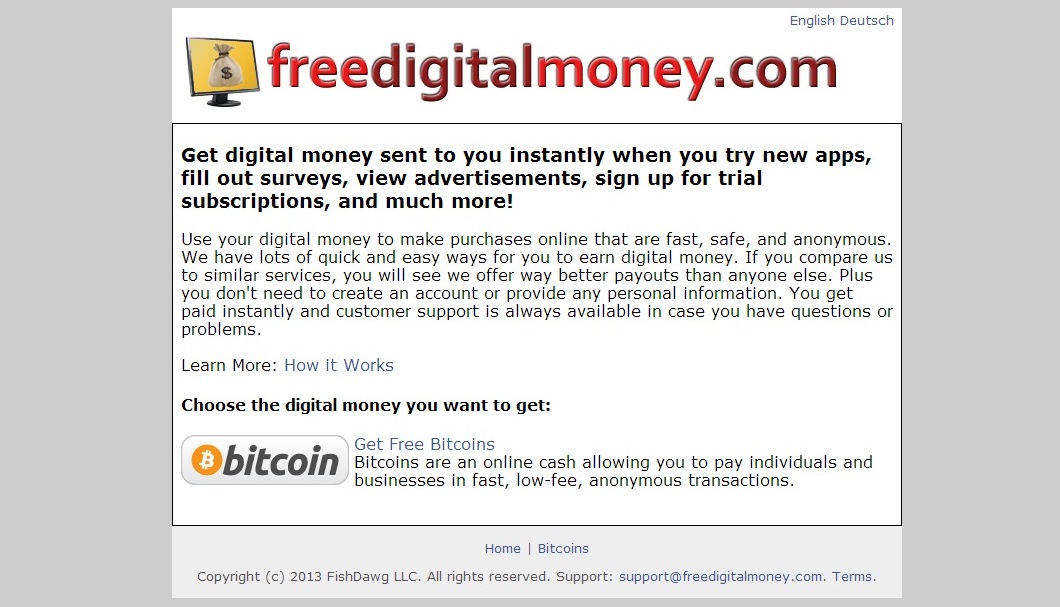 Get free coins for finishing offers, like surveys, on Free Digital Money.
8. TagPad
This website gives you 0.0001 BTC for each public marker you create. Every 24 hours, you can receive Bitcoins for every bookmark submitted during the previous day.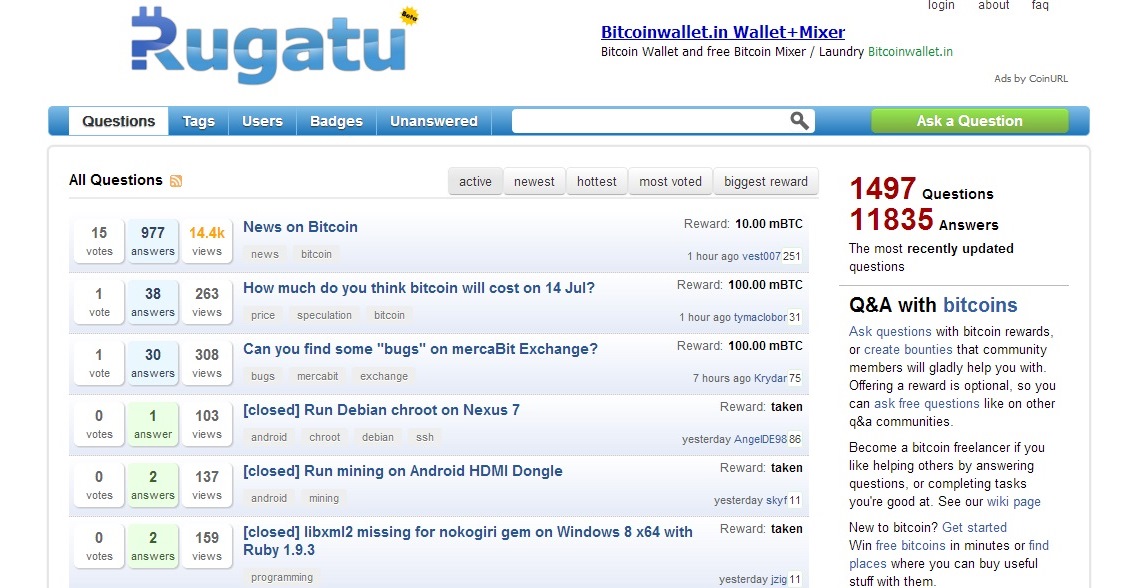 This website is like a question and answer forum, where you are rewarded with Bitcoins after responding to their queries.
10. CoinTube
This website pays you Bitcoins for seeing their sponsored videos.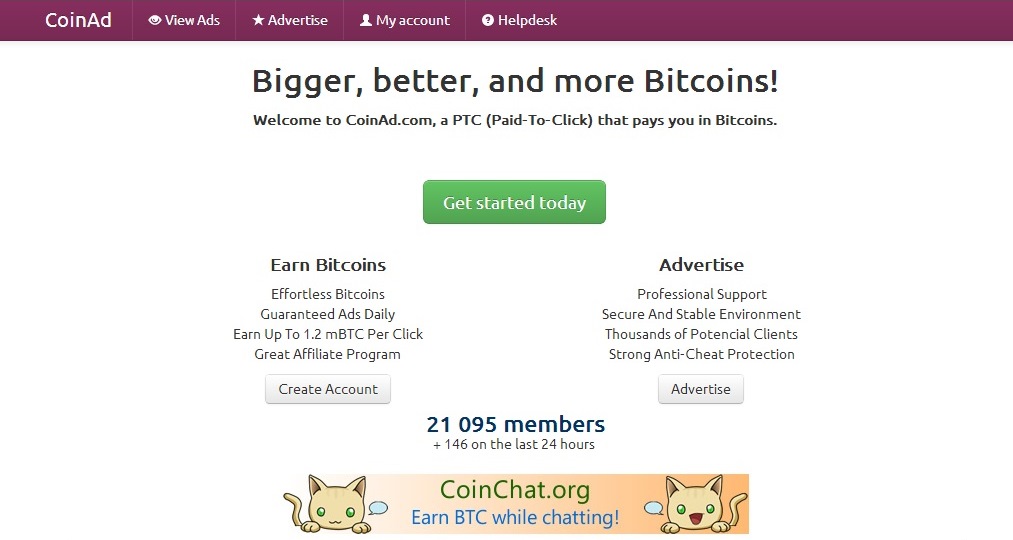 This website gives you 0.0005 BTC one time per day for simply visiting their website.
12. Free bitcoins by Netlookup.se
This Netlookup.se offers you free Bitcoins also for visiting their site.
13. Skude.se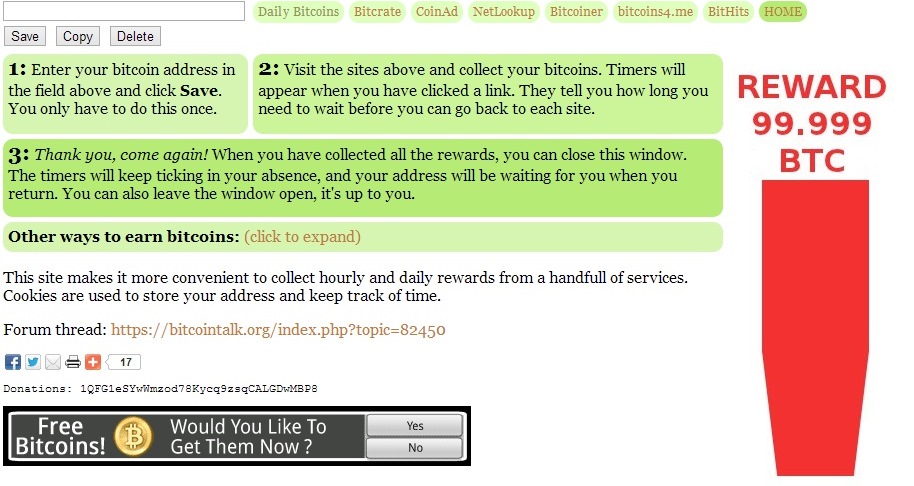 This website provides you free Bitcoins for visiting and browsing sponsored websites.
14. Bitcoin Addict
Earn 0.0001 BTC for simply visiting this website or get lucky and win a jackpot up to 0.01 BTC.
15. BTC4Free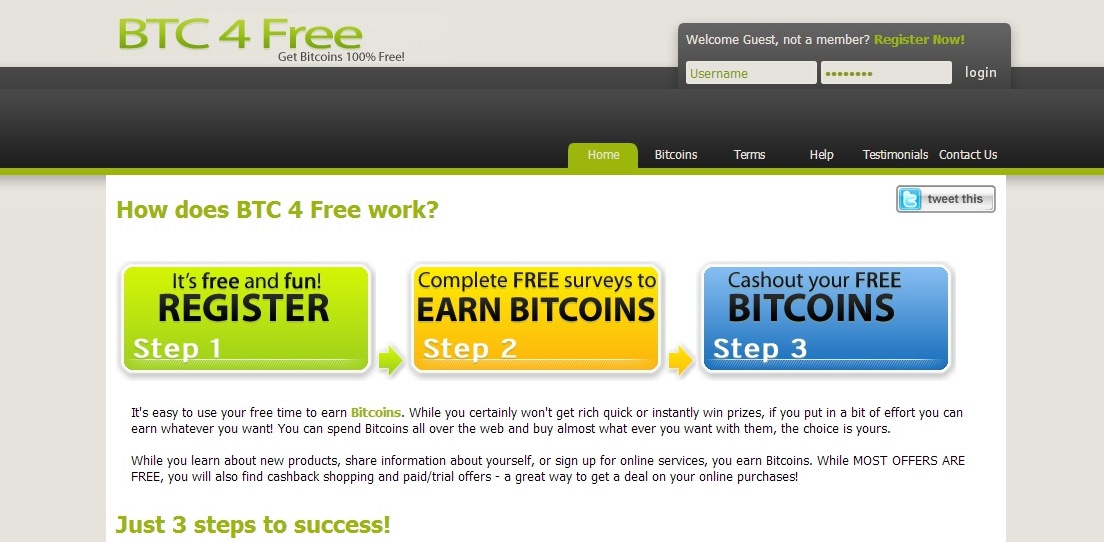 This website pays you Bitcoins for finishing advertisers' surveys.
16. iWantFreeBitcoins
Finish offers and surveys and get free Bitcoins.
17. BitCrate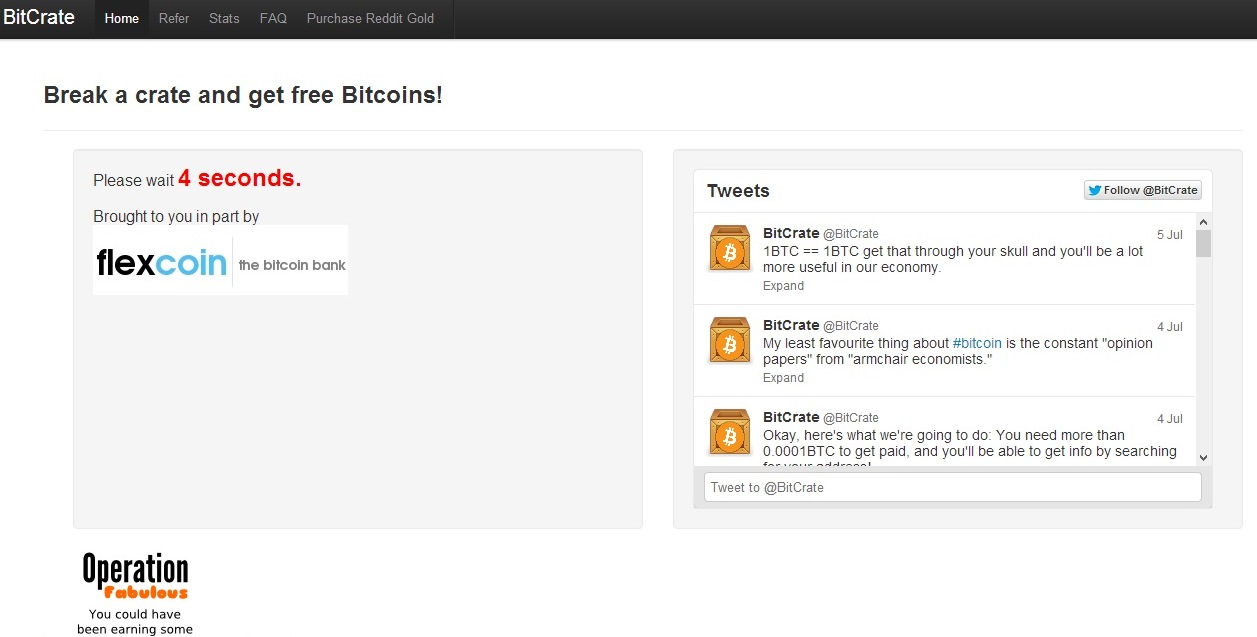 This website pays you free Bitcoins just for visiting their webpage and breaking a crate.
18. Bitcoin4you
Get free Bitcoins for visiting different websites suggested by Bitcoin4you.