Ngrave ZERO Review
By: Alex Miguel | Last updated: 9/26/23
The NGRAVE ZERO is the flagship hardware wallet by NGRAVE, and is claimed to be the only financial product in the world to receive EAL7 security certification.
In this review, I'll be going over my personal experience with the NGRAVE ZERO, the setup process, its features and more.
NGRAVE ZERO Review Summary
The NGRAVE ZERO is a security-focused hardware wallet, which is 100% air-gapped with its very own private key creation process.
The device supports thousands of different assets, including Ethereum-based tokens such as ERC-20 tokens and NFTs. In this Combo pack, it also comes with a GRAPHENE unit – an indestructible steel system for securely backing-up your private key.
That's the NGRAVE ZERO in a nutshell. If you want a detailed review of my experience with the NGRAVE ZERO, keep on reading. Here's what I'll cover:
---
1. Company Overview
NGRAVE is a Belgium-based company, which was founded in mid-2018 by three relatively young crypto-natives.
The company is a leading provider of digital asset security solutions, offering highly secure options tailored for blockchain and cryptocurrency applications. Its NGRAVE ZERO wallet is the only financial product in the world to achieve the top-level security certification, EAL7.
NGRAVE has raised at least $6.5 million across 5 different funding rounds, including a significant $6 million seed round in 2021, led by the Dubai-based Woodstock Fund.
Most recently, NGRAVE raised an undisclosed sum in Series A funding from Binance Labs in late 2022.
---
2. What's in the box?
In the NGRAVE Combo Pack, you'll receive an NGRAVE ZERO electronic hardware wallet, a USB to USB-C charging cable, and a get-started guide.
You will also get a GRAPHENE backup set – a heavy-duty metal sheet, cover, and hole-punch tool for securely storing your seed phrase.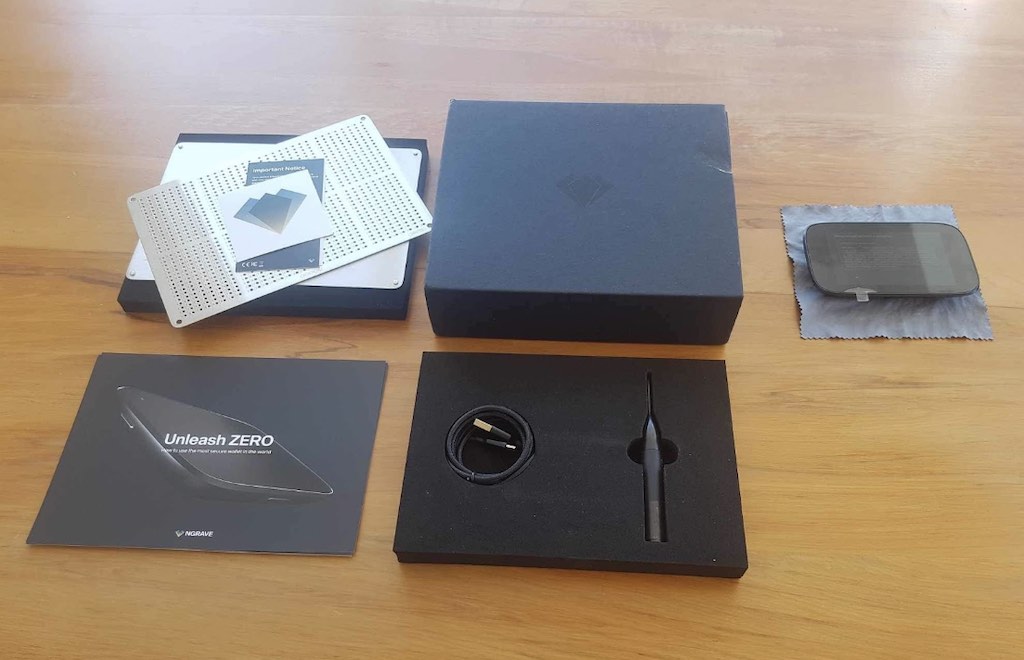 The NGRAVE ZERO is a mobile phone-sized device, complete with a 4-inch touch screen and fingerprint scanner. It also does away with any form of wireless (and even wired) connectivity, ensuring that it is completely air-gapped for security.
---
3. NGARVE ZERO Supported Coins
The NGRAVE ZERO offers support for thousands of different coins and tokens, including:
Bitcoin (BTC)
Bitcoin Cash (BCH)
Ethereum (ETH)
Dash (DSH)
Zcash (ZEC)
Litecoin (LTC)
Binance Coin (BNB)
XRP (XRP)
Dogecoin (DOGE)
Tezos (XTZ)
MultiversX (EGLD, previously called Elrond)
Groestlcoin (GRS)
Solana (SOL)
Stellar (XLM)
Polygon (MATIC)
Avalanche (AVAX, X-chain)
The device also offers support for all tokens on the Ethereum network (including ERC20 tokens and NFTs), as well as the MultiversX network (ESDT tokens).
---
4. How Do I Setup My NGRAVE ZERO
Step 1: Power on and verify device
First, power up the NGRAVE ZERO. You may need to charge the device first, using the power cable provided.
Once powered-on, choose your language then verify the authenticity of the device. This is done by visiting the website provided by the device, and scanning the verification QR code using your NGRAVE ZERO.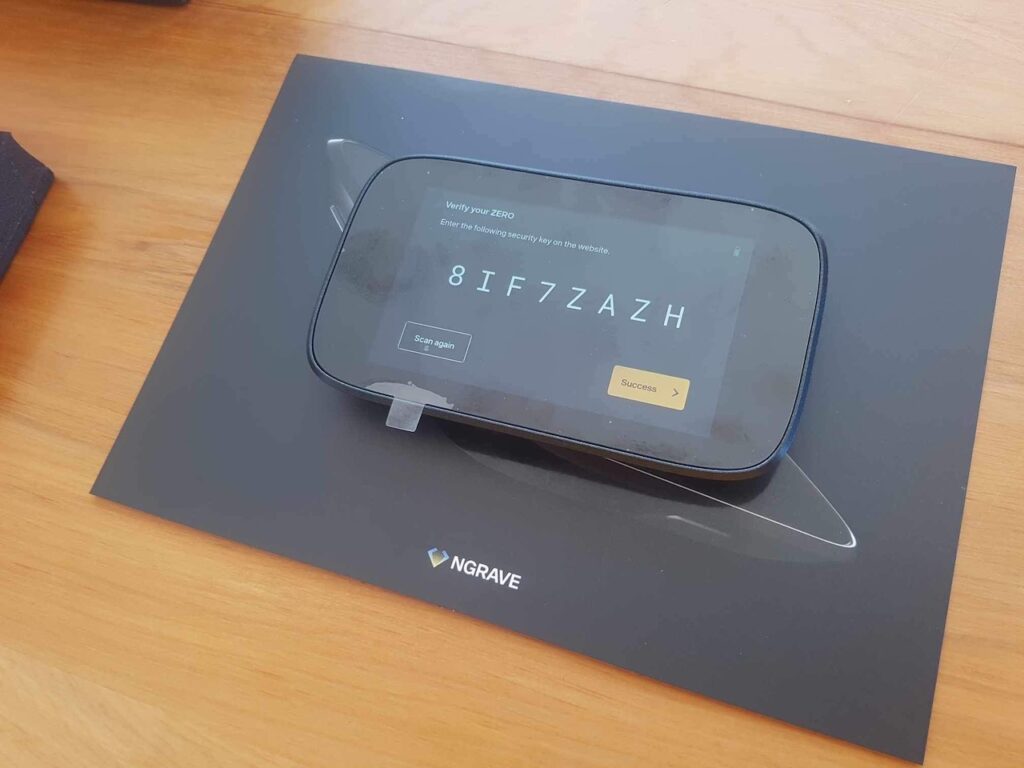 Step 2: Set up pin & create new wallet
Choose and confirm an 8-digit pin number, which will be used to unlock your device when you use it.
Select "Create new wallet" to start a new wallet from scratch, and choose "NGRAVE wallet" for NGRAVE's ultra-secure option.
If you'd rather stick to a traditional mnemonic wallet (with a standard 24-word seed phrase), you will also be provided the option to do so.
Step 3: Generate & back-up your private key using GRAPHENE
Follow the steps on the device to generate your wallet's unique private key.
You will be asked to scan your fingerprint, as well as randomize any components of your private key that you wish, using a "shuffle" function.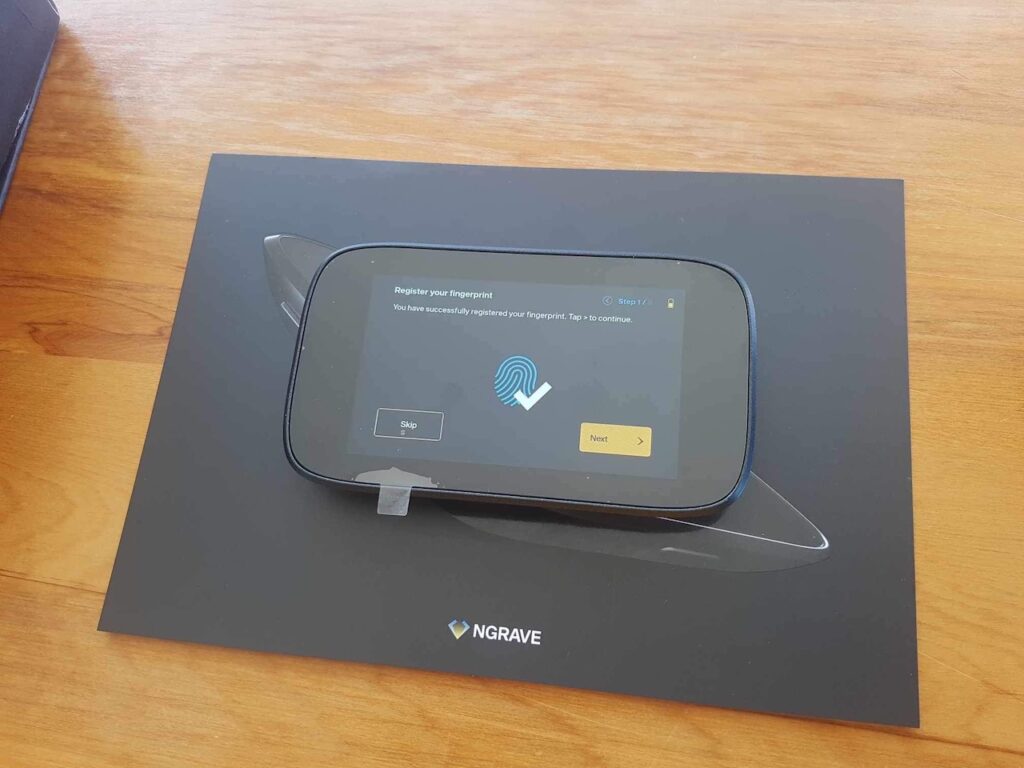 When you are satisfied with the randomness of your unique phrase, it's time to back it up! You can now write down your unique phrase, and/or enter it into your GRAPHENE unit, using the hole punch tool provided.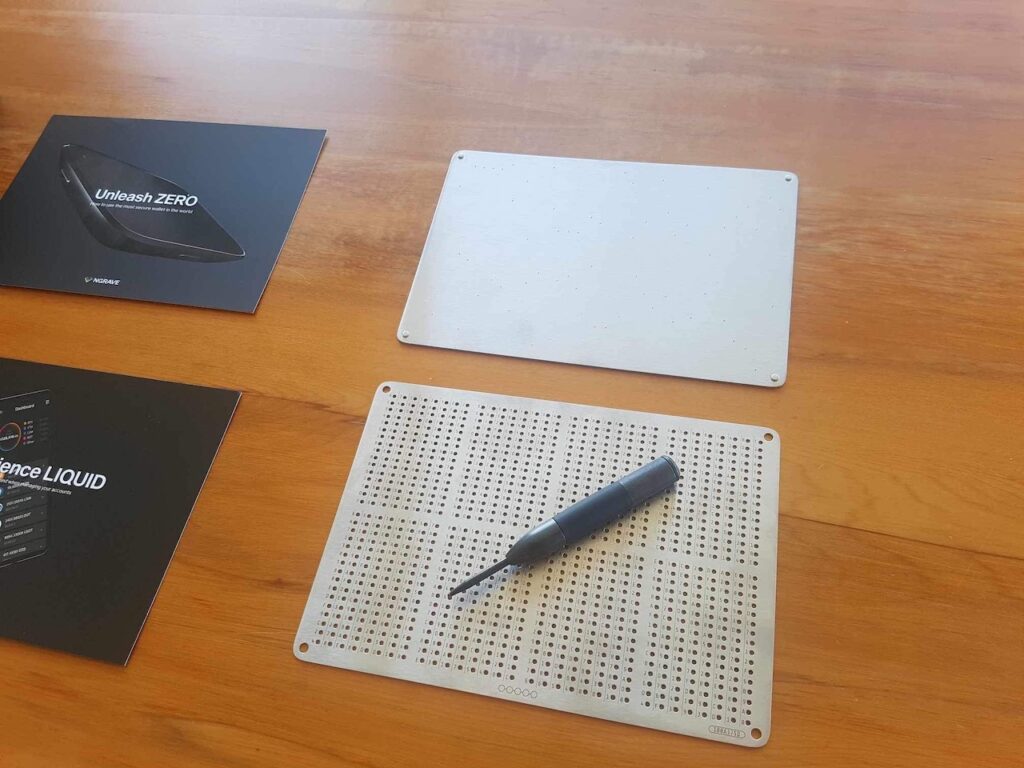 Step 4: Download LIQUID app & sync wallet
Once your private key is backed up, it's time to download the LIQUID companion app for managing your funds.
Scan the public key on your NGRAVE ZERO using your mobile phone camera to sync it, and voila! You're ready to start adding and managing  your assets.
---
5. Personal Usage Experience
Overall, the NGRAVE ZERO device felt solid, high-quality, and easy to use. The touch screen was highly responsive, and the experience felt very similar to using a mobile phone.
The custom NGRAVE private key generation process was a little lengthy compared to other products, however this was somewhat expected – after all, those who opt for the NGRAVE ZERO are likely to be seeking extra security, above convenience.
One thing to note was that the fingerprint scanner was a little difficult to use. I had to try changing several things for it to finally successfully read mine.
Moving onto the GRAPHENE private key backup plate, it was nice and intuitive, although you have to take care to make sure you punch the holes into the right places! Once you punch a hole, you can't undo it.
Also worth noting was that the hole punch tool itself stopped working part-way through the process. I needed to realign the spring inside it to finish backing up my private key. Not devastating, but a minor disruption nonetheless.
---
6. How Much Does the NGRAVE ZERO Cost?
The NGRAVE ZERO is definitely at the higher-end of the typical hardware wallet price range, with the standalone unit priced at USD$398.
A "Combo" pack is also available, which throws in the GRAPHENE backup system at a total of USD$498.
---
7. Conclusion – Is the NGRAVE ZERO Worth It?
The NGRAVE ZERO wallet is a great alternative to other high-end hardware wallets, for those who would prefer a more secure, air-gapped solution.
The wallet may be the only of its kind, with absolutely zero external connectivity and EAL7 security certification. It has a high-quality feel in the hand, is built with quality materials, and is a very highly responsive device overall.
If you're looking for an easy-to-operate hardware wallet with some of the highest-level security, the NGRAVE ZERO might be the right device for you. However, if you're after a quick and efficient solution, another similarly-priced device might be what you need.