iCoin Wallet Review
By: Alex Miguel | Last updated: 7/10/23
The iCoin wallet is a touch-screen hardware wallet which can be purchased with the iCoin printer, a device allowing the easy creation of paper wallets. In this review, I'll cover my personal experience with the iCoin wallet and printer, their setup process, features, and more.
iCoin Wallet Review Summary
The iCoin wallet is a comprehensive hardware wallet that uses a touch screen interface and optional printer addition to very easily store crypto seed phrases and private keys.
The wallet is amazing and somewhat over-the-top, and so its price, so it may be best-suited toward people who value convenience or producing many different cold wallet addresses.
That's the iCoin wallet in a nutshell. If you want a detailed review of my experience with the iCoin wallet, keep on reading. Here's what I'll cover:
---
1. What is a Hardware Wallet?
A hardware wallet is a form of cryptocurrency wallet that allows individuals to keep their coins in "cold storage." Essentially, this implies that crypto is kept offline and separate from other devices, preventing direct internet connectivity.
This approach helps to ensure that crypto private keys are kept secure in the long term because offline storage is much more challenging to breach than online storage.
---
2. Company Overview
iCoin Technology was founded in 2017 In Silicon Valley, aiming to introduce a new breed of hardware wallets tailored to the digital economy. The company wanted to merge consumer-friendly convenience with robust air-gap security.
In January 2017, the firm obtained non-equity support from EvoNexus, and in March 2022, it secured undisclosed funding from Spark Growth Ventures in a financing round.
---
3. What's in the box?
The iCoin Wallet comes in a sleek box that feels almost Apple-like in its design – it almost feels like unboxing a miniature phone.
Inside the box, you'll find one iCoin Wallet device, a USB to USB-C charging cable and wall charging block. It also includes a case, tempered glass screen protector, user manual and a card to write down your seed phrase.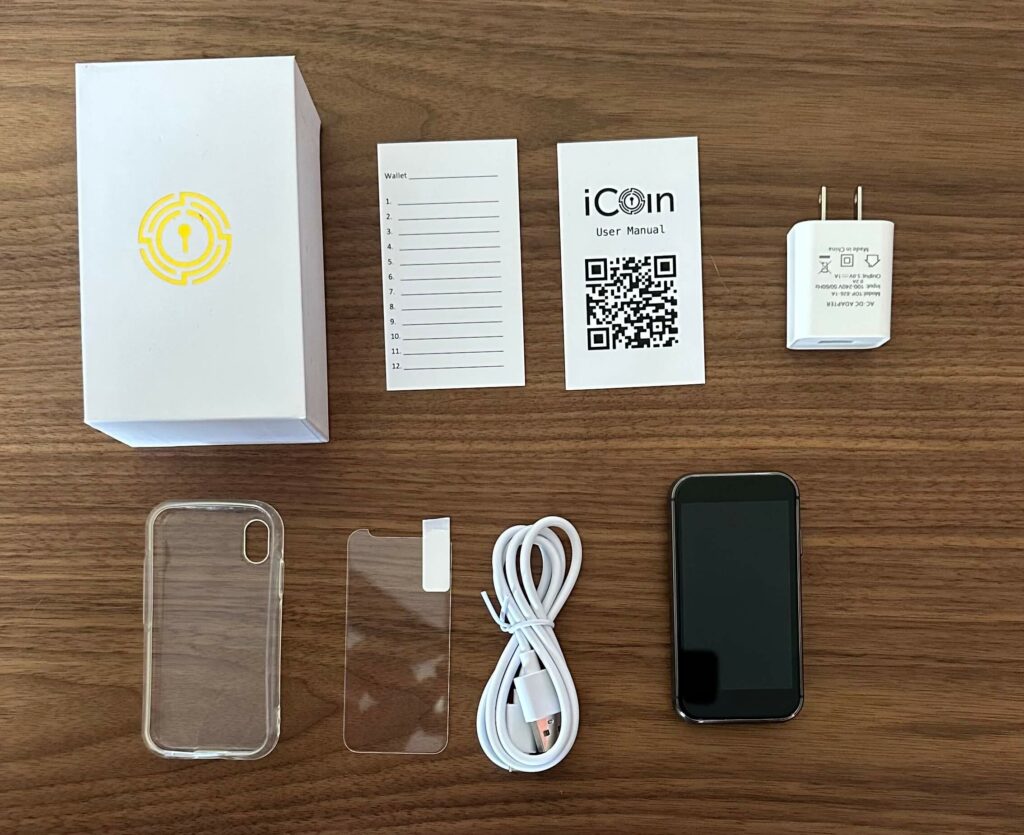 The iCoin Wallet can be bought as a standalone product, however it also comes in a bundle package with the iCoin printer.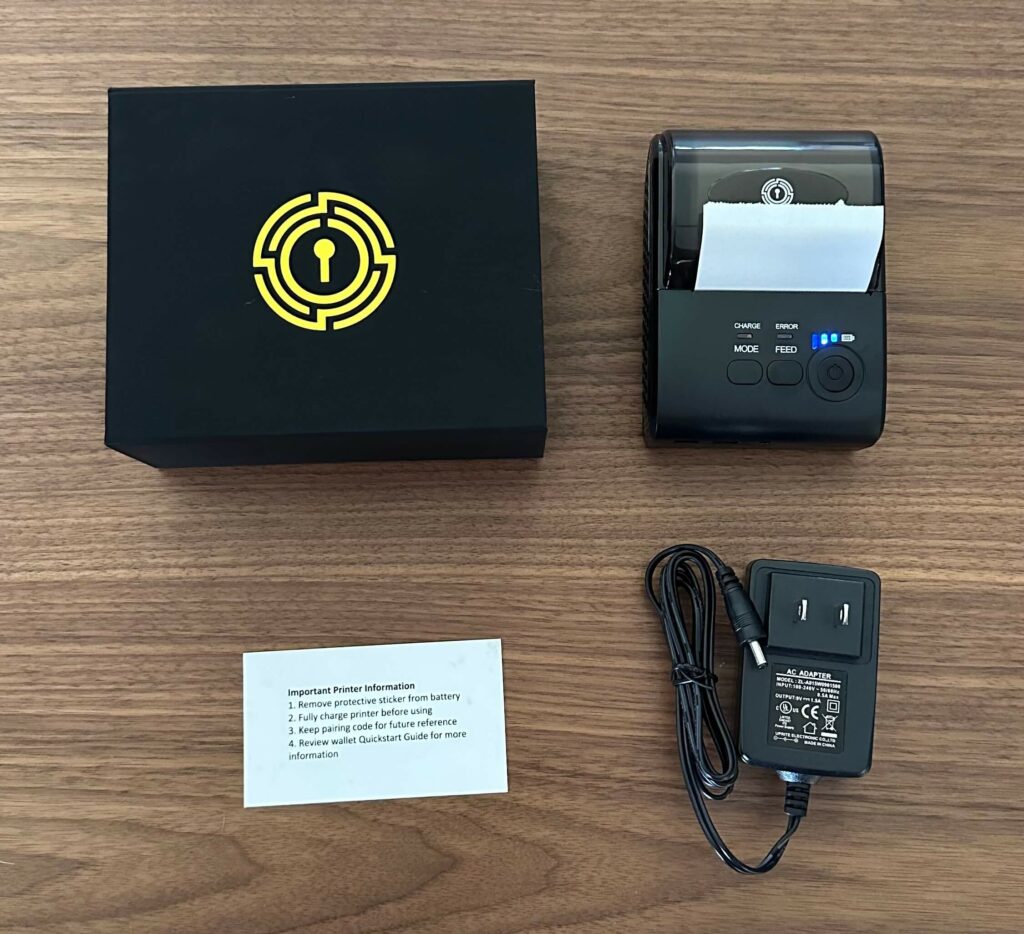 If you opt for the wallet & printer bundle, the printer box contains one iCoin printer loaded with paper, a wall charger and an instruction card. The printer is very small, and is essentially a receipt printer, similar to those you see in physical stores.
---
4. iCoin Wallet Supported Coins
The iCoin wallet is designed for storing Bitcoin and Ether, however it also has native support for Ethereum tokens such as ERC-20 tokens and NFTs. This enables the wallet to store thousands of assets.
Bitcoin (BTC)
Ethereum (ETH)
Tether (USDT)
USD Coin (USDC)
Lido Staked Ether (STETH)
Polygon (MATIC)
Dai (DAI)
Wrapped Bitcoin (WBTC)
Chainlink (LINK)
Keep in mind that this does not include coins and tokens from other popular blockchains. Coins such as Litecoin, Dogecoin, Solana, Cardano and Polkadot are NOT supported by the iCoin wallet.
---
5. How Do I Setup My iCoin Wallet?
Step 1: Turn on iCoin wallet & set up a pin
Turn on the iCoin wallet device by holding down the side button. Follow the instructions on the screen to set up a pin number.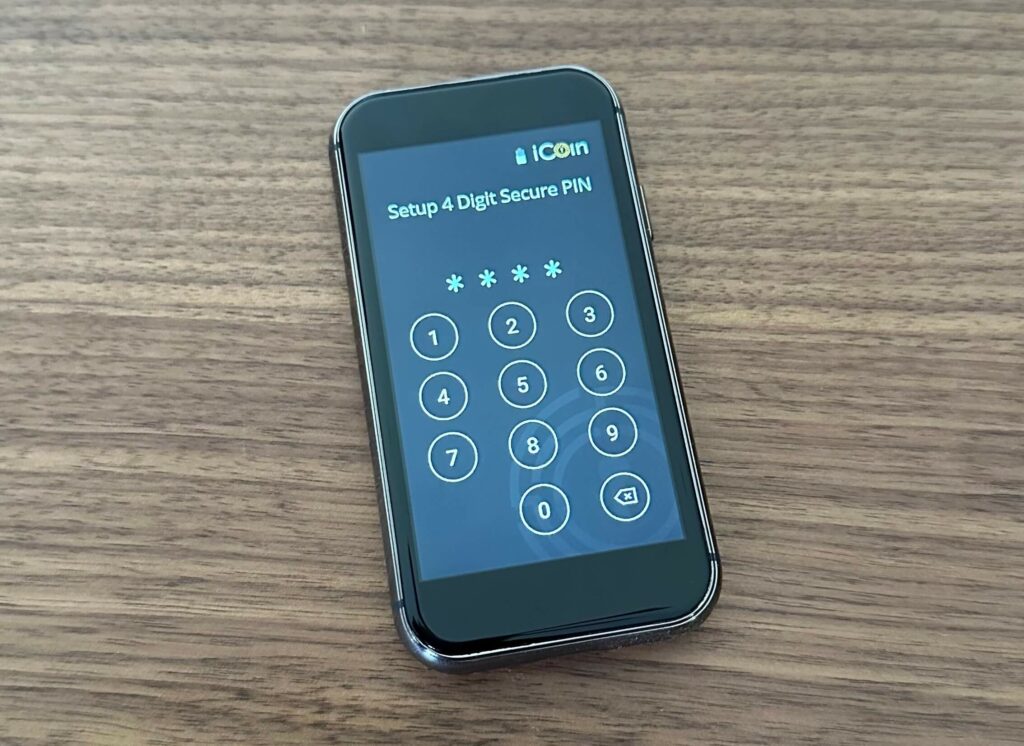 Once you have selected and confirmed your pin, select "Create new wallet."
Step 2: Record & verify your seed phrase
The iCoin wallet will then provide you with a 24-word seed phrase. This is your "secret password" that you will be able to use to restore your wallet in the case you lose your iCoin wallet.
Manually write it down on the seed phrase card provided. If you purchased the iCoin printer, you can connect to the printer and print off your seed phrase instead.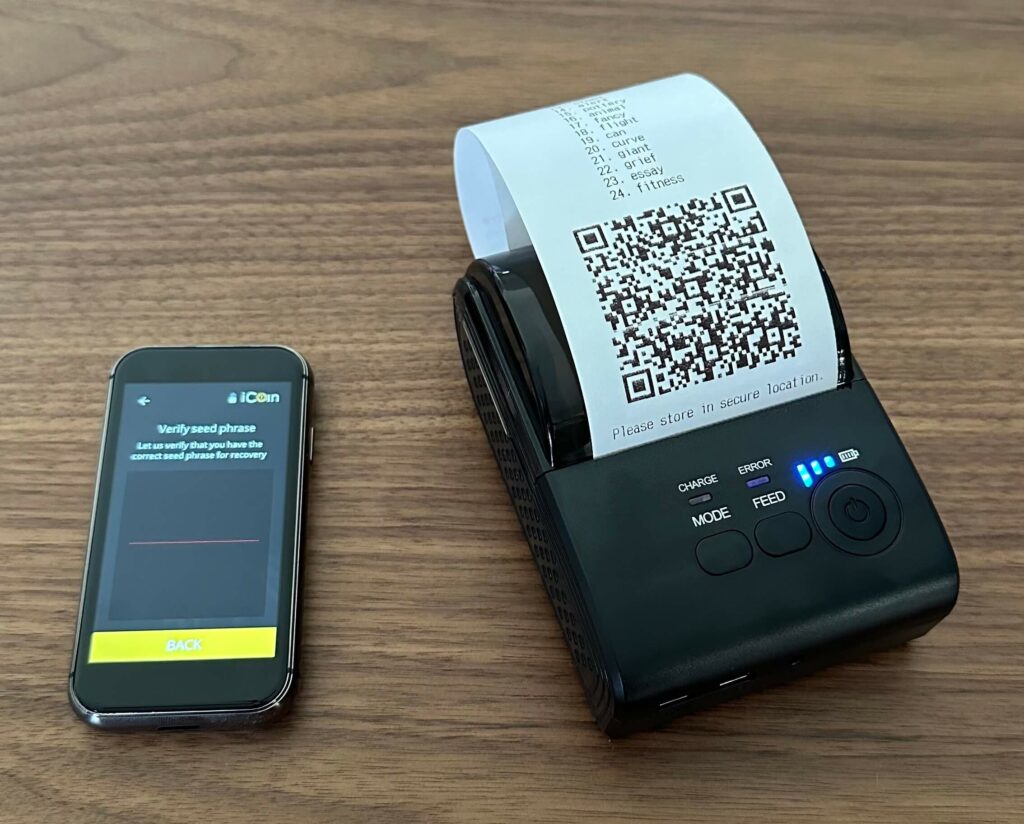 Verify the seed phrase by scanning the QR code that was printed, or manually confirm the seed phrase via the iCoin wallet interface.
Store the copy of your seed phrase in a secure place, and make sure you keep it a secret – anyone who has this seed phrase will be able to gain access to your assets!
Step 3: Create a wallet account
Now, all you need to do is generate a wallet account so that you have an address to send funds to. On the iCoin wallet, select Bitcoin or Ethereum, and press the yellow "+" button next to "Accounts". Name the account and click "Confirm".
Now, you have a public key to send your coins to! To transfer funds to your wallet, simply enter the public key provided, or scan the QR code using an existing wallet.
Step 4: Download the iCoin mobile app & sync accounts
To view, manage and send funds from your iCoin wallet, download the iCoin wallet app on your mobile phone and sync your accounts.
Don't worry, your funds stay completely offline – transactions are signed in isolation on the iCoin wallet device itself, keeping your private keys and seed phrase safe!
---
6. Personal Usage Experience
The iCoin wallet may have been the most intricate hardware wallet I've used yet – but it was surprisingly simple compared to how I thought it may be.
The device itself looks like a miniature iPhone, and feels very high quality. The touch screen was very responsive and worked fantastically, which was a relief since touch screens can often be hit or miss.
Overall, the Wallet, printer and app worked very smoothly together, and the process was fun, effective and simple.
The device and printer do feel a little overkill after using some other very simple hardware wallet alternatives, however it is really handy to print 24-word seed phrases rather than manually writing down every single word – If you create a lot of separate cold storage accounts, this could be really handy for streamlining the process. In addition, you can also scan the printed QR code to restore a wallet using the device's camera, rather than typing in the whole seed phrase! Super handy.
One last useful feature is the ability to print receipts of your transactions, if you wish to keep track of your remittances.
---
7. How Much Does the iCoin Wallet Cost?
The iCoin Wallet as a standalone device costs $199, which is a very similar price to the Trezor Model T – the touch screen edition of the very well-known Trezor wallet.
If you want the printer too, the wallet-printer bundle will cost you a total of $249.
This is definitely a much higher price than more basic hardware wallet alternatives, however the touch screen is definitely much nicer to use than the physical buttons and miniature screen on standard devices.
---
8. Conclusion – Is the iCoin wallet Worth It?
The iCoin wallet and printer are an amazing couple of devices, but definitely on the higher end of the price scale for hardware wallets.
That being said, the iCoin wallet's build quality is excellent, and definitely up to par with expectations for the price tag. The printer also adds extra ease to an already-smooth user experience.
In my opinion, the iCoin wallet is great but only necessary if you plan to produce a large number of different cold storage accounts. Either that, or you value a more premium experience and setup process enough to justify the extra money.
Keep in mind you can only store Bitcoin, Ether, and Ethereum-related tokens on this device – perhaps an underwhelming range of supported assets for a premium device.