Coin Fire is now able to report that multiple federal investigations are underway regarding Crypsty.
The online exchange is under several investigations with multiple agencies including the Securities and Exchange Commission, the Internal Revenue Service, and the Criminal Investigation Division of the Internal Revenue Service, among others.
Documents from various investigations obtained by Coin Fire show a litany of purported wrongdoing by the company and several team members. The large number of allegations levied against the company varies from agency to agency in more than 300 pages of documents. In some instances, the investigation alleges that the company failed to obtain appropriate licenses. In one particular instance, a connection is made between a Cryptsy team member and GAW Miners' fraudulent operations. Other government agencies report a failure to report gains appropriately, market manipulation, the sale of unlicensed securities, money laundering, and more.
The document cache obtained by Coin Fire contains materials ranging from the Securities and Exchange Commission to the Department of Homeland Security. The earliest records in the cache against Crypsty contain minor investigations of wrong-doing and are dated prior to the larger investigation of Mr. Homero Joshua Garza and Mr. Carlos Garza; however, the information discovered during the GAW Miners investigation caused lead investigators from multiple organizations to begin scrutinizing Crypsty and its parent company, Project Investors, more closely. The investigation against Cryptsy intensified after a "PayCoin controller" was exchanged to the company and the two investigations began to run concurrently.
In one document, FinCen began to examine allegedly illegal transactions where money was being moved to accounts connected to suspected terrorists, but the investigation had since stalled. This document was set aside and ignored for several months until recent information indicated potential transactions with suspected terrorists. Later documents referenced this earlier FinCen document, with the most recent alleging that both Project Investors and Cryptsy were aware of an account on their platform being used by an individual with ties to banking watch lists and restrictions.
The documents also explore other allegations. In one report, an organization alleges that the company utilized automated trading software on a platform that directly benefitted Crypsty staff members. The report also alleges that a key Cryptsy staff member performed fraudulent transactions related to the movement of PayCoin by Mr. Garza.
Another document shows one organization beginning a probe of PayCoin's blockchain history. This document alleges that Cryptsy was being used by Mr. Garza to disguise money movement for both him and his associates. Furthermore, the report claims that the company was aware of this movement and not merely complicit; this allegation is echoed by material within the document indicating that (1) staff member engaged in these fraudulent transactions and transfers, and directly engaged in market manipulation.
A wide variety of federal agencies have taken an interest in cryptocurrency companies over the last year, with many preparing for administrative actions and even criminal charges in early 2016. These agencies have been seen cooperating on several levels. One agent with the Securities and Exchange Commission told Coin Fire that they were,
Looking at the worst offenders in cryptocurrency and would be closing in further on our unofficial "top ten" list of which Cryptsy and Project Investors will find itself to be in the Top 5.

Additional draft documents allege that the fraudulent transactions and direct market manipulation have been ongoing for an extended period of time. One agency stated to prosecutors that "[we have] undeniable proof of direct market manipulation by the company." This draft document to prosecutors references an attachment containing information as to how that conclusion was obtained, but was not made available to Coin Fire at this time.
Other claims from FinCen center on the issue of failing to obtain licenses on a state-by-state basis. Although state governments are tasked with the enforcement of state-level licenses, FinCen clearly outlines Crypsty's failure to obtain said licenses. This failure was used as additional evidence that the company has engaged willfully in violations of the law. An internal memorandum amongst FinCen staff later included this information and recommended that the company's "licensing issues" should be discussed with various states.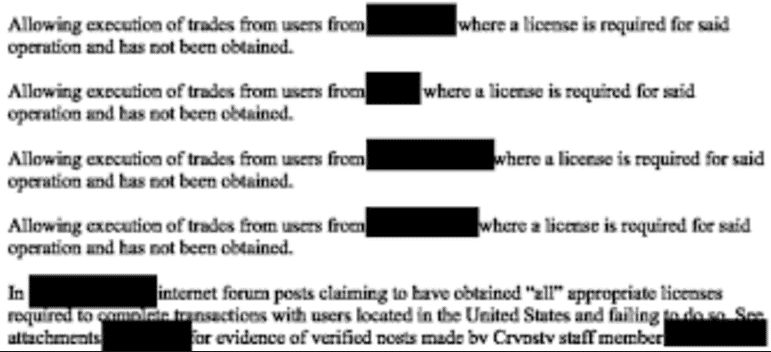 The documents from FinCen contain several screenshots of Cryptsy staff members on a popular bitcoin-related forum making claims about the validity of licenses, which were then verified by the agency on six separate occasions. Cryptsy later denied the posts publicly, but the various social media posts within the document attachments were certified as authentic by various federal computer forensics teams.
FinCen also makes statements regarding transactions that an organization claims were criminal in nature.

One organization began working with information from the Department of Homeland Security, and initiated an investigation of bank transfers to several banking institutions via sealed subpoenas. The records allege that the company platform was used  in money transfers to accounts linked with suspected terrorists. The document further alleges that Cryptsy had been used as a means of money laundering for some time, and that the company was aware of this activity and allowed it to continue.
It appears from the reports that investigators will begin seeking formal subpoenas. These subpoenas are believed to be delivered in 2016, and will likely request a wide range of information including transaction history, server information, and consumer account information.
In the interim, one federal organization's sealed subpoena revealed information that they found "interesting" according to one memorandum and would be used as part of an action against several members of the Project Investors team.