Best Ethereum Mining Pools
By: Ofir Beigel | Last updated: 1/24/23
If you want to make a profit mining Ethereum, you'll need to join an Ethereum mining pool. This post explains what mining pools are and covers the most popular pools around.
Ethereum Mining Pools Summary
Ethereum mining pools are groups of miners that have come together in order to increase their chances in mining an Ethereum block. Pools vary in how they pay out to their miners, the fees they take and the overall support they provide.
That's Ethereum mining pools in a nutshell. For a more detailed review of each pool keep on reading, here's what I'll cover:
---
New to Ethereum Mining? Watch Our Video Guide First
---
1. What are Ethereum Mining Pools?
In order to mine Ethereum you'll need the following:
An Ethereum wallet to collect your earnings
Join a mining pool
Mining pools are groups of miners, who band together in order to increase the likelihood of mining an Ethereum block. Once a block is found by the pool, the rewards are split between the pool participants in direct relation to the mining power contributed by each one.
Here's the mining pool distribution on the Ethereum network: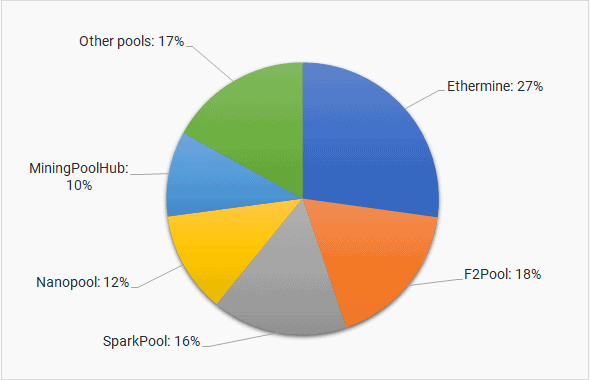 When mining with a pool, your chances of getting a steady stream of income rise dramatically, as opposed to solo mining. Solo mining may give you larger rewards if you mine a block, but the chances of actually mining a block alone are slim to none.
---
2. Choosing an Ethereum Mining Pool
Choosing a pool relies on different factors such as:
Pool size – The larger the pool, the more chances you have of finding a block. However, your payout will probably be smaller.
Fees – How much does the pool charge its participant in management fees? This usually revolves around 1%-3%
Payouts – How are payouts calculated? Are they only for the block reward or do they include transaction fees and uncle fees as well?
Uncles are legitimately mined blocks that didn't end up in the Ethereum blockchain since a different block was accepted due to time lags in the network. This is similar to orphan blocks in Bitcoin, however unlike Bitcoin, in Ethereum there is a reward for mining these blocks.
Payouts can be distributed in the following ways:
PPS
PPS, short for Pay-Per-Share, is calculated by dividing your mining power with the total mining power of the global network. This gives the pool an estimate of the part you have in the total work done by the pool.
The pool then estimates the daily reward you can get by simple math calculation, giving you a fixed income.
PPS doesn't reward miners with transaction fees and some of the uncle rewards. With PPS, your income is stable and pool fees are relatively higher. This is done to compensate for the risk the pool takes in paying you constantly regardless of whether a block was found.
PPLNS
In PPLNS, or Pay-Per-Last N Shares, miners only get paid for shares received during a predefined "window" that ends with the solving of a block.
Unlike other payment schemes, shares received outside of the window will not be rewarded at all. This window can either be defined as a time frame (uncommon) or by a certain number (N) that represents the last shares received up to the block solving.
Due to this, PPLNS is also called Pay-Per-Luck Shares.
Unlike PPS, this method requires the pool to actually find a block in order for the miner to get paid. With PPLNS, miners can either get higher rewards if they got to receive more shares within the last N shares, or get no reward at all if they didn't.
Transaction fees and uncle rewards will be paid to miners with this method.
PPS+
PPS+ is sort of a mix between PPS and PPLNS. Compared to the PPS model, which only awards miners block rewards and does not allocate tx fees, PPS+ assigns bonuses to miners and allocates all the rewards.
---
3. Best Ethereum Mining Pools
Ethermine
Ethermine, the most popular Ethereum mining pool, allows for anonymous mining with a real time PPLNS payout scheme. The pool prides itself with instant payouts as soon as the payout threshold has been met (minimum 0.05 ETH).
The pool has a 1% fee and pays out for block rewards and fees as well. You can also mine Ethereum Classic, Zcash, Beam, Ravencoin and Ycash with Ethermine.
F2Pool
Originally founded in April 2013 in Beijing to mine Bitcoin and Litecoin, F2Pool is one of the oldest Ethereum mining pools around. The pool uses a PPS and PPS+ payment scheme with a 2% fee and a payment threshold of 0.1 ETH.
While the pool charges more than most pools, it also seems to be much more consumer-facing than the rest, allowing users to monitor their accounts through a dedicated mobile app for Android and iOS.
Aside from Ethereum, you can mine over 40 other cryptocurrencies with F2Pool.
Sparkpool
SparkPool, formerly ETHfans, is currently the third-biggest Ethereum mining pool out there. The pool uses a PPLNS system and has a minimum payout of 0.1 ETH with a 1% fee.
Nanopool
Nanopool is a multi-currency mining pool with a 1% fee and a PPLNS payment scheme. The pool pays out several times a day with the minimum payout being 0.2 ETH.
Aside from Ethereum, you can also mine Monero, Zcash, Ethereum Classic and additional cryptocurrencies with Nanopool.
---
4. Frequently Asked Questions
Is Mining Ethereum Profitable?
Yes, Ethereum mining is still profitable if you have the Ethereum mining hardware and access to cheap electricity. If that's not the case for you, it might be a better investment to just buy Ethereum and hold it.
Before starting to mine Ethereum, it's best to calculate your expected profitability using an Ethereum mining calculator.
How do I join a Mining Pool?
Here's how to Join Ethermine:
Go to Ethermine
Choose your mining server (Asia, Europe or USA)
Download and configure a mining software
Check to see that you're mining
How do You Build an Ethereum Mining Rig?
Here's a video about how to build your own Ethereum mining rig:
---
5. Conclusion
If you're serious about mining Ethereum, you should mine through an Ethereum mining pool. Ethereum's popularity made it so that there's a wide variety of pools available and all you need to do is choose the right one for you, depending on the fees and payout schemes.
Have you had any experience with the pools above? Are you using a different pool? I'd love to hear about it in the comment section below.