Coinbase is expanding internationally and has announced its Bitcoin services are now available in 14 countries. While the service was available online across the world, the United States were the company's "fastest area of growth, largely due to our integration with the US banking system which makes it easy for people to buy and sell Bitcoin".

However, the startup decided to implement its services in 13 additional countries across Europe. The list includes Italy, Spain, France, Belgium, the Netherlands, Austria, Cyprus, Finland, Greece, Latvia, Malta, Portugal, and Slovakia.
And according to Coinbase, "consumers and businesses in these countries can now buy Bitcoin from Coinbase or sell Bitcoin to Coinbase using a euro bank account".
Besides, the company has also created a new 'global page', which shows the updated list of countries where Coinbase is available.
Still, "it's important to note that this is a beta launch in Europe". The beta stage will have what Coinbase considers a low daily limit of €500 per day on purchases and sales. This daily limit is available to all customers in the 14 countries listed, but the company hopes "to continue raising this limit in the near future as we move out of beta".
We think launching in these additional countries is a major step for the entire Bitcoin community, and will help continue Bitcoin's growth as a global payment network.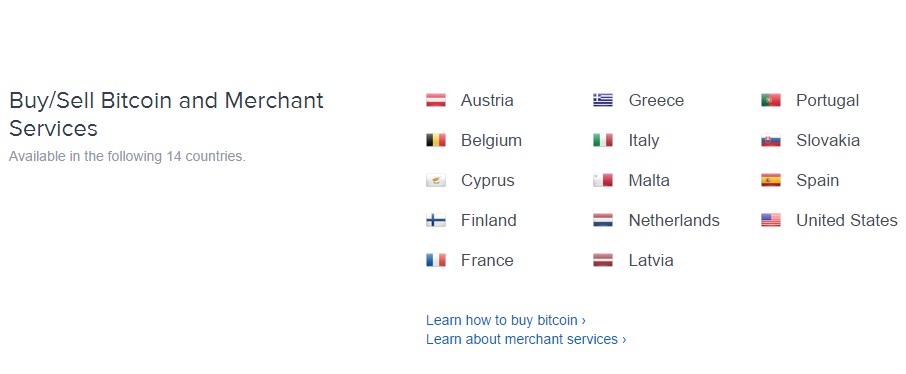 Coinbase keeps promoting its "easy buy/sell method" in these new countries, in the hope that it will help the development of two important Bitcoin areas. Not only Coinbase believes "this launch will accelerate merchant adoption in Europe, now that many more consumers have easy access to Bitcoin", but they also feel "this will also accelerate the use case of cross border payments for Bitcoin".
Coinbase's CEO, Brian Armstrong, told Coindesk that stepping into the European market is the natural next step for the business. So far, the company served millions of users in the United States, besides working with billion-dollar American businesses such as Dell or Overstock, that now use its merchant services. But now the numbers are expected to increase.
"We looked at what markets to move into next, and Europe seemed like the next biggest economy. It's developed, there are people there who want to get Bitcoin, there's a lot of demand for it, but they really don't have an easy way to do it", said Armstrong.
Coinbase has indeed made it easy to use Bitcoin ever since they kicked-off the project in 2012. Currently, "over 1.6 million consumers, 36,000 merchants and 6,000 developers" have signed up to use the company's services and products.
Featured image source: Wikimedia