BTC.com is an open-source Bitcoin (BTC) and Bitcoin Cash (BCH) web and mobile wallet and also a block explorer. Created by Bitmain in 2016, it allows users to store, send and receive Bitcoin and Bitcoin Cash on the web or on their Android or iOS devices. There is a clear emphasis on simplicity and security with the wallet and while it's suitable for any user level, it's ideal for beginners.
The wallet, similar to Blockchain.info, is an HD hybrid wallet. Meaning, you access it via the web but the keys to the wallet are stored on your machine, so BTC.com has no access to them. Transactions are signed on your device so no one can see your private keys. The wallet also supplies Multisig capabilities and is open source.
Signing up to BTC.com
Signing up for a BTC.com wallet is quick and easy and means you'll be provided with a unique Bitcoin or Bitcoin Cash address for receiving funds. Registration requires a valid email address and password. Upon typing your password, you'll see a handy feature which states how long it would take for your password to be cracked, placing greater emphasis on the importance of security. The accuracy of its estimation is open to debate but it's a nice touch.
Before signing in for the first time, you'll need to download a PDF of their Bitcoin Wallet Recovery Data Sheet. This contains all of the essential backup information including the wallet identifier, encrypted primary seed and backup seed. BTC.com advises that users print out this document before storing it in a secure location since losing the details makes wallet recovery impossible. It's also a good idea to delete the digital version of the document so that it cannot be compromised by hackers.
User Interface
Upon logging in to the wallet, you'll be met by a user interface that is very clear and concise as well as easy to navigate. The first option on the menu allows the user to switch between Bitcoin and Bitcoin Cash wallets. The other menu options are as follows: My Wallet, Send, Receive, Buy and Settings. Below this is a security score which is based on the strength of a user's password, whether they have verified their email and enabled two-factor authentication.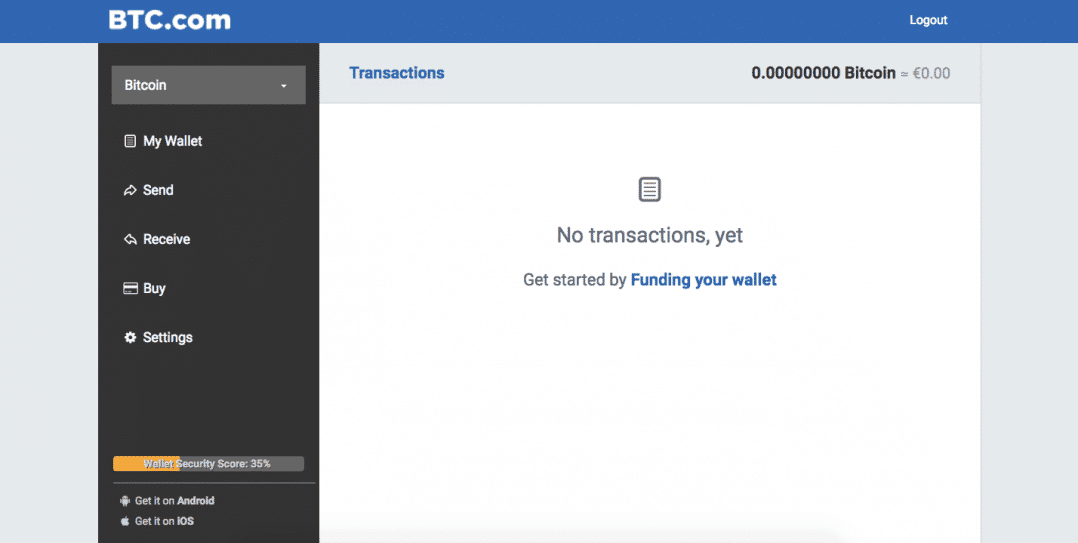 The My Wallet section of the interface allows you to view your transaction history with full transaction details. If the wallet is new and no transactions have been made, there's a prompt to head to the 'Receive' page in order to fund the wallet. It's possible to set your BTC.com wallet as the default for Bitcoin payments in most browsers. You'll be asked if you want to enable this feature on your first visit to the Send page. Alternatively, this can be set up in Settings.
Sending and Receiving
Sending and receiving Bitcoin and Bitcoin Cash with BTC.com is quick and easy thanks to the easy-to-follow interface. Sending involves providing a recipient address, amount and then choosing the level of transaction fees: High Priority, Optimal and Low Priority. It's also possible to send and receive Bitcoin using QR codes. Another interesting option available on the mobile versions of the BTC.com wallet is sending BTC to phone contacts without requiring their Bitcoin address.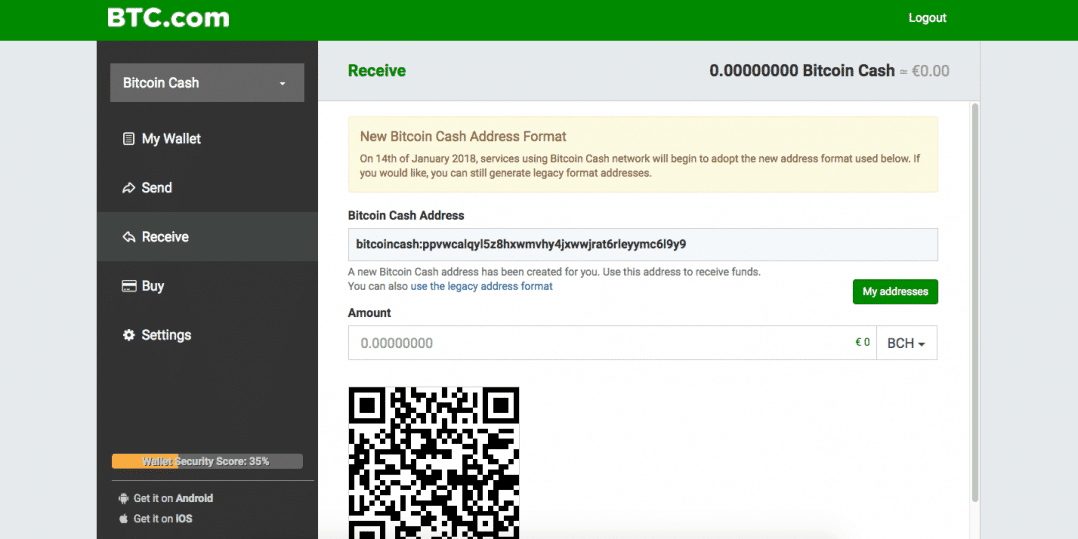 On the receive page are your address and the amount you'd like to fund in BTC or BCH. The BTC.com wallet was one of the first wallets to implement the new Bitcoin Cash address format. All Bitcoin Cash addresses generated by the wallet are preceded by 'Bitcoin Cash:' which makes it immediately clear that it's a BCH address, avoiding any confusion.
Additional Features and Settings
It's also possible to use the BTC.com wallet to buy Bitcoin with a credit card or bank wire (USA only). This is not the most economical way to buy Bitcoin and it's worth exploring alternatives in order to save money and find a better deal. However, it's obviously convenient to have such options within the wallet itself.
The settings section is broken down into 3 parts: Profile, Security, and Tools. The Profile section lets you choose a username which you can use to log in to your wallet instead of with your email address, should you wish. There's also the option of upload a profile picture, choose from one of 25 fiat currencies (all major currencies are listed including EUR, USD, and GBP) and a language (English, Japanese, Korean, German, Arabic, Portuguese, Spanish, Dutch, Russian, French, Hindi, Swahili, Chinese).
The security page is where you can change your email, password and enable two-factor authentication in order to maximize wallet security. Tools provide the following options: Import External Wallet and Use Wallet for Bitcoin Links.
Public Opinion/Online Reviews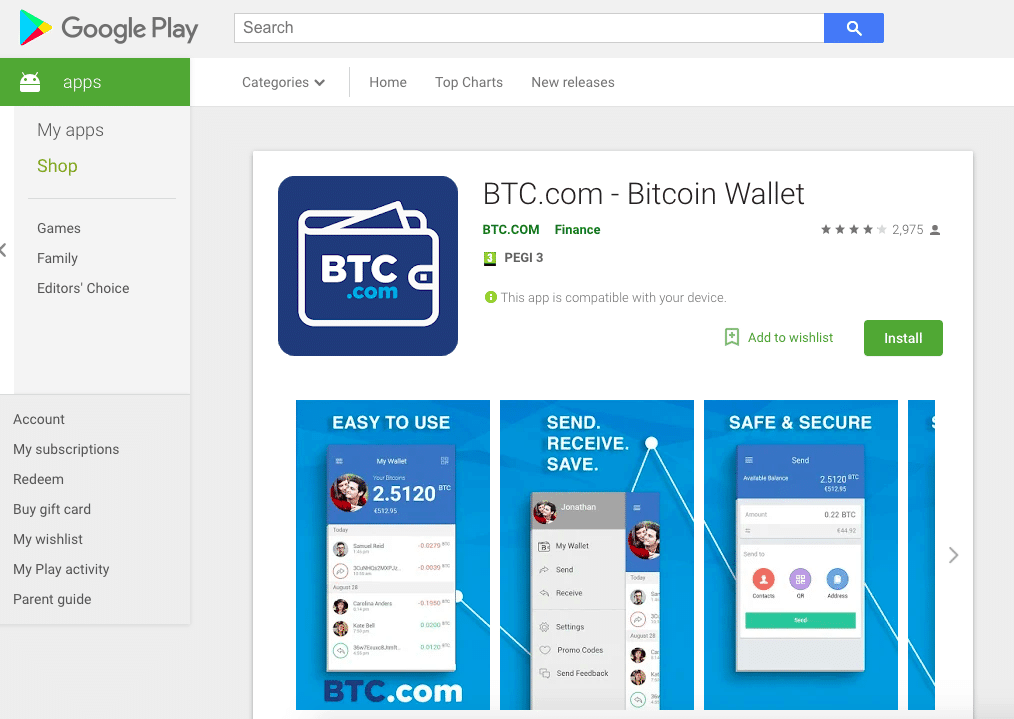 Overall, this Bitcoin wallet has good reviews on Google Play and the App Store with a 4-star average rating. Users generally praise the wallet's simplicity and user-friendly interface. Any poor reviews tend to be from those who've had issues accessing their account, often because they've lost the all-important backup PDF. For this reason, it's very important to not only store the backup document in a safe place but also enable two-factor authentication on the account for enhanced security.
Conclusion
Overall, BTC.com is a simple Bitcoin wallet with some decent security options on offer. It doesn't have a whole host of features but this does make it more beginner-friendly. It's worth remembering that web or online wallets are not as secure as hardware wallets and are vulnerable to hackers. However, having two-factor authentication and full control over private keys does go some way to providing reassurance over the safety of BTC.com.
The BTC.com wallet is perhaps best for storing smaller amounts of Bitcoin while larger sums are safer on a hardware wallet such as Ledger Nano S, Trezor or KeepKey. The fact that BTC.com can be accessed on any device is a big plus. Users are in full control of their funds and private keys which is more than can be said for many other web and online wallets available.