In the past year or so I've gotten to review two Bitcoin hardware wallets – TREZOR and Ledger. I've also matched them head to head and compared the differences, but today a new competitor has entered the arena.
KeepKey is the latest crypto hardware wallet. And I say Crypto hardware wallet and not Bitcoin hardware wallet because apparently KeepKey supports Bitcoin, Testnet, Litecoin, Namecoin, Dogecoin, and Dash (although at the moment the Chrome interface only supports Bitcoin).
You can watch a full video intro for Keepkey here.
Unboxing a beautiful design
The first thing you'll notice when you get your KeepKey is how exciting the whole unboxing process is. You can tell that a lot of thought was put into the packaging and product design. The box comes with a KeepKey seal which shows that no one has opened it before you, indicating that the device is secure.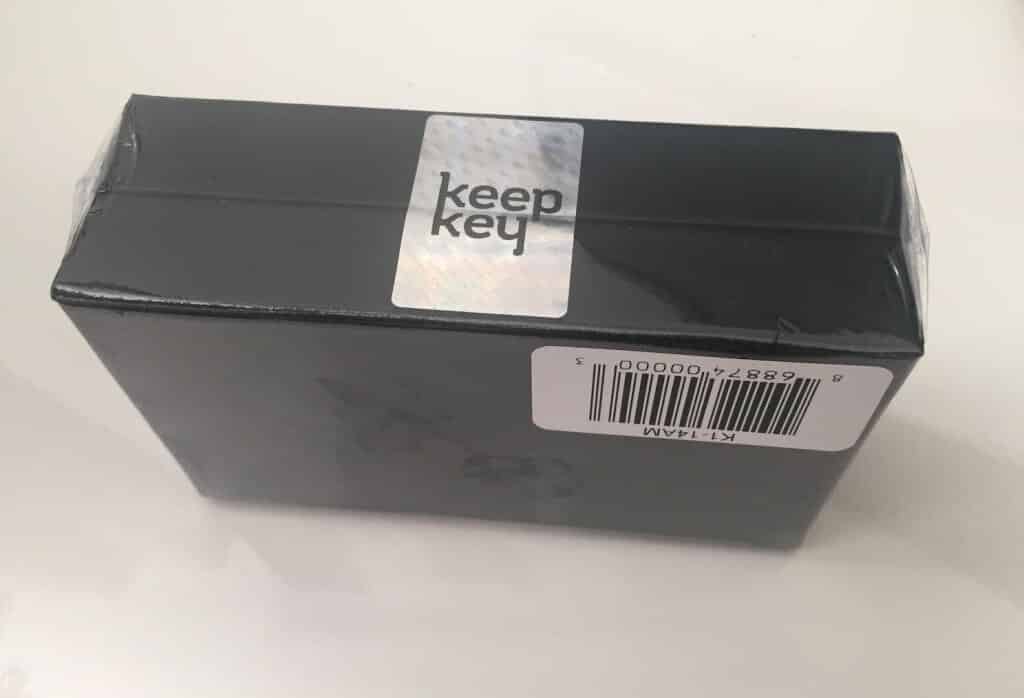 When comparing this to TREZOR or Ledger's packaging you automatically feel that you're in a different league so to speak. The content of the box includes the KeepKey hardware wallet, a USB cable to connect the KeepKey wallet to your computer, a card to write your recovery sentence on it and a nice leather case to keep that card in.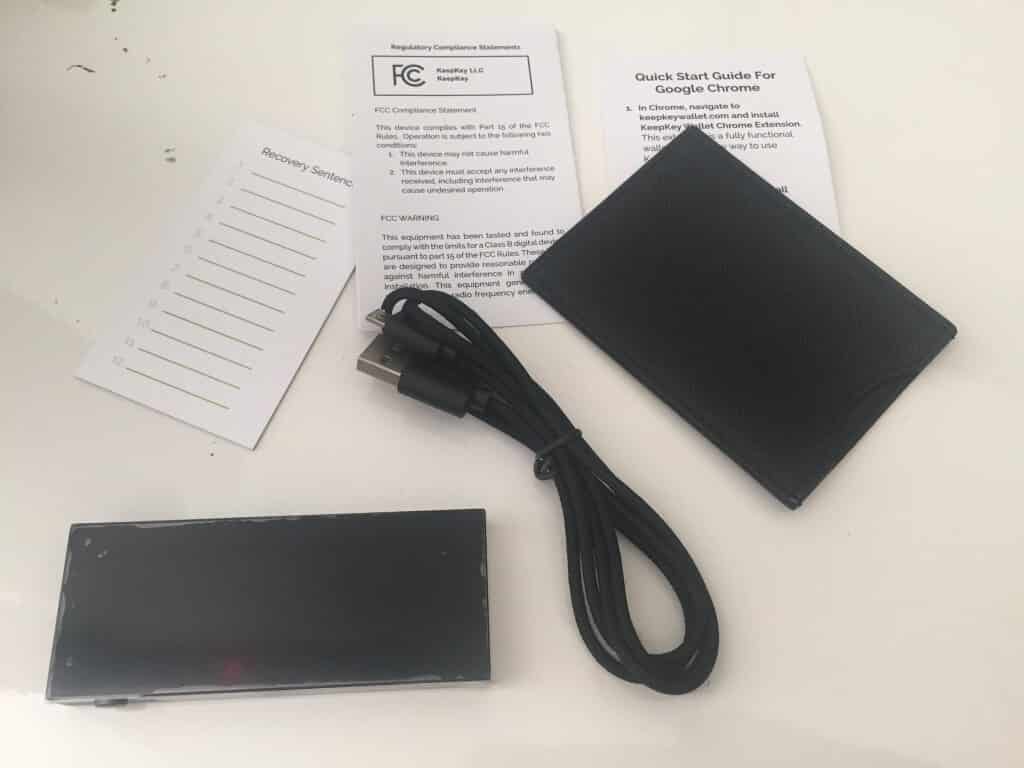 Getting started is simple and easy
Just like other hardware wallets it doesn't take much to get started with KeepKey, you'll need to download two chrome applications (one for generating a wallet and one for connecting to KeepKey through Chrome) and you're good to go.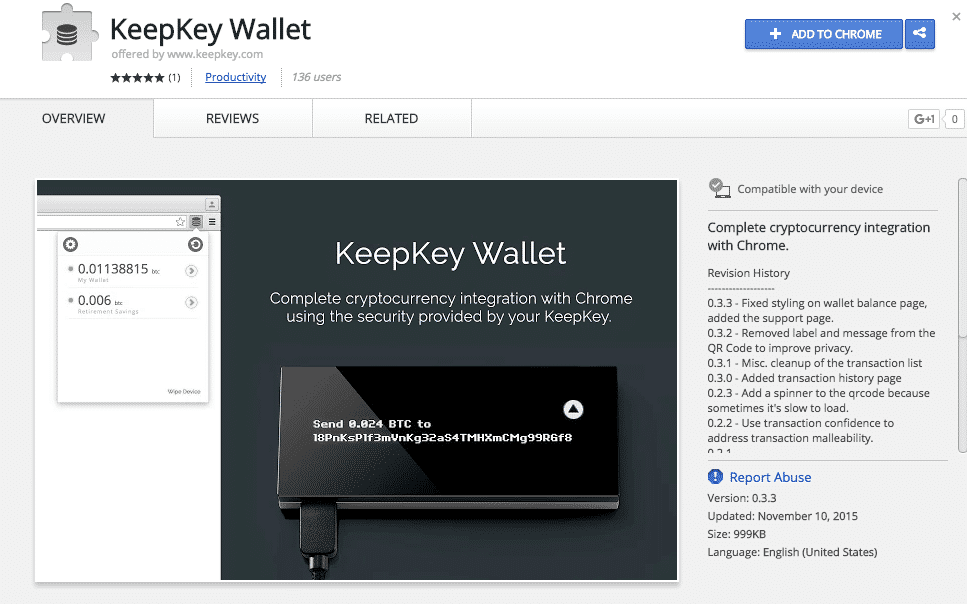 It may sound stupid but KeepKey's sleek design and cool digital animation makes the experience of using it feel so much better than other hardware wallets. The device itself also feels much more durable.
Even though you won't be able to walk around with it comfortably in your pocket like TREZOR or Ledger, you need to remember that this is a hardware wallet which is used to store large amounts of Bitcoin – so why would you want to walk around with it in the first place.
The device uses the same 2nd screen protection that TREZOR uses which makes it more secure to keystroke spying. The user interface of the Chrome wallet is simple and intuitive.
Here's a video guide about how to set up Keepkey.
KeepKey features all of the "standard" Bitcoin hardware wallet features such as Firmware updates, no OS compatibility requirements, message signing, device recovery and more. The FAQ page of the wallet pretty much covers all of the features and also at the moment states that KeepKey is compatible with TREZOR v1.3.3.
But every product has its downsides
KeepKey seems like a pretty solid product, however as a non-technical user I won't be using it just yet. The reason is that KeepKey as a company hasn't earned enough "reputation points" in my opinion. At the moment I personally use TREZOR as my hardware wallet, and that's mainly because they have gotten enough positive feedback form the Bitcoin community. Also, I know the people who run the company and trust them.
As someone who is non-technical and can't dig deep into the nitty gritty it's important for me to see that the smartest people in the room approve a product.
Of course KeepKey is open source and everyone who wishes to can read the code, but I don't really know how to read open source code and I doubt that many people have actually gone through it. So at the moment I will be waiting to see how the community reacts to the company before transferring my Bitcoins to KeepKey's wallet.
Last but not least, KeepKey's price used to be more than 2x TREZOR's price and more than 7x Ledger's price. When it just came out it was priced at $239 however recently the price has now dropped to $99. So now Keepkey is indeed a very good alternative to TREZOR or Ledger.
KeepKey can be bought through the company's website with Bitcoin/Paypal or through Amazon.
Conclusion – Great Product at a great price
The guys at KeepKey did a great job with creating a beautifully designed, user-friendly Bitcoin hardware wallet. If you don't mind the size of the product, this is a cool product to own. Personally, I'm going to wait a while longer until I start transferring my Bitcoins to KeepKey but this has nothing to do with the product itself, it's more of a reputation thing.
If you already own a KeepKey or any other hardware wallet, I'd love to hear your experience with it or answer any questions you have in the comment section below.