Bitrefill Review – A Beginner's Guide
By: Eliot Prince | Last updated: 2/20/23
Bitrefill is a website and app exchange platform that enables users to purchase a large variety of gift cards with cryptocurrency. This post covers everything you need to know about the company and its services.
Bitrefill Review Summary
Bitrefill seeks to help users buy almost anything with cryptocurrencies via the use of gift cards. The company supports a wide variety of gift cards and the purchasing process is pretty easy and intuitive. Service fees range between 0% and 3%, depending on which country you are buying a product for.
The service is reliable and gives people the opportunity to spend their crypto on real world items that might not accept crypto.
That's Bitrefill in a nutshell. For a more detailed review keep on reading, here's what I'll cover:
---
1. Company Overview
Bitrefill was founded by Michael Grünberger, Michel Gustavsson and Sergej Kotliar in 2014 from Stockholm, Sweden.
During 2019 it expanded its services after successful seed funding totalling over $2 million. This includes investment from notable VC firms and Litecoin creator Charlie Lee. On the 10th of April 2021, Bitrefill confirmed another funding round of $7 million.
"Bitrefill is helping to make living on cryptocurrency easier and I am excited to help them grow. Their participation on the Lighting Network opens up even more potential for Bitcoin and beyond," explains Lee in a Bitrefill press release.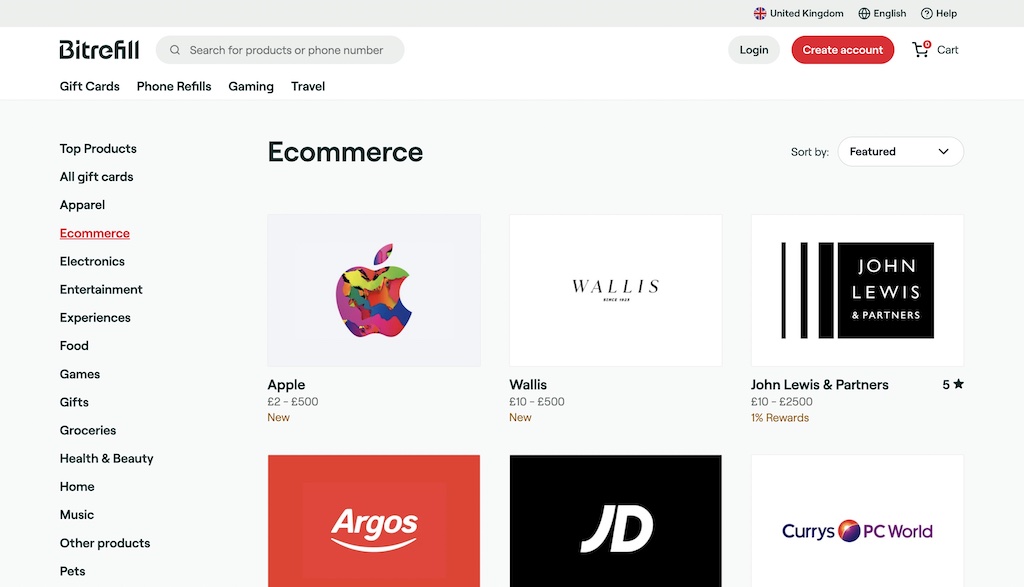 The ultimate goal for the growing platform is to enable users to buy anything with cryptocurrency. Currently, that is achieved via gift cards, mobile phone top-ups and a lightning network node.
---
2. Company Services
Bitrefill offers a clean, well-developed user interface accessible via a web platform or app. There are 4 main services on offer: Gift cards, phone refills, bill pay, and lightning network access.
Gift Card
When you land on Bitrefill's website you are immediately greeted with the option to buy gift cards with cryptocurrency. I thought this was a good place to start, an amazon voucher would be handy for buying gifts in the upcoming festive season!
The user-interface makes the whole process so simple. It immediately recognizes my location in the United Kingdom and offers correlating gift card options. This is handy, as it would be easy to accidentally buy an amazon.com voucher rather than amazon.co.uk.
There are just 3 quick steps to complete and no need for an account sign-up. First, select your amount, I just stuck with the minimum, £10.
Next, you add the email address to where you want the voucher delivered. Then select your payment cryptocurrency.
Finally, just scan the QR code and send the payment to the Bitrefill address. Everything else is automated.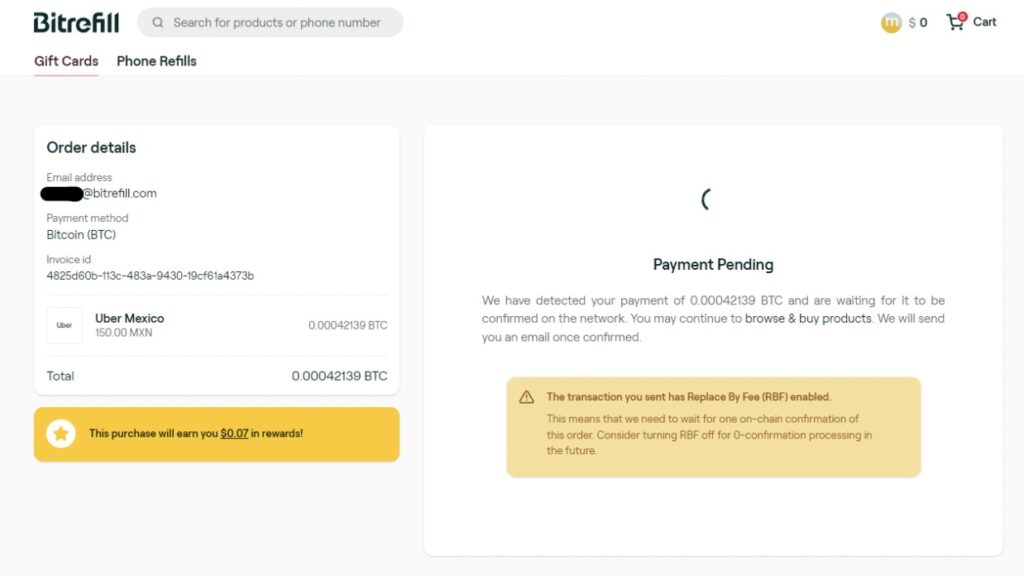 In less than 2 minutes I had a £10 amazon gift voucher, which I can confirm is legitimate.
On the face of it, Bitrefill is one of the smoothest ways to turn cryptocurrencies into a spendable format or digital asset.
Bill Pay
Bill Pay is a newer Bitrefill service in the USA and El Salvador, designed to let you pay your most common bills and credit cards with crypto. The feature makes it easier to live on crypto, since no exchanges or banks are required to pay thousands of different types of bills. Unfortunately, the service was halted in the USA from December 2022.
The process for using Bill Pay is similar to purchasing a gift card on Bitrefill. You simply fill out the appropriate bill or credit card number you want to pay and then proceed to the crypto transaction.
However, in order to use the Bill Pay service you need to pass through a KYC process. The process is relatively simple and fast. Once you get approved you can start paying your bills with crypto right away.
Phone Refills
This works very much the same way as a gift card. You choose your carrier, email and make the payment. A refill code is then delivered to your email address.
Lightning Network
Bitrefill has also added an innovative lightning network channel called Thor, a function I've not seen in many platforms.
Essentially it allows people to open an empty lightning channel on the Bitrefill node. This enables users to send and receive Bitcoin almost instantaneously.
While most people aren't currently using Bitcoin's Lightning Network it is an innovative solution for merchants to accept Bitcoin payments.
Without Bitrefill's channel, you need to lock funds into a lightning channel to open it. For retail payments, consumers are unlikely to do this for a single merchant. It would require them to lock funds into a channel to spend at a later date.
Bitrefill negates this problem as its node allows users to create empty receiving channels. Users can then send Bitcoin via the Bitrefill service and the integration of a Lightning wallet.
It's an innovative solution to the current barriers in growing the use of Bitcoin's Lightning Network.
---
3. Currencies and Payment Methods
Bitrefill is not a place to buy Bitcoin, it is a place to spend Bitcoin. Sorry, Hodlers!
It is completely immersed in digital assets from cryptocurrency to gift cards.
You can purchase gift cards and phone credit via:
Bitcoin
Litecoin

Dogecoin

DASH

USDC (ERC20 and Polygon)

USDT (ERC20 and TRC20)

Binance Pay

Coinbase
There are over 6,500 vouchers on offer including most major retailers such as Amazon, Google Play, Apple, Steam, Walmart, PlayStation, Microsoft, eBay.
Credit for all major telecoms providers is available too.
---
4. Fees
The fees are not clearly stated on the website and are built into the transaction. My purchase of a £10 Amazon voucher cost 0.215921 Litecoin which equates to £10.24 at the time of writing – so a markup of 2.4%.
On further inspection, the rate seems to vary anywhere between 2% and 3% depending on the cryptocurrency and purchase amount.
Network fees are not included in this as you are sending payment from an exterior wallet. So overall £10 an amazon voucher cost me £10.29.
The markups are fine on a small transaction but heavy with large buys. For a large transaction, you'll be better off using a more traditional order book exchange. Overall, for the convenience and speed I can't complain too much.
---
5. Buying Limits
Various limits apply depending on what product you are buying on Bitrefill, as well as whether or not you have verified your email and/or identity. 
Unverified customers without an account can make up to 15 purchases a day, with a maximum of $500 per day and $1,000 per month.
Users who have created an account with just an email address can purchase up to $2,000 per gift card, up to $5,000 per day and up to $10,000 per month.
Finally, if you are a fully verified user who has provided ID, you may purchase up to $2,000 per card, up to $10,000 per day and up to $50,000 per month.
Different maximum limits apply to phone top-ups.
It is also worth noting that each retailer has its own limits on the value of available gift vouchers, which also varies from country to country.
---
6. Supported Countries
Bitrefill offers services spanning more than 180 countries with over 6500+ vouchers to choose from. Voucher choice depends heavily on location.
For example, Amazon vouchers are available to USA, UK, Germany, France, Italy, Spain, India, Japan and China.
I was particularly drawn to the fact that you could truly travel the world using Bitcoin through Bitrefill. You can buy Expedia flights, hotels, Uber, and even food via the platform.
---
7. Customer Support and Online Reviews
The Bitrefill website is particularly easy to use and doesn't require much help or explanation. Happily, there is an adequate FAQ page to answer most simple questions and to contact their support team directly.
Bitrefill also offers live chat support, which was able to answer a question I had within half an hour. Looking at reviews elsewhere around the internet gives a pretty good indication of how Bitrefill deals with customer support.
The service maintains a 4.7 star rating on TrustPilot and Apple's App Store. People seem generally happy with the service and its reliability.
I certainly had no issues. In the past, when things went wrong users appear to have been left in the dark. Whilst customer support has historically been a problem in the cryptocurrency industry, many companies have now addressed their downfalls. Bitrefill seems to have taken a step in that direction as well, by directing all messages from social media to their help desk.
---
8. Conclusion
Bitrefillis legitimate and has received strong investment from some notable figures. The services on offer are slick and well-designed making it painless to swap crypto for spendable assets like gift cards.
Currency support is streamlined with a small selection of cryptocurrencies exchangeable for a huge selection of gift cards. Perhaps we don't need any more coins, sometimes the choice of cryptocurrencies can be overwhelming. Bitcoin, Ethereum and Litecoin are enough for me.
Fees are competitive for such a convenient service at between 2% and 3%, you can instantly access gift cards to spend almost anywhere in the world at a fair price.
In the past, customer support was their big weakness. However, they seem to have been putting effort into that so hopefully, this is now resolved.
Have you had any experience with Bitrefill? I'd love to hear about it in the comment section below.