ProBit Review
By: Alex Miguel | Last updated: 5/14/21
ProBit is a South Korea-based exchange, which is known for its initial exchange offerings (IEOs) and large selection of trading pairs. There is both a global and Korean version of the platform. In this review, we'll go over the global ProBit platform's services, fees, structure and availability.
---
ProBit Review Summary
ProBit is a crypto-only platform which facilitates trading for a huge range of tokens, as well as the launch of projects via IEOs. On the other hand, it doesn't appear to have the best liquidity and trading is a bit restrictive.
That's ProBit in a nutshell. For a more detailed review, continue reading below. Here's what I'll cover:
---
1. ProBit Overview
ProBit is a cryptocurrency exchange which was founded in 2017 and is based in Seoul, South Korea. The exchange has a global platform that is crypto-only, as well as a local exchange which provides fiat trading pairs with the South Korean won.
Over time, the platform has become known for its many initial exchange offerings (IEOs) and large selection of trading pairs.
---
2. ProBit Services
Crypto-to-Crypto Trading
ProBit's core service for global customers is its crypto-to-crypto exchange, which facilitates trading via almost 1,000 different trading pairs.
It offers both its own price charts as well as popular Tradingview-based charts, giving users the option of a familiar experience.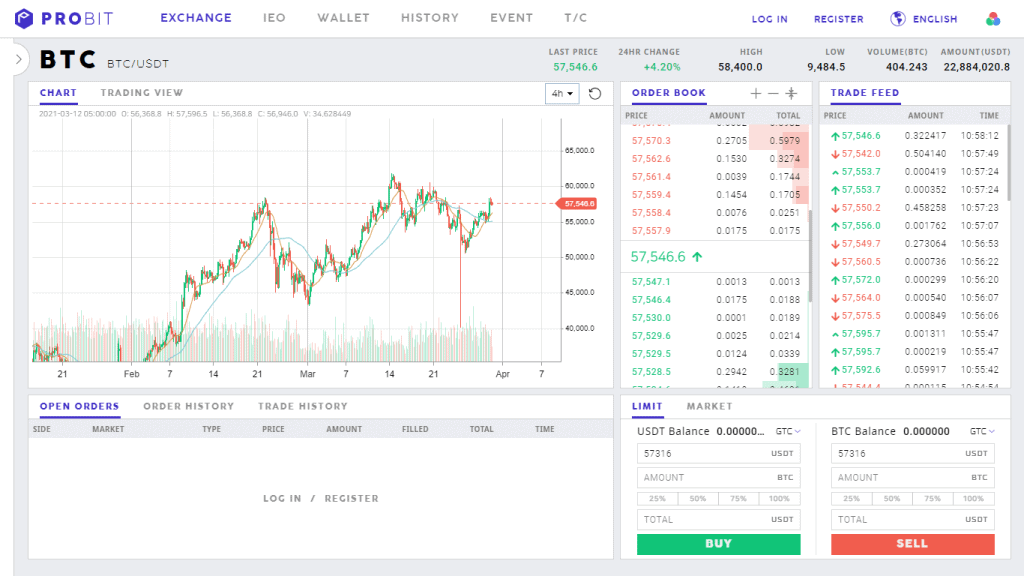 Liquidity doesn't appear to be great, with often-significant spreads and low order book depth for most markets I looked at.
Only the BTCUSDT, ETHUSDT and ETHBTC markets allow market orders, whereas most other trading pairs allow limit orders only – a somewhat restrictive feature.
IEOs
ProBit has hosted hundreds of IEOs to date via its dedicated IEO section, which helps up-and-coming projects in selling their project tokens to the public.
Each IEO is given its own page which provides token pricing, project information, terms and conditions, and more.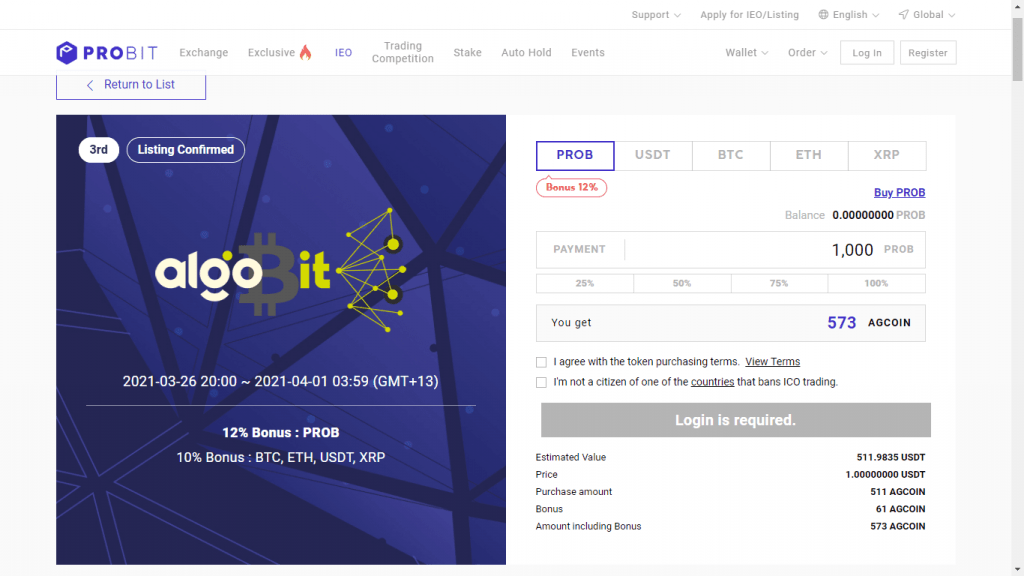 Staking
The exchange also has a staking section which enables users to quickly and easily stake coins for supported projects via the exchange, in exchange for staking rewards.
This requires no technical expertise, opening the door for users of all levels of ability to earn rewards via staking.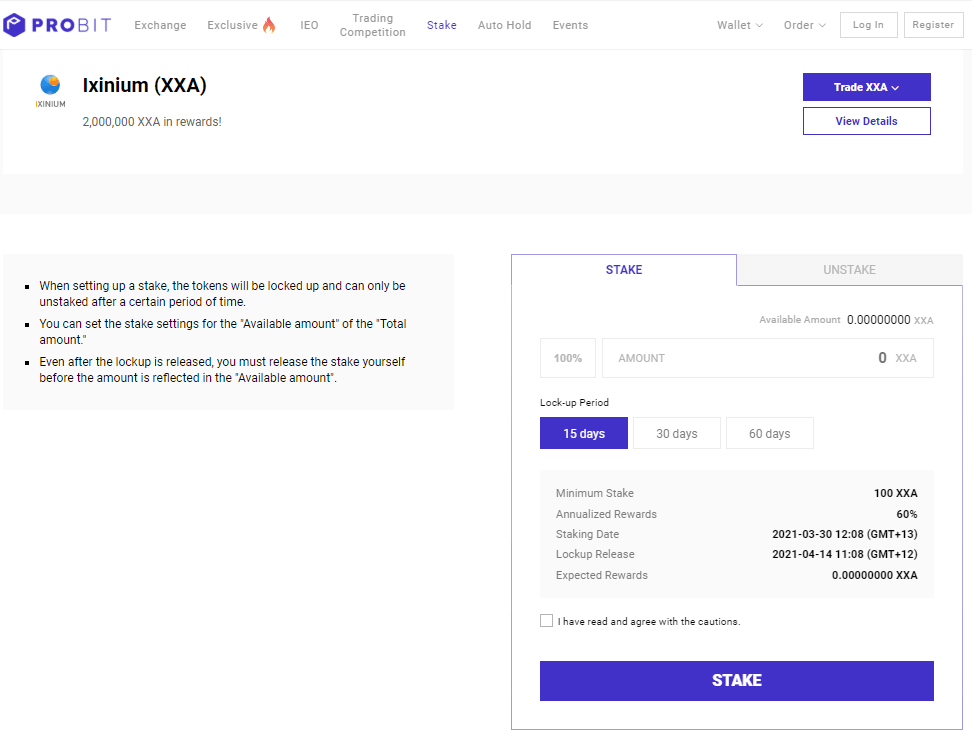 Users are able to evaluate staking details and expected rates for each stakeable asset, as well as select their lockup period and quantity of coins to be staked.
Android Mobile App
Last but not least, ProBit has a mobile app available for Android only. This allows Android users to trade on-the-go, as well as access all token events and sales via their mobile device.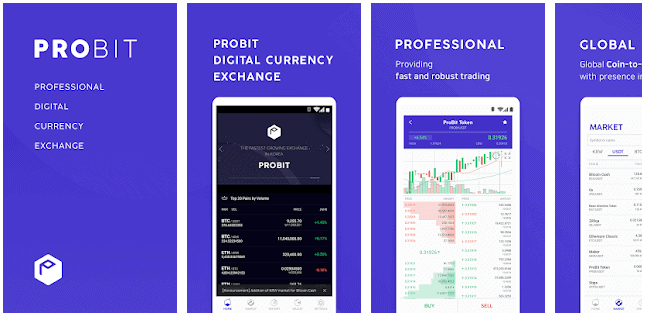 ---
3. Currencies and Payment Methods
ProBit's global exchange does not support any fiat currencies, making it a crypto-only exchange. It does, however, support one of the largest selections of cryptocurrency assets and trading pairs on the market.
This includes:
Major cryptocurrencies such as BTC, ETH, BNB, USDT, and more.
A DeFi token section.
Recently-launched IEO tokens.
FTX leverage tokens.
---
4. Fees
Deposits and Withdrawals
ProBit charges no fees on deposits, with the exception of WiBX (WBX) which requires network fees.
Withdrawal fees apply to cover network transaction costs, as is the case with most exchanges. The complete ProBit withdrawal fee schedule can be found here.
Trading Fees
When it comes to trading fees, ProBit has a competitive default trading fee of 0.2% for even the smallest traders. Whereas most exchanges reduce fees for higher-volume traders, ProBit instead decreases fees in tiers relating to a user's staked balance of PROB, the exchange's native token. The minimum fee a user can achieve is 0.05%, when staking 1,000,000 PROB tokens.
It's also worth mentioning that ProBit has a "trade mining" feature, which compensates users in PROB tokens when making trades. The more PROB tokens that a user has staked, the more PROB they will earn for their trades.
---
5. Supported Countries
ProBit accepts users from all countries, however KYC is required to perform specific functions such as withdrawing tokens purchased from an IEO, or to increase daily withdrawal limits from the default maximum of $10,000.
The following countries are excluded from KYC benefits:
Albania
Algeria
Bangladesh
Barbados
Bolivia
Botswana
Cambodia
Cuba
Ecuador
Ghana
Iran, Islamic Republic of
Iraq
Jamaica
Mauritius
Morocco
Myanmar
Nepal
Nicaragua
North Korea
North Macedonia, Republic of
Pakistan
Panama
Seychelles
Singapore
Sri Lanka
Syria
The United States of America
Uganda
United States
Venezuela
Yemen
Zimbabwe
---
6. Customer Support and Reviews
ProBit has a useful FAQ section on its website, which appears to answer most common queries users may have about the exchange.
When it comes to online reviews, however, ProBit has only 18 reviews on Trustpilot – a very small number for an exchange that claims to be so popular. These reviews average out to a "poor" rating of just 2.4 stars.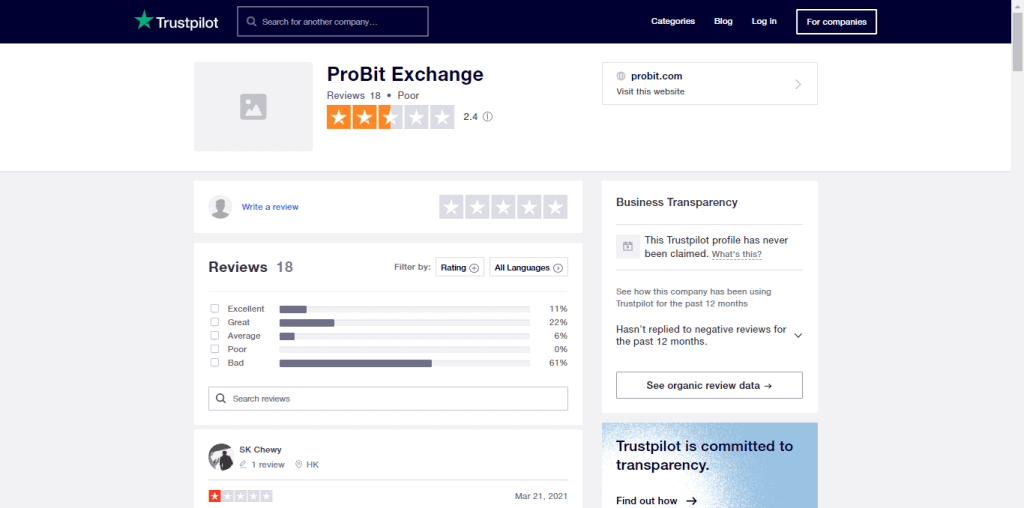 Although this is a small sample size, a majority of reviews of the platform are one star, with several customers complaining about a lack of customer support. From these reviews, it appears that users are unlikely to receive useful assistance (or any assistance at all) if something goes wrong on the exchange, especially to do with misplaced funds.
Their Telegram channel appears to have plenty of user activity expressing similar issues. Unfortunately, assistance appears very limited there too despite having several ProBit moderators in the group.
---
7. Conclusion
ProBit appears to have one of the widest selections of cryptocurrency assets and trading pairs in the industry. However, its actual liquidity and usage appears to be much lower than you'd expect from a "top-20" exchange, as claimed by ProBit.
ProBit is a crypto-to-crypto only platform, which may mean the platform would be best-suited for users who already own crypto and are looking to buy new and higher-risk tokens, such as those from more obscure initial exchange offerings (IEOs).
ProBit has a low reputation score for its lack of customer support, which is a common complaint across all review and support channels.
Overall, ProBit offers opportunities to buy lesser-known or new coins, but shouldn't be used with a significant proportion of your funds.