The federal approach to regulation of  new money transfer technologies. This is the main theme of the first Virtual Currencies Compliance Conference (VC3) that is happening on August 14th, at the New York City Bar Association. The event, hosted by the National Money Transmitters Association, will have a special guest: James H. Freis, the former director of the Financial Crimes Enforcement Network, also known as FinCEN.
According to a press release, the speaker will address the Bitcoin community and talk about cryptocurrency regulation, since it was during his term of office that FinCEN first analyzed the matter, ruling how the Bank Secrecy Act would treat new possibilities like internet money transfer, for instance.
VC3 will be particularly helpful for the industry members who need to be enlightened about the new rules: virtual currency entrepreneurs now have to implement anti-money laundering programs, get state-licensed and register with FinCEN. Otherwise, they will be facing criminal charges.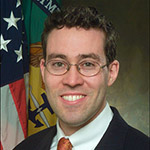 Besides James H. Freis, the Virtual Currencies Compliance Conference's program also has seven other experts: Judith Rinearson, partner at Bryan Cave LLP; Marco Santori, attorney at Nesenoff & Miltenberg and member of the Bitcoin Foundation; Samuel Rosenthal, chair of Patton Boggs' Government Investigations and Litigation practice group; Jean-Jacques Cabou, litigator and partner at Perkins Coie in the firm's Investigations & White Collar Defense practice; Juan Llanos, co-founder, EVP and Compliance Officer of Unidos Financial Services, Inc.; Robert Pargac, director of Global Investigations and Compliance at Navigant Consulting; Connie Fenchel, program manager for VC3 and president of AML Experts, Inc.; and David Landsman, executive director of the National Money Transmitters Association.
You can check the complete program of VC3 here:

8:00 AM – 9:00 AM Registration / Continental Breakfast

9:00 AM – 9:15 AM Introductory Remarks

David Landsman, Connie Fenchel

9:15 AM – 9:45 AM Review of AML Regulatory Efforts

From banks to virtual currencies, 1970 – 2013 – James H. Freis

9:45 AM – 10:30 AM Coming Into Compliance

Virtual Currencies and AML Regulation – Judie Rinearson

10:30 AM – 11:00 AM Morning Coffee Break

11:00 AM – 11:45 PM FinCEN Virtual Currency Guidance

Its Impact on the Industry – Marco Santori

11:45 PM – 12:30 PM Recent Enforcement Actions

Are Liberty Reserve & Mt. Gox Just the Beginning? – Sam Rosenthal

12:30 PM – 1:30 PM Lunch

1:30 PM – 2:15 PM State Licensing Issues

Obtaining Licenses and Alternative Options – Jean-Jacques Cabou

2:15 PM – 3:15 PM Designing a Compliance Program Conducting a Risk Assessment and Developing Policies and Procedures for Virtual Currencies – Juan Llanos, Robert Pargac

3:15 PM – 3:45 PM Afternoon Coffee Break

3:45 PM – 4:45 PM Industry Representatives Discussion Panel

The Impact of These Controls on Virtual Currency Companies – To Be Announced

4:45 PM – 5:15 PM Next Steps

Connie Fenchel, David Landsman

5:15 PM – 7:00 PM Networking Reception

7:00 PM – 8:30 PM Industry Discussion
The meeting will be chaired by Constance Choi, general counsel of Payward, Inc., one of the companies that have formed the Digital Asset Transfer Authority (DATA), a new self-regulatory committee that intends to structure the cryptocurrency world by gathering the support of the industry and authorities.
If you're interested in attending, register here. The sooner, the better: there are special prices for the attendees that register until August 11.