The most recent version of the popular uTorrent is apparently more than "just" a torrent client at the moment. According to online reports, users that have recently installed or updated the software noticed the presence of an unwanted cryptocurrency miner called Epic Scale.
The situation was firstly reported on uTorrent's online forums, according to the site Engadget.com, but the thread was not available at the moment of writing. The comments warned other users that the version 3.4.2 of uTorrent contained a piece of code that transformed the user's computer into a cryptocurrency farm, mainly generating Bitcoin and Litecoin for third parties.
Research made by the site NewsBTC.com found the software's source and modus operandi. "We found that this program uses the same hash functions — SHA256 and MD5 — that are used by Bitcoin miners to solve blocks. A scan on multiple antivirus programs, including Kaspersky and Norman, also categorized Epic Scale to be a Bitcoin miner; not a virus though."
The situation was confirmed by a forum senior support manager following the first reports. The expert said that although the app couldn't "be installed without permission", there was "never a warning about it" despite the fact that he opted out of all the bundled software.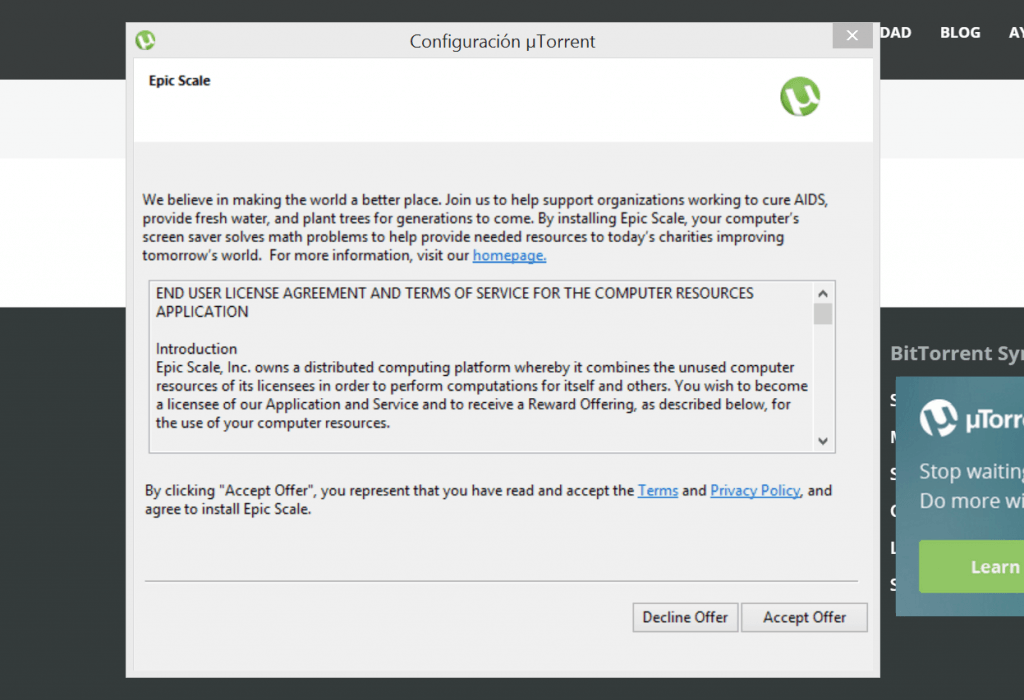 BitTorrent, uTorrent's parent company, has denied the possibility of a "silent install". A representative told The Verge that the company "reviewed the issue closely and can confirm there is no silent install happening," adding that "most likely, the users accepted the offer during the install."
Once Epic Scale is installed in the user's computer, it will take up CPU cycles and slow down the device, consuming power in order to generate cryptocurrency.
The miner is apparently easy to uninstall, according to the support manager, but a few users disagree. "One said it didn't show up in the 'Programs and Features' list for Windows, and another [user] needed anti-adware software to be rid of it," Engadget.com reported.
Back in November 2014, the CEO of Epic Scale discussed the app's functionality on the Kaspersky forum. Tim Olson said the app can be uninstalled normally. However, he also confirmed that "we do leave one registry key behind, which is a random UUID. We need this ID to give proper accounting to our distribution partners in case you decide to re-install. This registry key can never be broadcast after you uninstall– it is only read again if you re-install."
Most antivirus companies have previously confirmed that Epic Scale is not dangerous, although it can certainly reduce the performance levels of any device.
BitTorrent has no intention of leaving Epic Scale behind. The company said that the software is "a great partner for us to continue to generate revenue for the company, while contributing funds to [philanthropic initiatives]."