Recently I've gotten an email asking about a company called UFO miners that seems to be manufacturing ultra-powerful Bitcoin mining rigs. For example, their most powerful product is the NekrosMiner that has a whooping 85TH/s for just $4,800 (~$57 for 1 TH/s). For comparison, the most advanced known miner on the market today supplies around 14 TH/s for around $2,000(~$142 for 1 TH/s). So you can see why their offer would seem very lucrative.
However, in today's Bitcoin ecosystem if something seems too good to be true it probably is. In the following post I'm going to present all of the evidence collected about the company from various sources in the past few days and try to decide if this company is legit or not.
TL;DR – It's probably a scam…
Special thanks to this Bitcointalk thread that supplied a lot of useful info…
I started out with our very own Bitcoin scam test and run the website through all of the questions. I got the following result:
According to your answers the website or service you are looking into is likely to be a scam. Use it at your own risk and with extreme caution.
The Bitcoin scam test is basically a tool that allows you to analyse the reputation of a site based on some very specific metrics such as domain age, amount of traffic, incoming links and other criteria that have proven to be similar in many Bitcoin scams in the past few years. However the result isn't conclusive, it's only a warning.
Another only tool called "Scam Advisor" has given UFOMiners a score of 49% based on similar (although not identical) parameters. So even before digging in a bit deeper I'm already quite suspicious.
I must say that the company's site is built to induce trust. The design is good, there's lots of content and of course there's social proof in the form of testimonials (we'll get to those in a second) and other authority websites writing about the company:

However, whenever you click on any of the links to the corresponding sites you get to either a sponsored post or a press release. Meaning, someone paid money in order to get included in these news sites.
For example – Cointelegraph allows you to send in sponsored posts. Here's a quote from their website:
With CoinTelegraph native style content, your sponsored article will appear in alignment with all other content on the site. Readers will see your post seamlessly in the infinite scroll experience as they read through CT stories. The key difference is the organic exposure to the content instead of the reader intentionally clicking on the content to be seen.
The same thing goes for CryptoCoinNews. The Yahoo! Finance logo that links to an article about UFOMiners was just a feed of paid press releases that also showed up on other sites. So the social proof isn't much proof after all.
Also, let's take a look at the testimonials:



Sounds promising….now let's take a look at another more reputable Bitcoin website – HashCoins. They have been around for the past 3 years. They also have a testimonial section that looks something like this: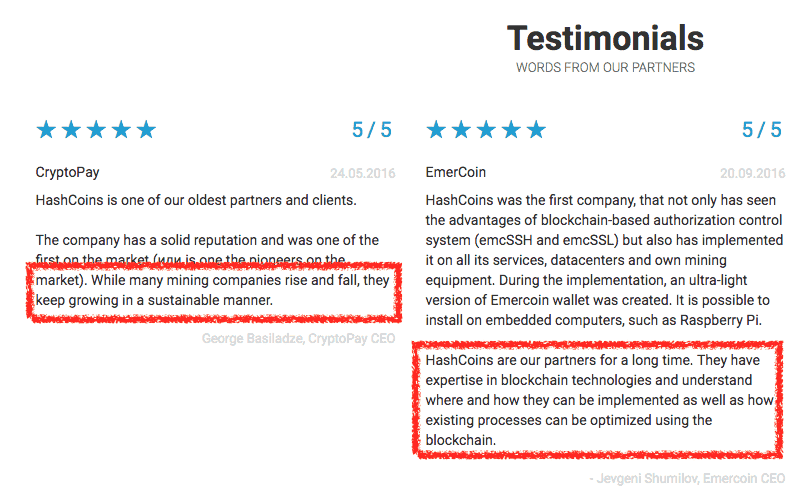 It's pretty amazing how UFOminers got the same testimonials that were left for HashCoins. Copy paste much do you?
But enough about semantics, let's get down to business and inspect the Bitcoin miners themselves. The first thing I wanted to see was if the images of the miners themselves are legit. I did a quick Google Images search on the NekrosMiner and found out the following similar images from 4 different websites:


It seems as if the same image of the same miner is used in all of these companies. The only thing that changes is the logo. MinersLab was reported as a scam by BitcoinTalk users  in 2014-2015. PHminers and THminers' website is no longer online although they were "covered" by several Bitcoin related blogs. So who have we got left? UFOminers.
In my opinion these 4 companies could just as easily be the same person running the same elaborate scam over and over again.
Continuing the drill down in to the product, they state "PSU (Included in Price): Cisco Catalyst 4500E 9000W Power Supply". If you try to buy that PSU alone it will cost you around $4000, so it seems odd that the miner plus the PSU is priced at $4800.
If you do decide to buy the product though you will have the option to pay with either Bitcoin, Litecoin or a bank transfer. The first two options don't surprise me as they are non refundable which would suit a scam website pretty well. The bank transfer was the one that bewildered me so I decide to try and pay for my miner with that method, low and behold at the message I got:

I don't really understand what security reasons could pose a threat to them if someone wires money to a legit company, so I'm guessing they just don't want to deal with the hassle of opening a bank account and tying this site to someone's identity.
Speaking of identity, if you look up who registered the website UFO miners you get the following info: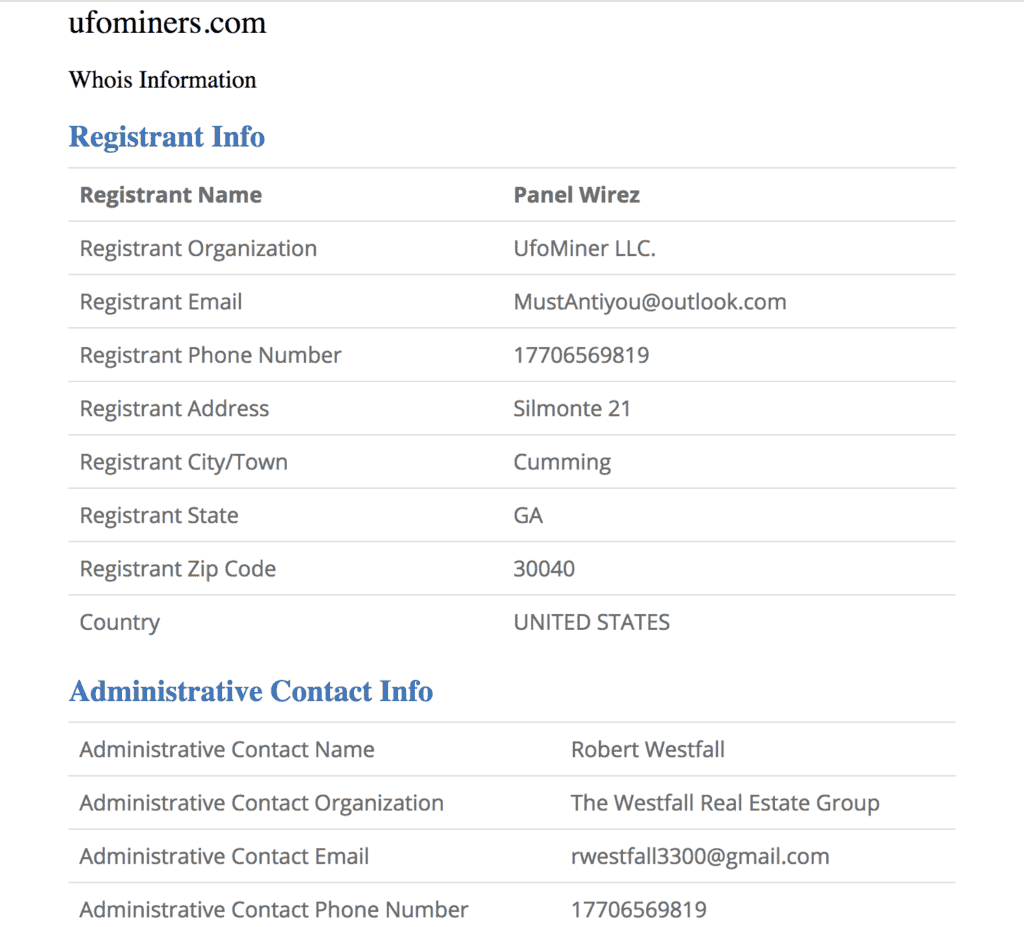 The name and phone number listed as the administrative contact belong to a guy named Robert Westfall that seems to own some real estate website (as shown here). I didn't call up the guy, however it wouldn't surprise me if someone just stole his identity and he's not even related to UFO Miners. For example, about a year ago I found out I was listed as the managing director of a scam Bitcoin exchange in South Africa. My image and name appeared on the site without my consent or knowledge.
To conclude my research I decided to email the company, here's what I wrote:
Hey guys,

just saw your miners, looks like pretty interesting stuff. I had a few questions I was hoping you can answer:

1. Do you have all of the miners on your site in stock?

2. Do you ship worldwide? I live in Israel

3. Do you have any videos / photos of the actual miners at work? I tried finding some online but couldn't find any. I just want to make sure these are legit before ordering.

Thanks a lot.
And here's their response: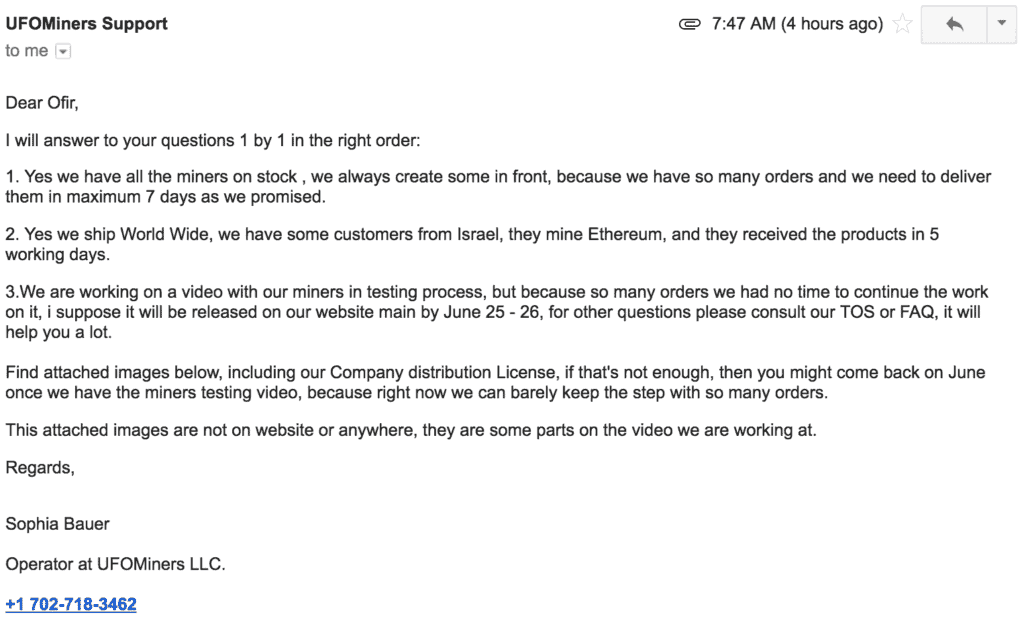 The interesting thing about the email is the images of the miners they attached to the email. I've tried to look for similar photos on the web.Take a look at what I've found: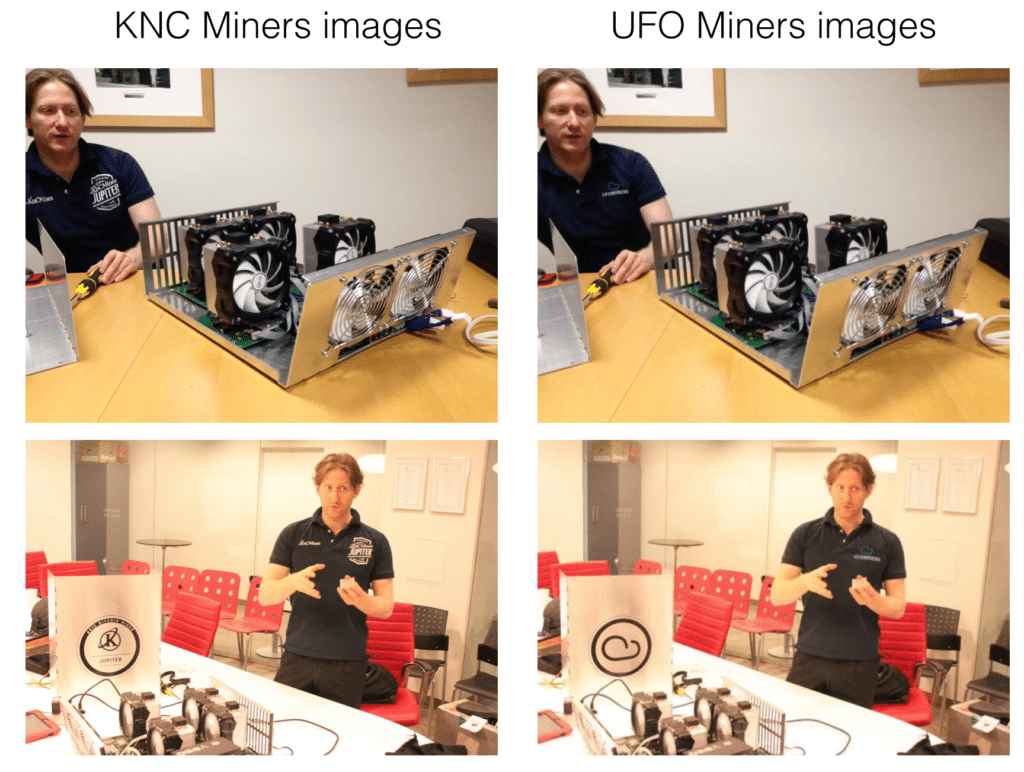 As you can see the images are identical to those of a company called KNC miners that used to be one of the leading mining firms around but then went bankrupt.  So either this guy was rehired to work for UFO Miners and he's really good at remembering how he posed the last time, or somebody has some photoshop skills.
Oh and UFO miner's "data center"  that shows up in their about page (see image below), can be found on the homepage of a company called "Thefoundri.com".  You can also Google "Dell server room" and you'll probably find it yourself…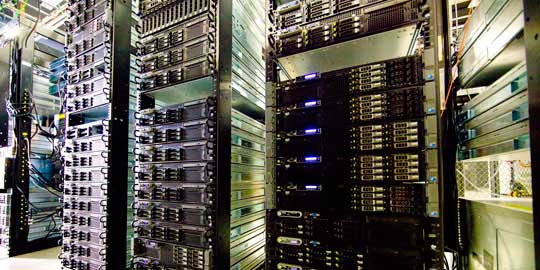 In the email I received from the company  was also sent some sort of certificate for the alleged company however I couldn't find any records of UFO Miners LLC anywhere in the state of Nevada's records. I could be mistaken about this so I will post the certificate here for you to be able to judge for yourself: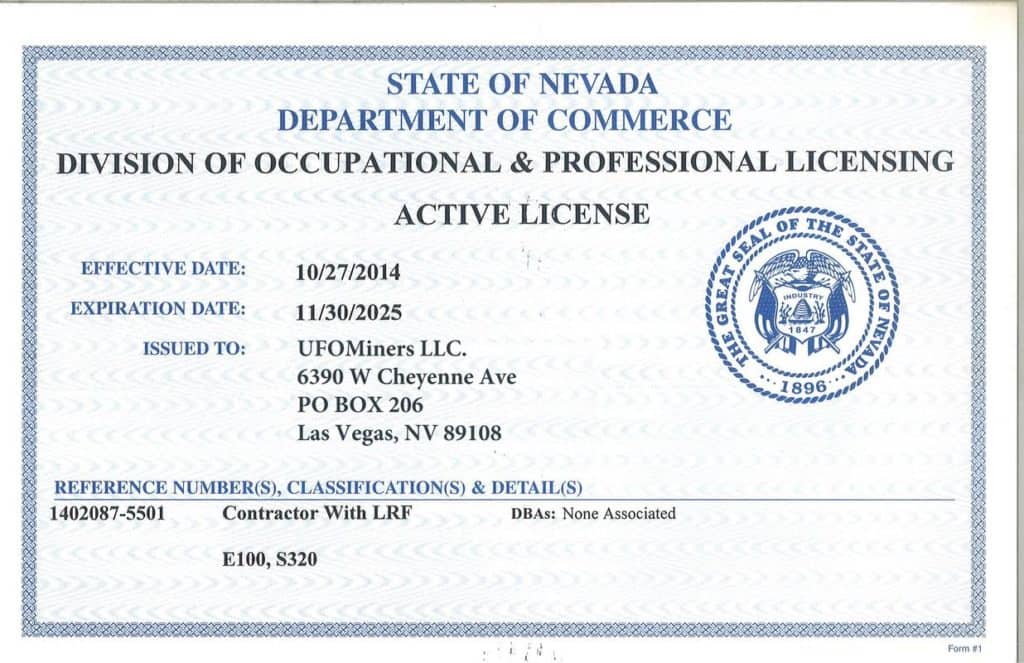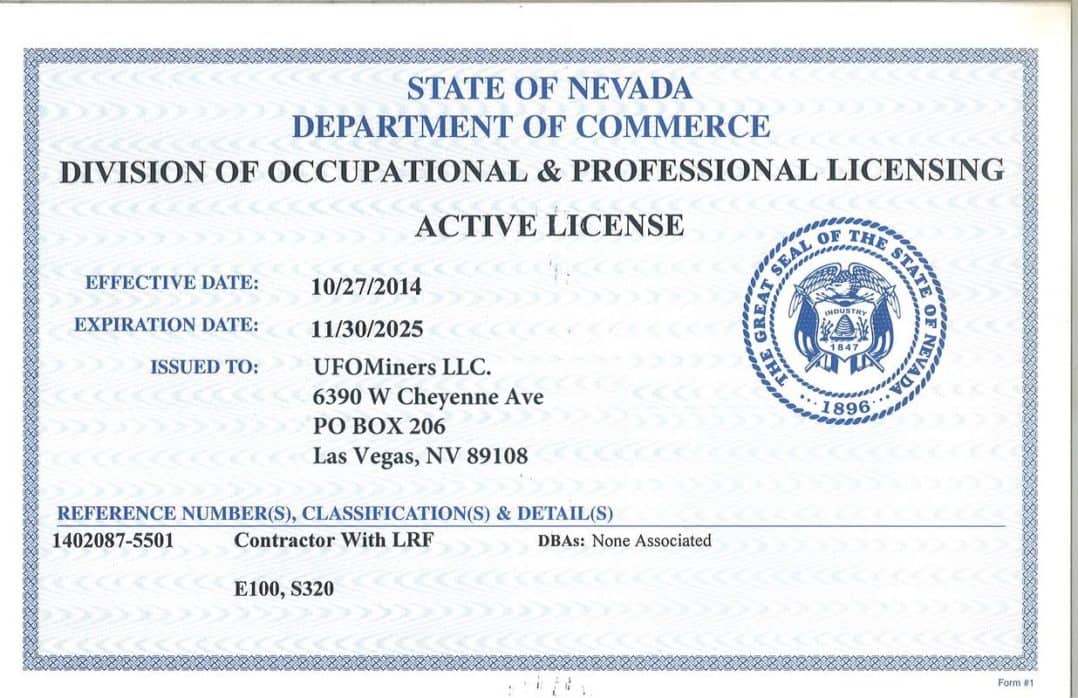 I also tried calling the company's phone number listed on their website but only no one answered, I only got their voice mail (that sounds a bit suspicious).
Conclusion: Is UFO Miners a scam?
Non of this evidence is conclusive, however when you put everything together it just doesn't add up. Also take into account that there are no online reviews about this company that allegedly has been operating since 2014 (even though their website is only 60 days old).
I'd suggest to avoid any connection with this company until proven that it is legit through some verified customer reviews. Also, I'd expect the various news sites out there to conduct some minimal due diligence before publishing stories about companies that could potentially steal people's savings.
If you have any other information about UFO miners or similar scams please leave them in the comment section below.