Buy Bitcoin Worldwide Review
By: Uri Shalev | Last updated: 10/3/22
Buy Bitcoin Worldwide is a popular resource that helps beginners buy Bitcoin safely, as well as assisting experts in analyzing market and network data. In this review, I'll cover the most useful features of the platform.
Buy Bitcoin Worldwide Review summary
Buy Bitcoin Worldwide is a highly useful website that helps beginners find reliable exchanges and safe methods to buy Bitcoin. Not only that, but it has a massive range of useful charts, statistics and tools for more experienced Bitcoiners to analyze the network and market.
That's Buy Bitcoin Worldwide in a nutshell. If you want a detailed review, keep on reading. Here's what I'll cover:
---
1. What is Buy Bitcoin Worldwide?
Buy Bitcoin Worldwide is an educational website that was created in 2015 by Jordan Tuwiner.
Tuwiner understood that buying Bitcoin could be super confusing for newcomers, so he created Buy Bitcoin Worldwide as a reliable guide to help beginners safely and easily buy Bitcoin. As a result, Buy Bitcoin Worldwide has helped more than 40 million people safely buy Bitcoin without getting scammed.
Since its inception, the website has now also grown to provide additional educational information on Bitcoin statistics and data, including charts, tools and links for more experienced Bitcoiners.
Having such a great reputation, it was even listed as the official exchange directory on Bitcoin.org's Resource Page.
---
2. Live Statistics Dashboard
The Stats and Live Statistics Dashboard provides Buy Bitcoin Worldwide users with a huge range of interesting Bitcoin statistics, trading indicators and analysis, presented in a very useful visual format.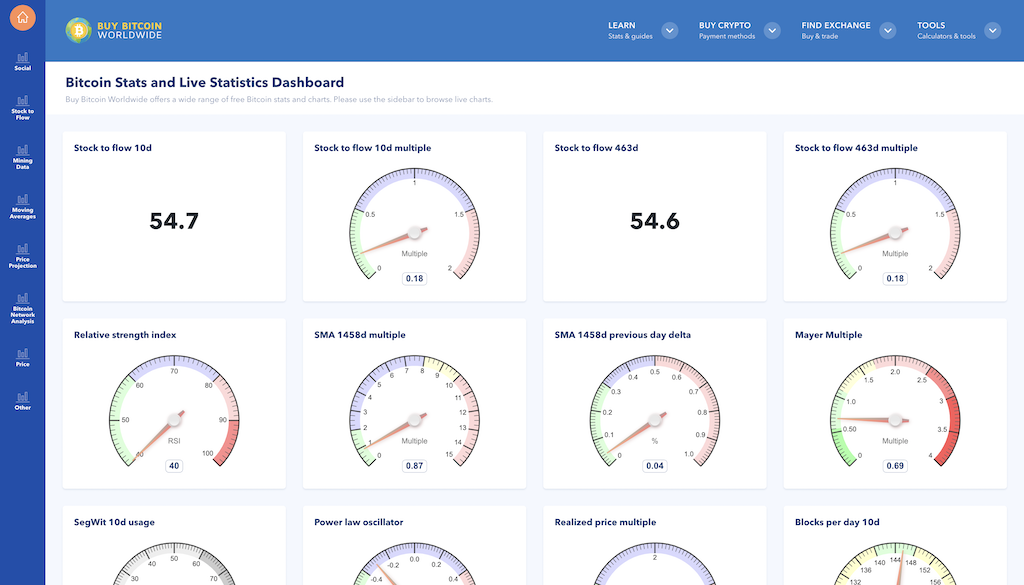 It has historical data on everything from Bitcoin price, estimation models, indicator values and Bitcoin network statistics – enabling users to check out a wealth of data that could help with all kinds of analysis.
Some cool stuff in here includes visual representations of the popular stock-to-flow (S2F) pricing model, as well as historical charts for useful data like the network's hash rate.
---
3. BitBo
In addition to the statistics dashboard above, Buy Bitcoin Worldwide also has a sleek real-time dashboard, which places all of the most important live data together in one screen. This way, all current market stats can be analysed at just a glance.
BitBo features a live Bitcoin price chart, as well as current network statistics such as block height, difficulty and fees.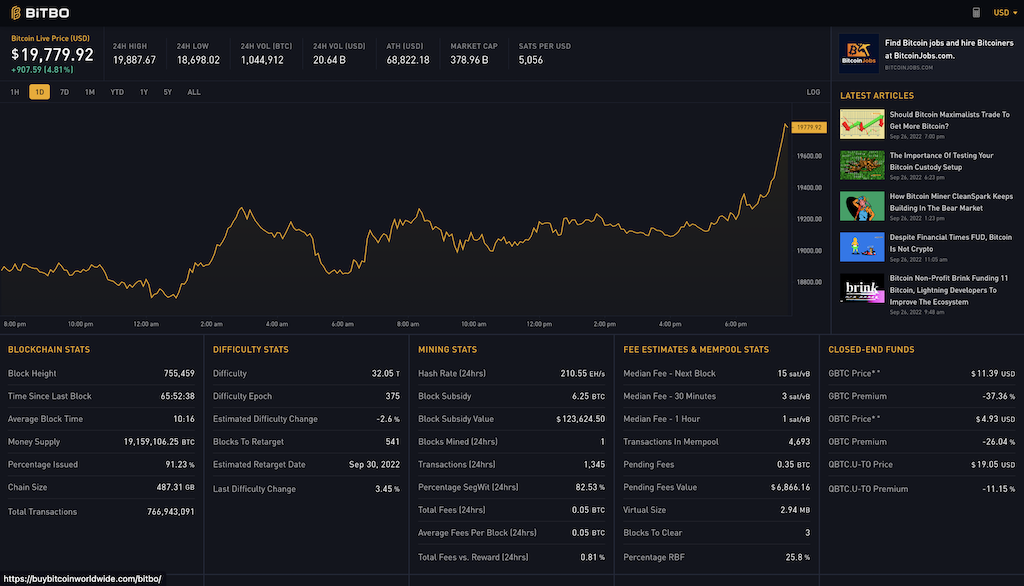 Further down the dashboard, it even taps into broader economic stats such as inflation, Bitcoin investment instruments and ETFs, and lightning network data – all for free.
---
4. "Bitcoin Is Dead" Database
The "Bitcoin is Dead" database is a collection of all of the times that mainstream media has declared Bitcoin "dead", or similar.
This is presented nicely on chart along with the price at the time of the proclamation, showing how comical some of the headlines looked as Bitcoin came back stronger each time.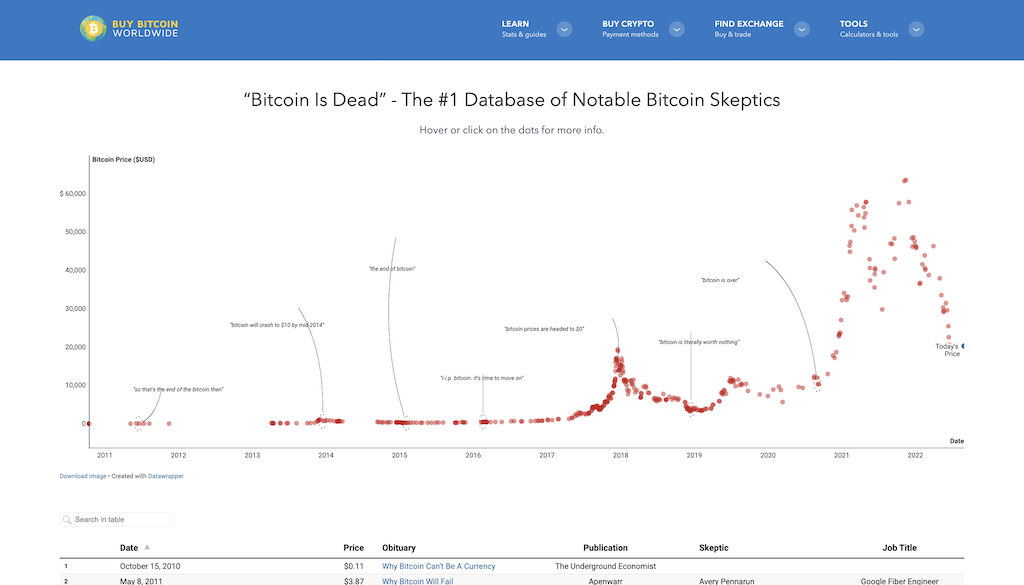 Below, there is also a handy table with links to each and every article plotted on the chart.
---
5. Bitcoin Treasuries
Bitcoin Treasuries is a simple yet useful collection of Bitcoin holdings in well-known companies – both publicly traded and private. Exchange-traded funds (ETFs) and country Bitcoin holdings are also presented here, which was really interesting to look at.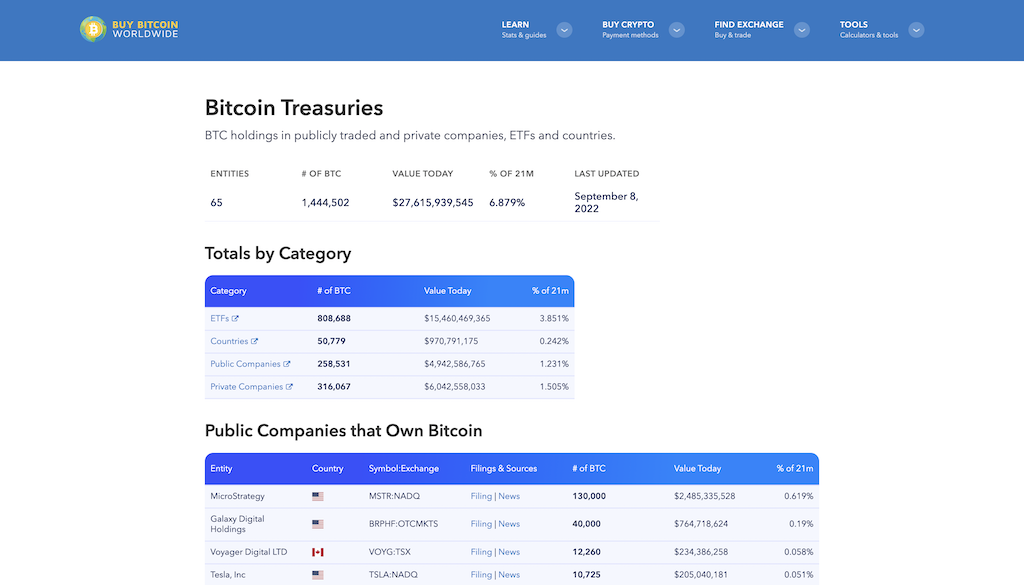 The table tracks not only the number of Bitcoin held by each entity, but also the current market value and the percentage of the total Bitcoin supply. It also provides links to news articles and official filings, so you know it's legitimate.
---
6. Bitcoin Volatility Index
Sort of like the VIX for the traditional stock market, the Bitcoin Volatility Index is a tool for measuring the volatility of the Bitcoin market, specifically.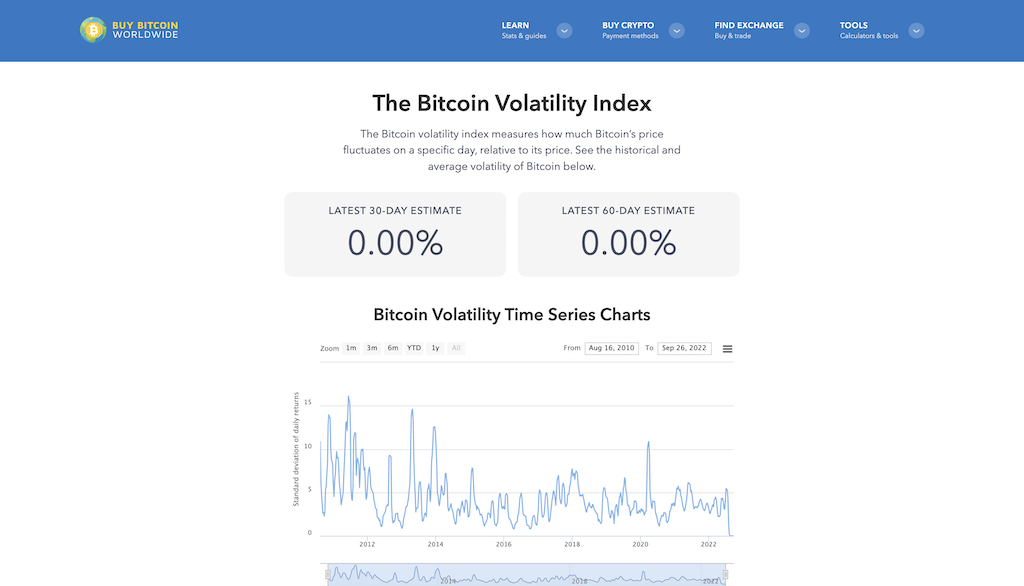 In more simple words, the page tracks how much Bitcoin's price fluctuates on any given day, and assigns it a number for easy reference. This is also presented on a historical chart, for easy comparison to other key moments in history.
---
7. Conclusion
Buy Bitcoin Worldwide is a highly useful website for Bitcoin beginners and experts alike. It guides beginners to reliable platforms and tools to purchase Bitcoin, and also helps experts track price and statistics in a range of ways.