101 Blockchains CEBP Course Review
By Alex Miguel | Last Updated: 9/29/2022
The Certified Enterprise Blockchain Program (CEBP) is the most popular course provided by 101 Blockchains. It's designed to teach working professionals blockchain fundamentals, as well as educate them on how to implement a suitable blockchain-based solution into a business.
In this review, I'm going to cover my personal experience trying this course, its price, customer support and its ratings online.
Certified Enterprise Blockchain Program Summary
The Certified Enterprise Blockchain Program (CEBP) is a 4-week course, requiring only about 3-4 hours of work per week. It is online-based, consisting primarily of video presentations and quizzes – as well as a live video presentation to top it off.
Overall, it appears to be a perfect streamlined course for professionals of any level to get up-to-speed with blockchain and its potential applications to a business, along with certification.
If you want a more detailed review of the CEBP course, keep on reading. Here's what I'll cover:
---
1. 101 Blockchains Overview
101 Blockchains is a research-based blockchain platform, founded in 2019. The company offers a huge range of training courses and certification programs targeted at working professionals, covering everything from enterprise blockchain solutions to things like decentralized finance (DeFi) and non-fungible tokens (NFTs).
The company claims to have an existing community of more than 40,000 professionals and has previously organized several virtual blockchain conferences.
---
2. About the CEBP Course
The Certified Enterprise Blockchain Professional (CEBP) course is 101 Blockchains' most popular course, providing professionals of all levels with a solid blockchain foundation, applicable to business.
Course Content
The course is structured as 4-week course, consisting of about 3-4 hours of active study per week. There are also useful introduction and "next steps" segments, to guide the user into and out-of the course.
The four weeks are structured as follows:
Week 1: Blockchain technology fundamentals

Week 2: Enterprise blockchain platforms (Ethereum, Hyperledger Fabric, and Corda fundamentals).

Week 3: Blockchain in Trade Finance

Week 4: Blockchain applications and use cases
This is then followed by a final exam and live online presentation.
Video lessons
All of the lessons were in video format, using powerpoint presentations narrated by a real professor, Enrico. Enrico spoke clearly and was viewable in the top-right corner the whole way through – I'm not sure why, but I found this much more useful than a simple voice-over.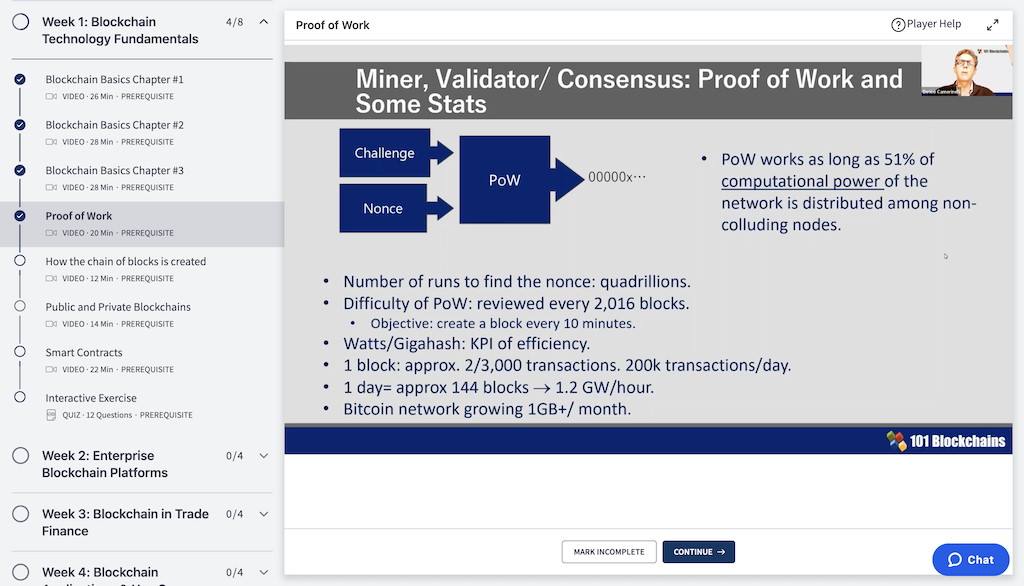 The content was presented clearly and concisely, with useful analogies, diagrams and real-world examples. My only critique of these videos was that the production quality and graphic design felt a little rudimentary – however the actual substance and information, as well as the professor's delivery, was top-notch. 
Quizzes
Each week of lessons was concluded with a quick multi-choice quiz, to recap the main points and ensure the students have a good grasp of what was taught.
These were open-book, which I found useful for going back and re-reading the relevant sections for a good understanding of anything I may have missed.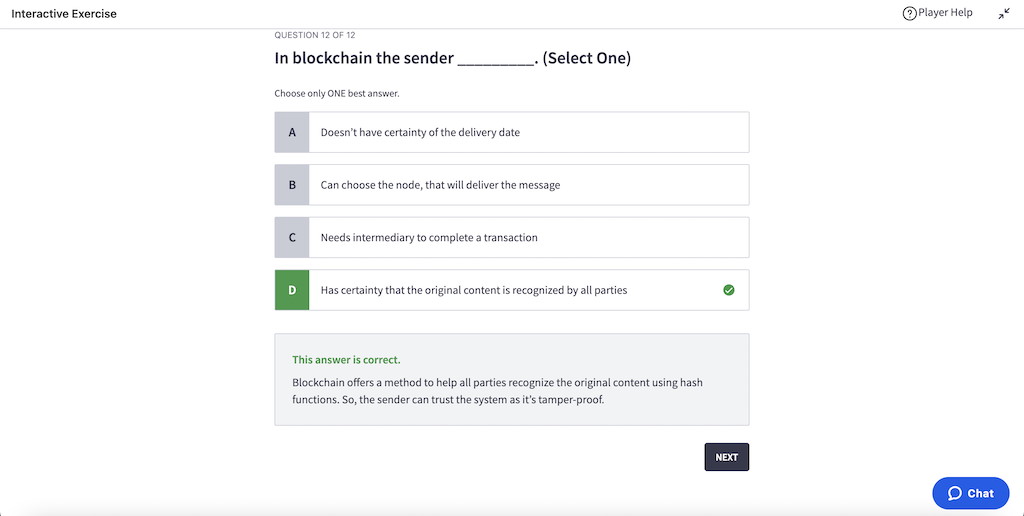 101 Blockchains also makes it very nice and easy to keep track of where you're up to in the course. A chronological sequence of lessons is displayed on the left of the screen at all times, automatically marked as complete as you proceed through the course.
Examination
At the very end of the course, there is an open-book "final exam", a 20-question multiple-choice test covering the entire course's content. In addition, there's also a final assignment and live presentation.
This presentation is the real test of the exam, involving creating a complete powerpoint presentation and presenting it live. This is performed over a video call for assessment by one of the 101 Blockchains professors/examiners. 
Students will apply the skills learnt during the course to a case study, showcasing their grasp of the content and the main objective of the course – applying blockchain solutions to enterprise in real life.
Certification
Students who successfully complete the CEBP course will receive an official completion certificate from 101 Blockchains. This includes a LinkedIn accreditation and printable diploma, which will look great with your resume.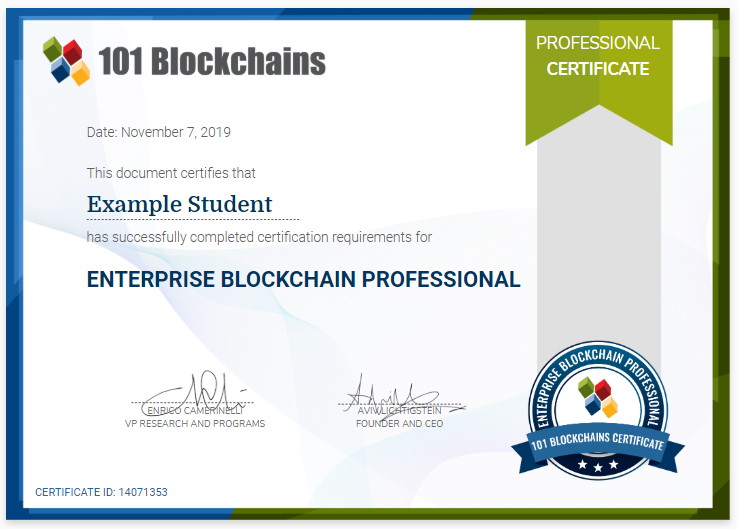 Along with your certification, you'll also receive personal guidance and exclusive bonus materials, with CEBP certification training.
Refund policy
If for any reason you aren't satisfied with CEBP or one of 101 Blockchains' online courses, they will allow you to initiate a refund within 7 days from your enrolment. 
This is accompanied by some terms and conditions, however, including that you must not have completed any more than 10% of the course, and you must not have downloaded any of the presentations.
Although this is somewhat understandable to prevent people stealing course materials at no cost, to me it doesn't seem entirely fair to place a no-refund limit at 10% of the course. It's difficult to judge an entire course from only one-tenth of the content, and it could be easy to accidentally view more than that much before deciding you want a refund.
---
3. Pricing
The CEBP course is priced at $399 – about the same price as the closest competitor I found ($349), but with about double the estimated course duration. 
It is also much cheaper (and less intensive) than University-provided courses, which tend to be priced at multiple thousands of dollars, along with several months of course work. 
In my opinion, the CEBP course is a great investment that provides a middle-ground for professionals to obtain relevant blockchain expertise, without having to participate in an expensive and broad University program. 
---
4. Customer Support and Reviews
101 Blockchains offers instant online chat help, which was not available at the time I wanted to make an inquiry. In place of this, they accepted my question via email, which only took a matter of hours for them to reply to. The reply was also extensive and helpful, which was a pleasant surprise.
The company's feedback on Trustpilot is absolutely excellent, with almost nothing but compliments on their courses.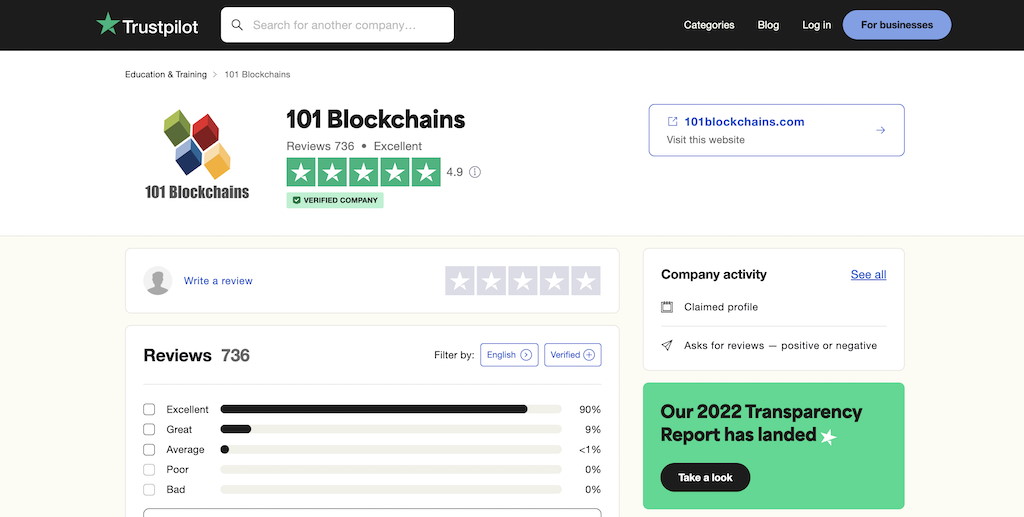 The only "average" feedback they received was that the courses were not as detailed or as in-depth as the student would have liked – however I feel like this by design. The CEBP course, at least, was very streamlined and efficient, achieving its objective with just enough material to be useful and applicable, without too much "fluff".
---
5. Conclusion – Is it Worth it?
Overall, the CEBP course is a streamlined course that will provide professionals of all levels with exactly what they need to know about applying blockchain solutions to existing businesses. 
The course provides great value for money, as well as efficient content that skips all the fluff and gets straight to what is applicable. The final presentation, delivered by the student in real-time, ensures that students can truly prove their acquired skills and knowledge, giving extra value to the certification.
Although it is still difficult for recruiters to gauge how much recognition to give 101Blockchains certifications, it is certainly a cost-effective way to obtain some concrete evidence that you are proficient in the area compared to your peers. Given that certifications in general are rare for blockchain-based skills, it is a great way to prove your expertise in blockchain for enterprise.