Founded in 2013, Exmo is a small UK-based cryptocurrency exchange that claims to have team members and investors located around the world. While its trading volume is very low compared to major cryptocurrency exchanges such as Bitfinex, Exmo does have something to offer, with a number of advantages. In particular, there is good currency support, with four fiat currencies (USD, EUR, UAH, and RUB), Bitcoin, and a dozen of altcoins available.
Buying, selling, and exchanging on Exmo is incredibly easy since the platform is so simple to use. It's therefore an ideal cryptocurrency exchange for beginners, who will appreciate the intuitive interface design. However, it doesn't have many additional features, so those looking to do margin trading will probably want to look elsewhere.
Generally speaking, the website works well, though some comments found online suggest its servers haven't always been the most reliable. Exmo is easy to navigate, and buying and selling crypto is quick and easy. While Exmo does offer a wallet for you to store your newly purchased cryptocurrency, it's recommended you take your crypto off the exchange and store it in a secure wallet of your choosing.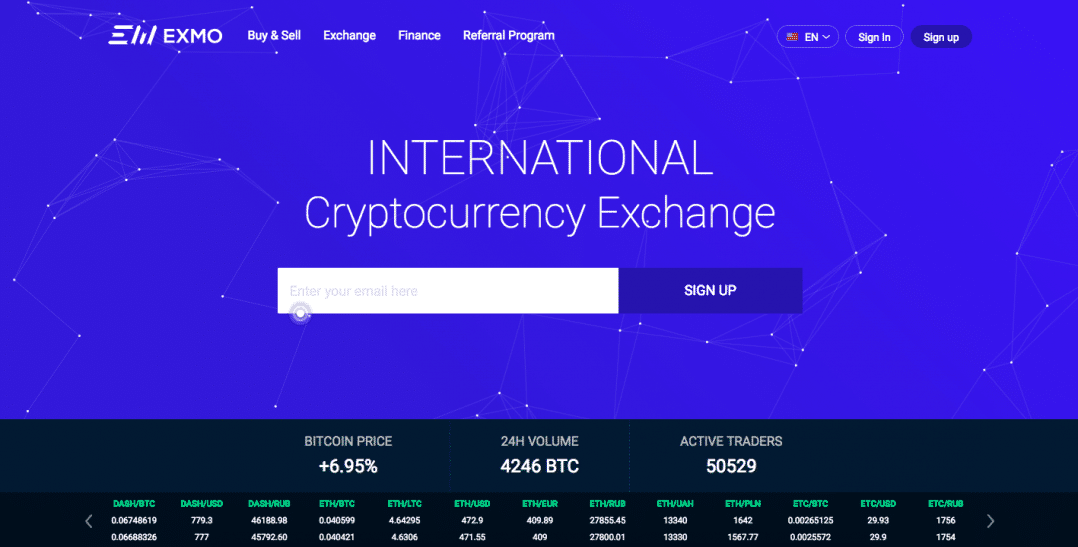 Currency Support
There is good currency support on Exmo, with the US dollar (USD), euro (EUR), Ukrainian hryvnias (UAH), and Russian ruble (RUB) accepted. With these currencies, it's possible to buy the following cryptocurrencies:
Bitcoin (BTC)
Litecoin (LTC)
Dogecoin (DOGE)
Dash (DASH)
Ethereum (ETH)
Waves (WAVES)
Zcash (ZEC)
Tether (USDT)
Monero (XMR)
Ripple (XRP)
KickCoin (KICK)
Ethereum Classic (ETC)
Bitcoin Cash (BCH)
There's also an exchange service between USD and EUR. Overall, Exmo offers a good selection of altcoins. Making a deposit is easy since there are so many ways to fund an Exmo account. The exchange not only accepts bank transfers but also debit and credit cards. For withdrawals, you can also use PayPal. Deposits and withdrawals are generally quite quick, but this obviously depends on the method chosen.
Country Support
Thanks to the wide range of ways in which you can deposit to your account, Exmo is available in most countries. The website itself is available in 11 different languages: English, Spanish, French, German, Italian,  Portuguese, Romanian, Chinese, Russian, Ukrainian, and Polish. As always, be sure to check the legality of cryptocurrency in your location before buying and selling.
Fees
Because Exmo allows so many different payment methods, there are a lot of different transaction fees to consider. Let's take a look at the main ones.
When making a deposit or withdrawing, there's a flat 0.2% fee regardless of the method chosen. Depositing most cryptocurrencies on Exmo incurs no additional charge with the exception of KickCoin, for which there's a fee of 50 KICK. Withdrawing cryptocurrency comes with the following fees:
Bitcoin (BTC) – 0.001 BTC
Litecoin (LTC) – 0.01 LTC
Dogecoin (DOGE) – 1 DOGE
Dash (DASH) – 0.01 DASH
Ethereum (ETH) – 0.01 ETH
Waves (WAVES) – 0.001 WAVES
Zcash (ZEC) – 0.01 ZEC
Tether (USDT) – 5 USDT
Monero (XMR) – 0.05 XMR
Ripple (XRP) – 0.02 XRP
KickCoin (KICK) – 25 KICK
Ethereum Classic (ETC) – 0.01 ETC
Bitcoin Cash (BCH) – 0.001 BCH
If you're depositing USD, then you can expect to pay 2% + $20 for a wire transfer. If you're using USD, you also have the option of paying via PayPal. While it's free, withdrawing funds to PayPal incurs a fee of 3% of the transaction.
Paying with EUR via a SEPA transfer costs €25. Needless to say, there are always cheaper ways of depositing and withdrawing, whether that's choosing another method or another cryptocurrency exchange. Depositing USD and EUR via a debit or credit card is free, but withdrawing incurs a charge of 3% + $7.5 or 3% + €6.
Customer Support
Exmo claims to offer 24/7 customer support. The support offered by Exmo is similar to many cryptocurrency exchanges in that it's largely online and replies tend to take a few days. When it comes to contacting support, you have three similar options: One is submitting a support ticket via the online form. Another is sending a direct email. There's also an online chat option, which is somewhat hit or miss. Upon testing it myself, I had a very quick initial response, but the replies could've been more professional—they tended to be very short, often consisting of just one or two words. It may come down to luck as to who you speak with.
Public Opinion and Online Reviews
As Exmo is a relatively small cryptocurrency exchange, there's little in the way of opinion to be found online. What's more, there are no other reviews on authoritative sites. The vast majority of Exmo reviews to be found appear to be paid reviews, which raises a certain degree of suspicion.
As such, it's important to approach the exchange with some degree of caution since it's less established than the likes of Coinbase or Bittrex, for example. One source of information is this Bitcointalk forum thread, which features up-to-date comments. Most of the comments consist of issues experienced by users, but this isn't uncommon in a public forum.
Conclusion
Exmo is a valid option to consider, particularly if you're seeking a smaller cryptocurrency exchange. The currency support is much better than many other crypto exchanges, and there's a reasonable selection of altcoins to choose from. It's also nice to see so many payment options, which allow more people from more locations to be able to use it. Despite these advantages, it's important to be cautious when signing up to a cryptocurrency exchange, particularly when it's less well known, as in this case.