EXMO Review and Comparison Guide
By: Nicholas Marinoff | Last updated: 1/2/21
EXMO is a leading British cryptocurrency exchange that boasts more than one million customers and offers more than 190 digital trading pairs. In this review, we'll go over EXMO's services, fees, structure and availability.
EXMO Review Summary
EXMO is a British cryptocurrency exchange which offers fiat and cryptocurrency trading pairs, an over-the-counter (OTC) desk, a gift card service, as well as several other cool features for its VIP members. Using EXMO's proprietary token, EXM (EXMO Coin), gives users extra benefits such as rewarding cashback and better fees.
That's Exmo in a nutshell. For a more detailed review, continue reading below. Here's what I'll cover:
---
1. EXMO Overview
EXMO was founded in 2014, with its primary headquarters stationed in London. Nowadays, the company's services are available to consumers in more than 200 separate countries including Russia, the Ukraine and Turkey. With its average daily trading volume exceeding $24 million, EXMO is positioned among the largest trading platforms currently active.
---
2. EXMO Services
Fiat to Cryptocurrency Trading
First and foremost, EXMO allows you to buy Bitcoin and other crypto – either via its advanced trading platform or for a premium using its brokerage service. EXMO's trading platform offers over 190 fiat and cryptocurrency-based trading pairs. The majority of these are based in BTC, ETH, USD, RUB or EUR.
Trading fees are competitive with many major exchanges, more on that later.

OTC Trading Desk
Along with it's regular trading platform, EXMO also offers an OTC trading desk, which is designed primarily for institutional traders who engage in transactions that exceed $100,000. These trades will always be executed by professional brokers at the best prices in the shortest times. Fees and terms are specific per deal. The OTC service can be accessed by submitting a form on EXMO's site.
Exmo Gift Card
Beginning on October 1, 2020, EXMO unveiled their gift card, which allows users to easily transfer funds between exchange customers. Crypto holders can both generate and activate such cards, while those operating with purely fiat currencies can only activate existing cards.
User Voting and Cashback
An interesting feature, EXMO's voting feature allows users to vote on upcoming projects or currencies that the platform is considering listing. Additionally, high-trading users can earn as much as 70 percent in trading fees, as a part of an attractive CashBack system.
VIP Features
Exmo also offers an API designed for cross-platform trading bots, as well as separate services for VIP customers such as banks, hedge funds, and other top-tier financial establishments. Some of these VIP services include professional consultations, increased spending limits, corporate accounts and individual tariffs for each client.
Exmo Mobile App
Finally, EXMO provides a mobile app which is available on both Android and iOS. Both platforms seem to be doing well, with some complaints on Google Play Store concerning issues with the KYC process being slow and unfriendly.

---
3. Currencies and Payment Methods
EXMO allows users to trade, purchase and sell as many as 54 separate cryptocurrencies including:
In addition, users can also use EXMO's coin known as EXM or EXMOCOIN, for added benefits; Using EXM can get you additional cashback and reduce your fees by up to 50%.
Users can trade up to eight different fiat currencies including:
USD
EUR
GBP
RUB
PLN
UAH
KZT.
There are roughly 195 trading pairs available on the platform.
As for payment methods, users looking to purchase cryptocurrencies may use:
Credit card (MasterCard, VISA)
Wire transfer (Backs, Chaps, Faster Payments
SEPA
SWIFT (for USD deposits)
Advcash
Payeer
4. Fees
EXMO's trading fee schedule is a tier-based one, meaning the higher your trading volume is, the lower your fees are. This can get as low as -0.05% for makers/0.05% takers whos trade volume exceeds 20M$ monthly. On the other hand, the fee can get to 0.4% (makers and takers) for traders whos trade volume is below $100. In addition, EXMO also allows traders to purchase CashBack plans for a premium.
Users who wish to buy crypto rather than trade can do that using EXMO's Quick exchange at the exchange's rate. This method does not require you to pay any premium, however, deposit fees apply. The deposit fee can range from 0% for  SEPA transfers, to 3.99% + $0.35 for USD deposits via credit card. To withdraw your BTC funds, EXMO will charge a flat fee of approximately 0.0004 BTC, which is below the global exchange average.
---
5. Buying Limits
Each currency on EXMO features different buying limits depending on the purchase method and what the currency is paired with. For example, those looking to buy bitcoin with USD, euros or Tether are limited to 1,000 units. However, customers who seek to purchase Ethereum with these currencies may buy as many as 5,000 units of ETH. The same figure applies to BCH purchases.
Customers looking to buy Ripple (XRP) with USD may purchase five million units of the asset, while they'll experience limits of 10,000 units for Litecoin and 500,000 units for EOS.
---
6. Supported Countries
The Exmo exchange boasts customers from over 200 countries. The trading platform permits trades in most nations, though there are a few exceptions: Currently, Exmo does not service customers from the following countries:
Afghanistan, Angola, Algeria, Bahamas, Bangladesh, Bolivia, Botswana, Burma (Myanmar), Burundi, Cambodia, Central African Republic, Chad, Congo, Conakry, Cote D'ivoire, Crimea (Ukraine region), Cuba, Democratic People's Republic of Korea (DPRK), Ecuador, Egypt, Equatorial Guinea, Eritrea, Ghana, Guinea Bissau, Guyana, Iceland, Iran, Iraq, Haiti, Lao PDR, Lebanon, Libya, Mali, Mongolia, Morocco, Myanmar, Nepal, Nicaragua, North Macedonia, Pakistan, Panama, Qatar, Saudi Arabia, Somalia, South Sudan, Sudan, Syria, Trinidad and Tobago, Tunisia, Uganda, United States, Vanuatu, Venezuela, Yemen, Zimbabwe
---
7. Customer Support and Reviews
EXMO provides a forum for customers who are new to the platform. Users may visit this section to see if answers to their concerns have already been tackled. Otherwise, there is a customer support email service available to anyone wishing to get in touch with representatives of EXMO privately. The email to utilize when contacting EXMO is [email protected].
There is also an online chat forum for customers who do not wish to wait for responses or who are experiencing emergencies and need immediate assistance. Granted individuals can wait to have their concerns addressed, they may open an online ticket and have their issue taken care of in the order that it was received by a customer service rep.
As for reviews, the general feedback for EXMO is very positive. This can be easily indicated by a 'Great' TrustPilot score which is nothing to be shy of, especially for a crypto exchange.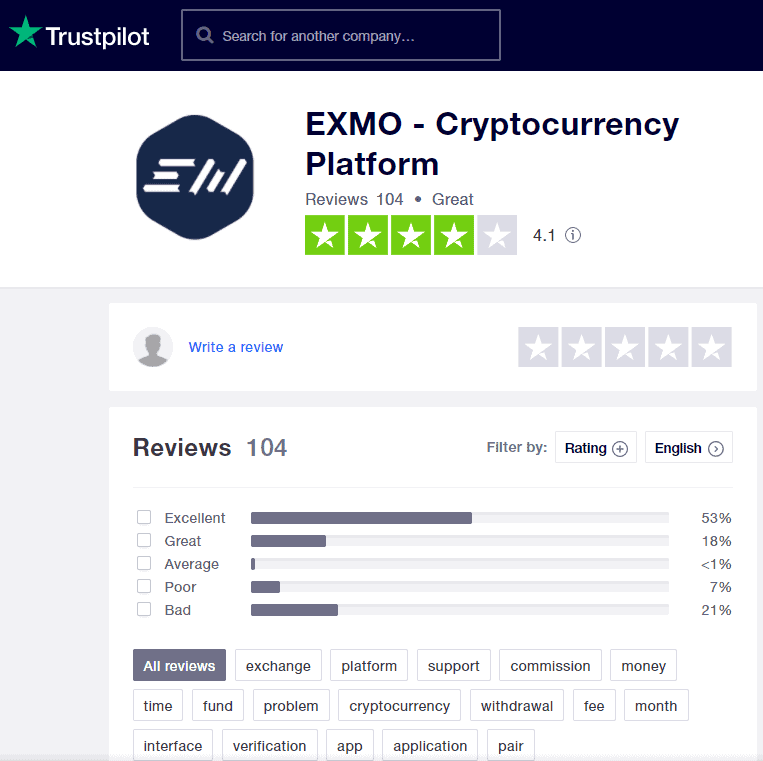 ---
8. Conclusion
EXMO has many advantages. It offers customer service 24 hours a day, seven days a week. There are multiple payment options available to customers who can access a wide number of different assets, and trading fees are relatively low. Customer support is also available in multiple languages, which is not a given.
There are some negatives that customers should consider if they decide to engage in EXMO-based trades. For example, there are transfer limits that they will need to get used to. The company also does not support margin trading, and there have been several reports of downtime.
Still, for the most part, EXMO appears to be a serious player in its field. The company is large and established, having been in business for roughly seven years. The fact that it supports trades in several different countries is a testament to its scope and resilience. By supporting  a quick exchange feature, trading platform and OTC desk, EXMO is a solid starting point for both beginners, advanced and institutional customers.
That's it! If you had any personal experience with EXMO or have any comments, please share them in the comments section below.