Following a positive experiment exclusively for United States-based buyers, the electronic giant Dell announced it is expanding its online Bitcoin payment option to the United Kingdom and Canada. 
The company opened its doors to cryptocurrency in July 2014, but only clients based in the US could use BTC to pay for their Dell products. According to Dell's official blog, the US pilot project was extremely "successful" and the results have apparently encouraged the company to expand it, enabling crypto-payments for the UK and Canada.
With nearly $60 billion in annual sales, this makes Dell "the largest merchant to accept Bitcoin internationally", the company says.
Michael Dell, founder and CEO of the electronics manufacturer and retailer, celebrated the fact on Twitter.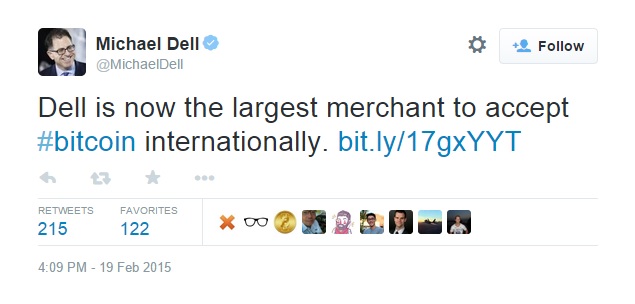 But what are the Bitcoiners buying from Dell.com?
We are seeing purchases across our full product and customer spectrum – from software and peripherals to our business PCs and even our largest transaction to date – north of $50,000 for a highly configured PowerEdge server system.
The digital giant seems to be building a strong reputation as a business that strongly supports cryptocurrency. Dell's official point of view is that "this form of payment is clearly resonating with consumers, small and medium businesses".
Paul Walsh, CIO of Dell, agrees. "Through the expansion of Bitcoin we're enabling new levels of convenience for our customers, making it easier for them to do business with Dell," he said.
However, the United States, the UK and Canada might not be enough for the company in the near future, as Dell is using words like "global" to describe their Bitcoin payment option and partnership with the crypto-payment processor Coinbase. "We're excited to take the choice and flexibility this payment option offers global, maintaining our partnership with Coinbase, a trusted and secure third party payment processor, to make this possible," reads the blog post.
And Coinbase is also talking global. "We are pleased to partner with Dell once again as we expand Bitcoin acceptance worldwide," reads a recent post published on the company's blog.
Nevertheless, the company is still not holding any BTC at the moment, converting the digital coin into fiat currency.
The method to purchase Dell products seems to be as simple in the UK and Canada as it was in the US. When you are ready to make a purchase, you only need to add the items to your cart and choose Bitcoin as the payment method. If you have any doubts, check this video guide and see the Bitcoin payment process in action.