YouHodler Review
By: Alex Miguel | Last updated: 2/15/23
YouHodler is a cryptocurrency financial services company which provides crypto-backed loans, crypto savings accounts and more. In this review, I'll be covering YouHodler's core services, fees and other details you'll want to know before signing up.
YouHodler Review summary
YouHodler is a centralized platform which provides financial services for cryptocurrency assets. The platform provides users an easy way to make the most use out of their crypto holdings, including crypto-backed cash loans and interest-generating crypto savings accounts. It is available around the world and has competitive interest rates compared to its competitors.
That's YouHodler in a Nutshell. Keep on reading below to get a more detailed review of YouHodler's platform and services. Here's what I'll cover:
---
1. YouHodler Overview
YouHodler is a centralized company with offices in Cyprus and Switzerland. Although its services cater best to the European Union, almost anyone around the world can use the YouHodler platform.
The company is a member of the Blockchain Association of Financial Commission and Crypto Valley Association. The Financial Commission gives users a second line of protection if they need to resolve a dispute.
YouHodler is headed by CEO and co-founder Ilya Volkov, a former head of marketing at Eurokommerz and Forex Club. He is also the Western Chapter Chair of the Crypto Valley Association, a non-profit position which aims to push blockchain innovation in Western Europe.
---
2. YouHodler Services
Cryptocurrency savings accounts
YouHodler also has interest-earning savings accounts for cryptocurrency holdings, which can earn up to 12% APR. 
A user can deposit any of the platform's supported cryptocurrencies to earn weekly interest payments in the form of Bitcoin, Pax Gold, or stablecoins. Interest accrued can be monitored in real-time using the "earned" counter in the YouHodler dashboard.
Crypto-backed loans
YouHodler is one of several platforms which offer fiat currency loans, secured with cryptocurrency as collateral. This is generally a great way to get quick access to fiat currency, without having to actually liquidate your crypto assets.
These loans are over-collateralized, meaning you'll have to lock up cryptocurrency that is higher in value than what you are borrowing. This is a standard practice in the industry.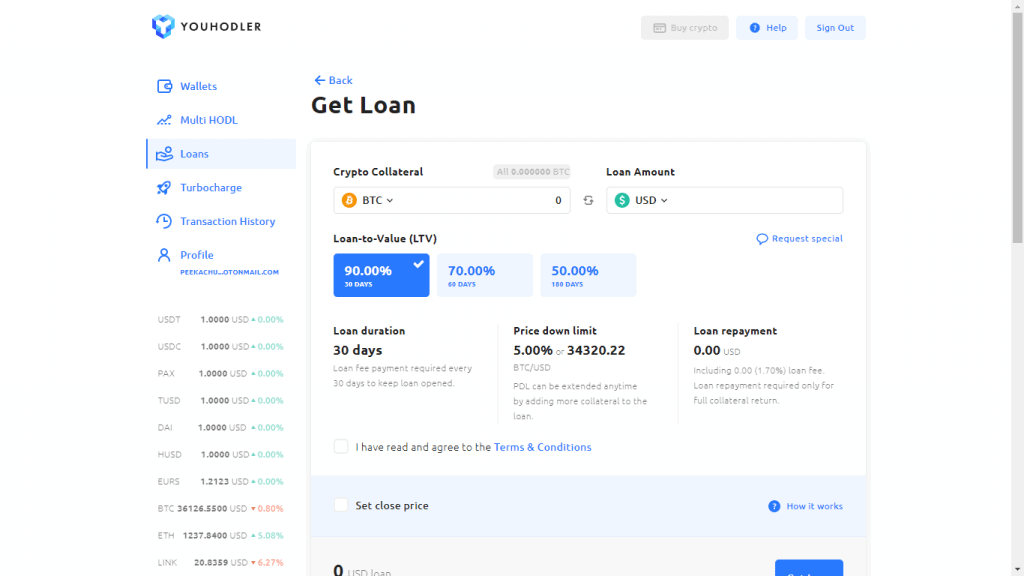 YouHodler claims to have the highest loan-to-value (LTV) ratio in the sector, with a maximum of 90%. 
Loans can also be as small as $100, with about 20 cryptocurrencies being accepted as collateral. Users can choose a loan term of 30 days, 60 days, or 180 days.
Exchange
Another neat feature on YouHodler is their exchange service. This is a simple swap tool for users to switch between assets, including all supported cryptocurrencies, fiat currencies and stablecoins.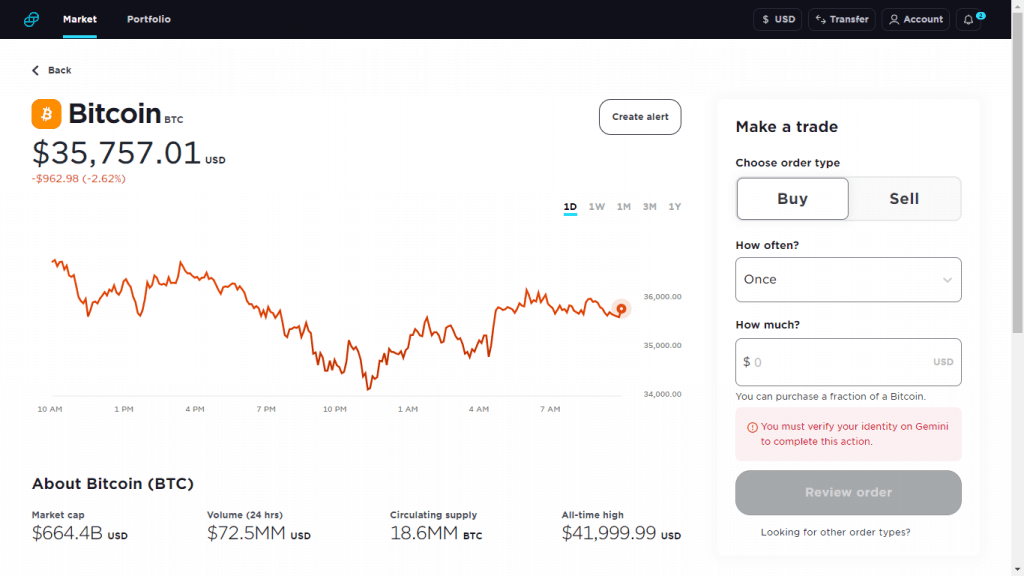 Rather than having users navigate a confusing trading interface, this is an "instant" swap tool which gives users more or less the current market rate (minus a spread and fees). The interface will tell you the estimated exchange rate, estimated arrival time and fee, so you know exactly what you're getting before making a swap.
Multi HODL and Turbocharge
YouHodler also has two higher-risk features, which function as a type of simplified trading tool for users wanting to profit from market volatility. They appear to be an attempt to give users trading features in a more user newbie-friendly way than traditional exchanges.
Multi HODL essentially allows users to speculate on the price of one of their currencies going up or down, using just a portion of their deposited funds. The allocated funds apply leverage by borrowing extra funds, amplifying profits (or losses). The feature allows users to set a stop-loss and take-profit level. With Multi HODL, users can still earn interest on all their funds, while also profiting from market volatility.
Turbocharge is a similar feature, which uses your whole deposit to automatically borrow fiat currency and purchase more crypto. Like Multi HODL, this also results in a "synthetic" margin trade – but uses your entire balance rather than a portion of it. Whereas Multi HODL allows you to speculate in either direction, Turbocharge is only used when you think the price of an asset will increase.
Mobile App
YouHodler also has a mobile app version of their platform, which is available on iOS and Android. It offers all of their core services for easy account management on-the-go.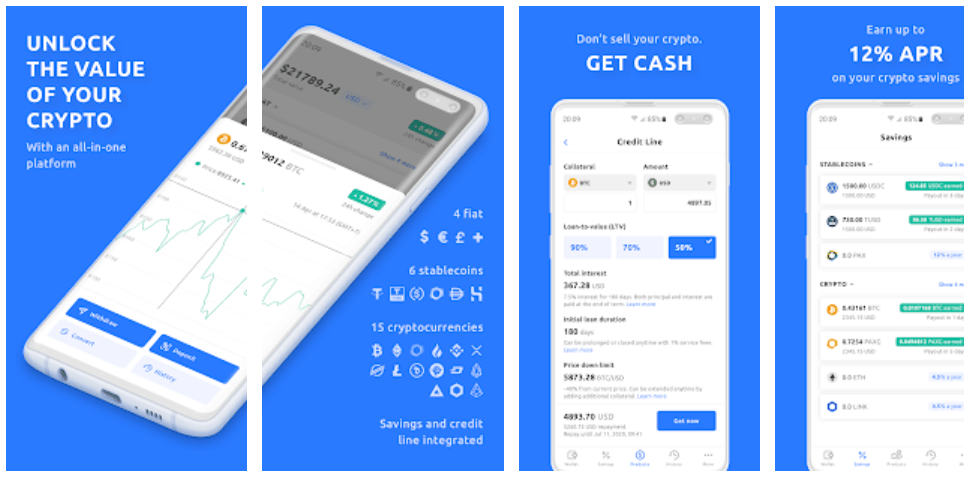 ---
3. Currencies and Payment Methods
Deposits
There are a few ways that users can get funds into YouHodler to begin using the platform.
The first is using a debit or credit card to purchase cryptocurrency via their partner, Changelly. Changelly is a well-known cryptocurrency purchase and exchange service. Although this is one of the easiest methods, it carries higher fees and often poorer exchange rates.
Users can also deposit fiat currency into the platform directly using a bank wire, for EUR, USD, GBP and CHF. 
AdvCash (an offshore payment system that cooperates with Mastercard) is also available, however this requires an independent identity verification process. AdvCash payments can be made using their app and also with a bank card, but carries its own fees.
Finally, a user can directly deposit any one of YouHodler's supported cryptocurrencies directly into the platform, from another wallet.
Supported cryptocurrencies include:
Tether (USDT)

USD Coin (USDC)

Paxos Standard (PAX)

True USD (TUSD)

Dai (DAI)

HUSD (HUSD)

EURS (EURS)

Bitcoin (BTC)

Ethereum (ETH)

Chainlink (LINK)

Uniswap (UNI)

Compound (COMP)

Maker (MKR)

Litecoin (LTC)

Ripple (XRP)

Stellar (XLM)

Binance Coin (BNB)

PAX Gold (PAXG)

Dash (DASH)

EOS (EOS)

Bitcoin Cash (BCH)

Huobi Token (HT)
Loans
Loans can be taken out in USD, EUR, GBP, CHF and BTC.
---
4. Fees and Limits
Interest bearing accounts
The smallest possible deposit amount for cryptocurrencies is an equivalent of 5 USD in value, however the minimum deposit required to begin earning any interest on YouHodler is $100. All cryptocurrency deposits (including stablecoins) are free.
There is an "overall maximum" of $100,000 value across all currencies in any single user's account.
Stablecoins earn an interest rate of 12% APR, while supported cryptocurrencies range between 4.5% and 8.6%.
All cryptocurrency withdrawals (including stablecoins) require a minimum withdrawal amount of 5 USD in equivalent value.
Withdrawal fees for cryptocurrencies depend on the asset at hand. At the time of writing, the latest crypto withdrawal fees can be viewed here.
Users also have the option to purchase cryptocurrencies using a bank card through YouHodler partner, Changelly. With Changelly, you'll be paying a fee of between 5-10% on each cryptocurrency purchase made.
Fiat currency deposits
Bank wire deposits on YouHodler are free and require a minimum of 1000 USD, 50 EUR, 500 CHF or 500 GBP.
Users can also make deposits using the AdvCash wallet with a 1% fee, or 4.5% for a bank card deposit via AdvCash.
Regular bank card deposits are also available, however are only available for loan repayments. These carry a 4.7% fee with a minimum of 1 USD or 1 EUR. 
Exchange
When using the YouHodler Exchange for crypto-to-fiat or fiat-to-crypto swaps, a user must exchange at least $30 worth of currency. 
Exchange fees appear to be dynamic, so there's no single figure that will cover all trades. Instead, YouHodler has provided a conversion calculator tool which will tell you the expected exchange rate and the fee they will charge for the trade. 
Make sure to double-check this before executing a trade, especially in times of market volatility. Keep in mind that YouHodler claims a final conversion may vary by 1% in either direction.
Loans
The minimum loan available using YouHodler is 100 USD. 
Loan fees (on top of the interest rates themselves) vary between 1.70% to 7.50% of the total loan value, depending on the asset and loan term/loan-to-value (LTV) ratio. More specific fees and details can be found using YouHodler's loan calculator.
Fees for other loan-related features include:
1% fee when closing a loan by using collateral for repayment, using the "Close now" function

Variable interest fee + 1% service fee to extend a loan with the "Reopen" function

1.5% fee on extended amount, using the "Extend PDL" function

1.5% fee on increased amount, using the "Increase LTV" function
Fiat currency withdrawals
Bank wire withdrawals are charged the following fees:
USD withdrawals (SWIFT): 5% fee, with a minimum fee of 70 USD

EUR withdrawals (SEPA): 5 EUR
EUR withdrawals (SWIFT): 55 EUR

GBP/CHF withdrawals: 0.15%
The minimum withdrawal amount for bank wires is 1000 USD, 100 EUR, 500 CHF and 500 GBP.
Bank card withdrawals require a minimum withdrawal of 2 USD or 2 EUR. They carry a 3.5% fee for USD and EUR, and a 2.2% fee for RUB.
Limits on bank card withdrawals depend on your country of residence and such withdrawals are not available for all countries. For full details, refer to the bank card withdrawal help page.
---
5. Supported Countries
YouHodler is available to a majority of countries around the globe, with a few exceptions due to legal requirements.
Currently, YouHodler does not provide services to the USA, Bangladesh, China, Iraq, Pakistan, Crimea, Cuba, Iran, North Korea, Sudan Syria, Afghanistan, and Palestinian Territories.
---
6. Customer Support and Reviews
YouHodler has an "Excellent" score on Trustpilot, which translates to an average score of 4.5 stars or more. Upon closer inspection, a majority of positive scores were "invited", indicating that YouHodler individually requested that these users write a review.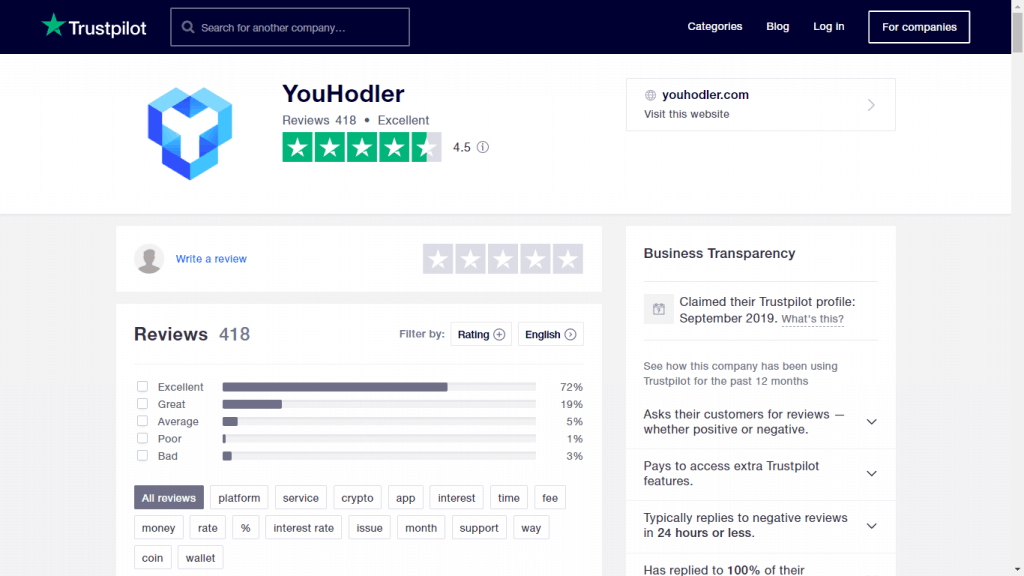 These are still genuine reviews, but take the overall score with a grain of salt when comparing to other platforms. 
Users appear to be very happy about the overall service, the returns they earn, and the platform's general ease-of-use. A common praise is that the interest rates are exceptional, giving them better returns than alternative platforms.
The few negative comments are mostly centered on high fees, in particular those associated with the platform's exchange feature. A few bugs were also reported in the app/user interface, however none of these were major.
YouHodler's team replies individually to each and every review, which is a great sign of active customer service and listening to their users' needs. 
My personal examination of the customer service was a bit disappointing, however, noticing there was no live chat help service and limited options for contacting the company at all. All I could find was a poorly-formatted company email address and no customer-related phone number on inquiry service. The only help I could find was the website's FAQ section, which admittedly was quite helpful for the majority of my queries.
It appears the best way to reach the team for any assistance would be via their Telegram channel, which looks moderately active with support staff.
---
7. Conclusion
YouHodler is a more feature-rich version of similar platforms offering crypto-backed loans and cryptocurrency savings accounts. The Exchange is a great addition, with the extra features of Multi-HODL and Turbocharge also filling the gap that competitors left for trading-like services.
YouHodler also appears to be more accommodating to users who want to take out smaller loans, with a loan minimum of just $100. The high loan-to-value ratio of 90% is also a useful feature, although more risky for volatile collateral assets.
The extent of customer service available was a little disappointing to me, especially for a platform that had accumulated such a positive score on review platforms like Trustpilot. Only being able to find an FAQ section and Telegram channel with any ease, it seems like they prefer not to invest much time in active customer support.
That being said, YouHodler rates are competitive, the platform is intuitive, and there's plenty of support for assets and payment methods – additionally, it appears there aren't many complaints about the platform overall, with only fees and minor bugs being an issue to some.