The Bitcoin Foundation just announced a new affiliate, this time in South Asia. The institution's new partner is from Bangladesh and joins the foundation in its mission to promote cryptocurrency around the world. 
"Join us in introducing Bitcoin to the world and contributing to its sustained development", reads the foundation's website. Looks like at least one Bitcoin-related organization in South Asia heard the calling, after seven other affiliates joined the foundation's mission over the last eight months. The other affiliates are located in Australia, Canada, Mexico, Germany or the Netherlands.
According to the World Bank, quoted by the website NewsBTC, numbers released in April show that Bangladesh received $14 billion in remittences during 2013 from approximately 8.6 million migrant workers. All it takes is for some of these workers to discover the advantages that Bitcoin can bring to the remittance market in order to boost cryptocurrency's popularity in the country.
And that is exactly how the Bitcoin Foundation's new local affiliate should start promoting in Bangladesh.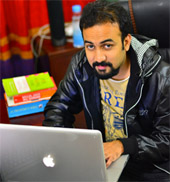 "To be effective in positively improving lives, it's important we join together, align our goals, become educated and coordinate our efforts to encourage Bitcoin's adoption", said S M Monir Uz Zaman (Sazeeb), the president of the Bangladesh affiliate institution's group,  in a press statement.
The Bangladesh team is incredibly passionate about Bitcoin and helping their communities. This is a win for the region and a win for Bitcoin.

Mark Woods, Bitcoin Foundation Affiliate Director
Like the other affiliates, the Bangladesh team will be responsible for the protection and promotion of Bitcoin in the Asian nation. However, as the cryptocurrency's fame grows across the world, more affiliates will probably join the foundation in a near future.