SimpleSwap Review and Comparison
Shennon Hewa | Last updated: 05/18/23
SimpleSwap is an easy to use, reliable exchange service that lets you make anonymous crypto-to-crypto exchanges on over 500 cryptocurrencies, as well as buy or sell cryptocurrencies for fiat.
In this review, we'll go over SimpleSwap's services, fees, availability and customer support.
SimpleSwap Review Summary
Here's what I'll cover:
---
1. SimpleSwap Overview
SimpleSwap is a user-friendly cryptocurrency exchange service that was founded in 2018 and is based in the Marshall Islands. The platform offers users the ability to quickly make crypto-to-crypto swaps, while also offering the option to buy or sell crypto for fiat currency.
SimpleSwap is partnered with some of the biggest exchanges like Binance, Kraken, KuCoin and OKX to help make the exchange process as fast as possible. This also means that users don't have to compare between exchanges to find the best exchange rate, since SimpleSwap will give them the best rate automatically.
---
2. SimpleSwap Services
Crypto-to-Crypto Exchange
The main service SimpleSwap provides is the ability to quickly and easily swap one cryptocurrency for another. There are over 500 crypto assets supported and thousands of exchange pairs to choose from.
With SimpleSwap you can anonymously exchange between cryptos, since you don't need to provide any personal information to make crypto-to-crypto exchanges. All you need to provide is the address you want the coins sent to.
To make an exchange, simply select the crypto you have, enter the amount you wish to trade, and select the crypto you want to swap it for. SimpleSwap will then compare the exchange rate among all their partner exchanges and provide you the best exchange rate – with all fees included in the final quoted price.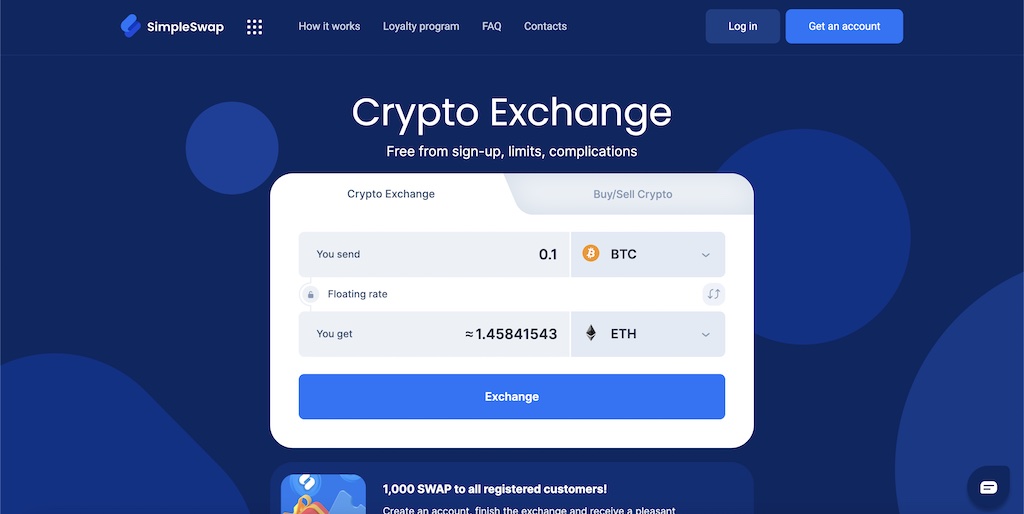 You can also choose between a fixed exchange rate or a floating rate; a fixed exchange rate guarantees that you will receive the quoted amount regardless of market volatility, whereas if you choose a floating exchange rate you may receive more or less coins than quoted due to market volatility and ever changing prices.
Fiat-to-Crypto Exchange
SimpleSwap also lets you buy crypto using fiat currency, or sell your crypto in exchange for fiat currency. SimpleSwap has partnered with Mercuryo to facilitate fiat-to-crypto and crypto-to-fiat orders, but you'll need to provide some personal details to complete this type of transaction.
The process is very similar to the crypto-to-crypto exchange. Select the currency that you want to exchange, along with the amount and the currency you want to receive. SimpleSwap will then provide an estimated amount you will get in return. If you're happy with the exchange rate, you can proceed to the Mercuryo page to complete the payment (if you are buying with fiat currency).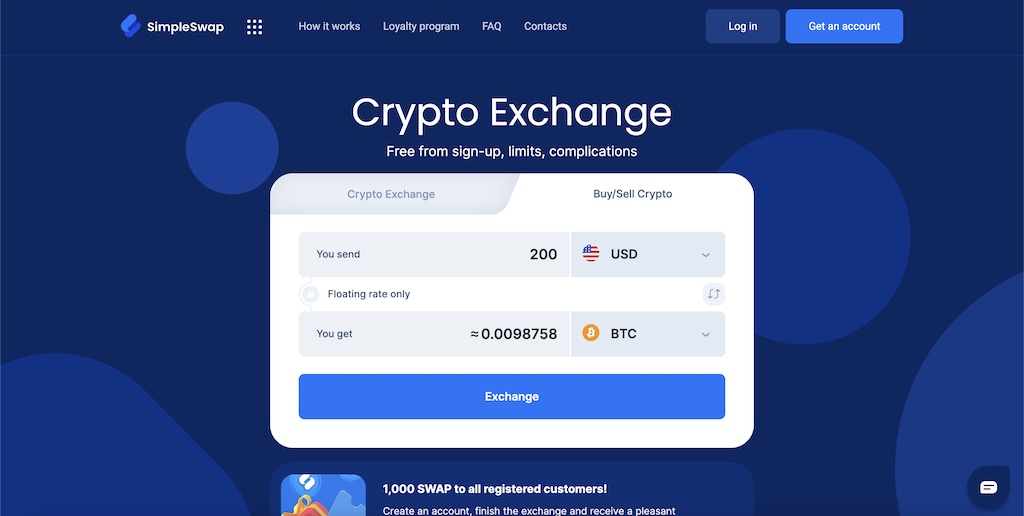 If it is your first time using the service, you will need to go through the identity verification process before being able to complete the transaction using a credit or debit card.
---
3. Currencies & Payment Methods
Fiat-to-Crypto and Crypto-to-Fiat
If you're looking to make a fiat-to-crypto exchange, then there are a variety of fiat and crypto currencies supported.
Supported fiat currencies include:
US dollar (USD)
Euro (EUR)
British pound (GBP)
Russian ruble (RUB)
Turkish Lira (TRY)
Ukrainian Hryvnia (UAH).
Cryptocurrencies supported for fiat trades are:
Bitcoin (BTC)
Ether (ETH)
Algorand (ALGO)
Basic Attention Token (BAT)
Bitcoin Cash (BCH)
Dai (DAI)
Tether (USDT)
Tron (TRX)
Currently, the only supported fiat payment method is credit or debit card, with SimpleSwap's partner Mercuryo only accepting Visa or MasterCards. At the moment, wire transfers, SEPA transfers or PayPal payments are not accepted.
Crypto-to-Crypto Trades
As far as crypto-to-crypto exchanges go, there are over 500 tokens supported with thousands of exchange pairs available.
SimpleSwap supports all major cryptocurrencies, including BTC, ETH, LTC, XMR, SOL, BNB and many more.
For a full list of supported tokens, click here.
---
4. Fees
SimpleSwap does not charge a fixed percentage or fee for their services, but instead calculate the fee at the time of your transaction and include it in the quoted amount.
The platform doesn't hold or store your coins for you, so there aren't any deposit or withdrawal fees to worry about.
Exchange fees on SimpleSwap will depend on the network fees at the time, as well as trading fees with their exchange partners. This means that fees will vary depending on the currency pair, the time of the transaction and the status of the coin network.
---
5. Buying Limits
When it comes to buying limits, SimpleSwap has no maximum transaction limit. This applies to both fiat-to-crypto and crypto-to-crypto swaps, meaning that you can exchange as much crypto as you like without worrying about reaching any limits.
The amount you can swap in a single transaction will still depend on the current liquidity of the market, which may limit the amount you can swap in one go.
SimpleSwap does not have a minimum transaction size, however the transaction amount must be enough to cover any network fees associated with the transaction.
---
6. Supported Countries
On SimpleSwap, crypto-to-crypto exchanges do not require you to create an account or complete the KYC process, so you will be able to exchange your crypto from anywhere in the world.
When it comes to fiat-to-crypto exchanges, there are some restrictions on where you can use the service. Residents from countries such as China, Bangladesh, Colombia, Cuba, Morocco, Pakistan, Saudi Arabia and Venezuela are prohibited from making fiat-to-crypto transactions.
The SimpleSwap mobile app is also unavailable in China, Japan and the USA for iOS users as well as Japan and the USA for Android users.
For a full list of restricted countries, click here.
---
7. Customer Support & Reviews
SimpleSwap has a comprehensive FAQ section that answers any questions that you may have about the service and how to get started. This is all explained in an easy-to-understand format, which is perfect if you're a crypto newbie.
If your question hasn't been answered in the FAQ section, SimpleSwap also offers customer support via their 24/7 live chat where their customer support staff can help you. In my experience using the live chat, a customer support agent replied in less than a minute and quickly answered my question.
Alternatively, you can fill out a contact form explaining your question and the customer support team will reply to you via email.
As for reviews, SimpleSwap has an excellent rating of 4.7 out of 5 on Trustpilot, with almost 90% of people rating the service 5/5. The only negative comment a few users have made is that sometimes it can take a long time for SimpleSwap to send back your exchanged coins – but the SimpleSwap team have addressed this, saying that an occasional delay can be caused by their partner exchanges/liquidity providers.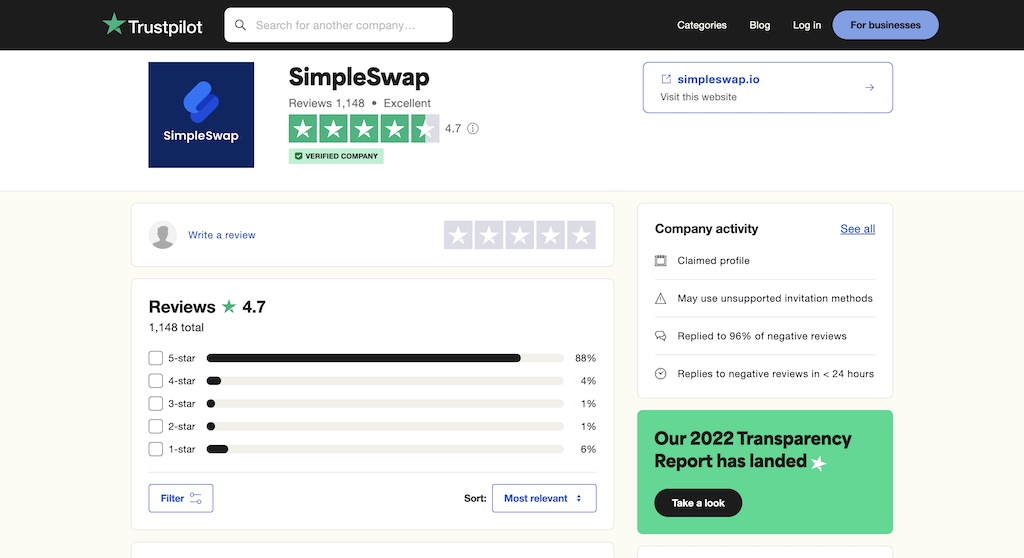 ---
8. Conclusion
SimpleSwap has a lot of attractive features, including easy crypto-to-crypto swaps with no identity verification and top-notch 24/7 customer service.
There are, however, a few drawbacks – the most major of which is swaps sometimes taking longer than they would directly on a traditional exchange like Binance or Kraken. This could be a deal breaker for those who require reliable, instant access to the coins they are swapping.
Overall, SimpleSwap seems to be a very solid option if you're looking to easily exchange between cryptos with no KYC, or crypto with fiat. They have a solid reputation and have received a lot of praise from customers.
SimpleSwap
Pros
No KYC required for crypto-to-crypto swaps
Supports wide range of coins
Good customer support
Cons
Swaps can take longer than trading directly on exchange
No advanced trading options
Limited fiat payment options