OKEx Exchange Review and Comparison
By: Steven Hay | Last updated: 1/10/21
OKEx is a crypto brokerage and trading platform that allows users to buy, sell and trade crypto. The platform provides users with many features such as margin-trading and other advanced trading options for experienced or professional crypto traders. In this article I will review OKEx, its services and its pros & cons.
OKEx Review Summary
OKEx is a crypto exchange & trading platform that allows you to buy and sell crypto as well as a wide variety of cryptocurrencies to trade, across various spot and derivatives markets. Additionally, the platform offers many other services such as crypto lending & borrowing, and even runs its own crypto mining pools and staking services.
With a wide variety of accepted currencies and competitive fees, OKEx is a solid option for both users who wish to buy crypto as well as traders who are looking for ways to make money by trading crypto. That's OKEx in a nutshell, for a detailed review keep on reading, here's what I'll cover:
---
1. OKEx Overview
OKEx was founded in 2017 with headquarters in Malta and the Republic of Seychelles. OKEx expanded to Malta due to the island's favourable regulatory and tax environment in regards to crypto business.
OKEx is one of the leading exchanges by trading volume for several cryptos – as per what is claimed by the company. Nevertheless, the exchange has ample liquidity across most trading pairs.
OKEx also offers a wide array of other services, such as lending and borrowing, which should satisfy the requirements of beginner to advanced traders.
---
2. OKEx Services
OKEx offers multiple trading markets and features along with services aimed at both beginners and advanced users:
Crypto Buying and Selling
OKEx provides a platform for both buying and selling Bitcoin, as well as 6 other major cryptos, for +40 different fiat currencies, via about 25 different payment methods.
For users who want to buy or sell bitcoin & other crypto directly with other users, OKEx runs a Customer To Customer (C2C) trading system through which users can trade securely with one another. However, C2C is only available for Chinese Yuan, Vietnamese Dong, and Indian Rupees.
Crypto Trading
With OKEx, traders can choose from several options; from simple spot markets to various advanced features such as futures, perpetual swaps, and options. Margin or leverage is available up to a multiplier of 100:
Spot Trading
OKEx offers crypto-to-crypto, or spot trading, for 150+ different cryptos, across about 450 different trading pairs. US Dollar stablecoins such as Tether and 3 others, as well as Bitcoin, Ethereum, and OKEx's own exchange token, OKB, form markets for most trading pairs. In other words, those are the coins you'll usually exchange for the other 70+ coins and tokens supported by OKEx.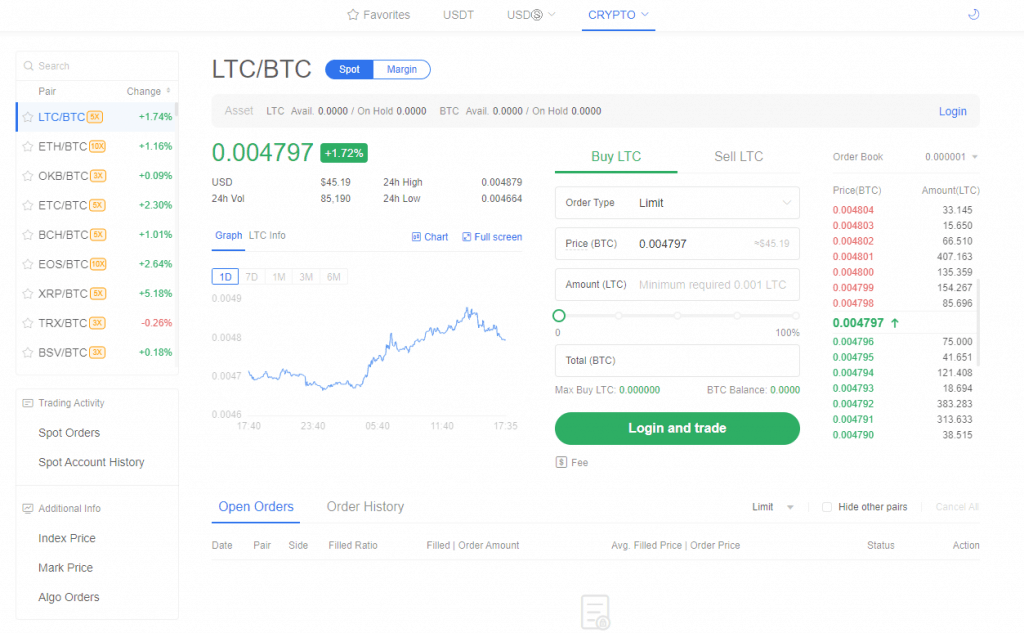 Margin Trading
OKEx offers trading on margin, aka leverage, for Tether against Bitcoin and other leading cryptos. Margin trading uses a loan agreement to multiply your effective funds. For example, if you deposit $100 and employ 2x leverage, you will gain double the profits if price moves your way. If price falls however, you will suffer twice the losses.
OKEx offers up to 10x leverage for spot trading and up to 100x for contracts; a level of risk suitable only for pro traders.
Future Contracts
OKEx offers dozens of futures contracts, priced in Tether or popular cryptos like Bitcoin, Ethereum, Ripple, and Litecoin. Futures are essentially an agreement to buy or sell a cryptocurrency at a predetermined price at a specified time in the future. Read this for a detailed explanation of how futures contracts work.
OKEx also offers Perpetual Swap Contracts, which are similar to traditional futures contracts, except with no expiry or settlement date.
Options Trading
Options trading is one the most complex trading methods out there; It requires deep understanding and math skills to get into. In a nutshell, options are tradeable contracts which give the owner the right – but crucially, not the obligation – to buy or sell an asset at a certain price on a certain future date.
Suffice to say options can be used to create highly sophisticated trading strategies, based not only on price but other factors like volatility. Options allow limited risk with theoretically unlimited profit, but are recommended for advanced users only.
Lending and Borrowing
Another feature from OKEx is lending and borrowing. Lending basically allows users to earn interest by depositing crypto, which is lent to margin traders, or by staking certain Proof-of-Stake coins through the exchange. Alternatively, users may borrow from each other, at customized interest rates and terms, within a system maintained by OKEx.
---
3. Currencies and Payment Methods
OKEx offers trading in a large number of coins, including:
BTC
ETH
XRP
UDST
BCH
LTC
EOS
And many many more. Additionally, Compound (COMP) was listed on OKEx at the end of June 2020.
It's important to note that you can't directly buy or sell most of the smaller altcoins, and will need to trade them via one of the coin-based markets, such as BTC, ETH or OKB. Similarly, other trading markets, such as margin trading, derivatives, and lending markets, are mostly limited to major cryptos.
As for fiat deposit and withdrawal, users have many options, including but not limited to the following currencies:
USD
EUR
GBP
CAD
JPY
AUD
CHF
RUB
DKK
CNY
INR
NZD
UAH
COP
PHP
VND
CZK
and many payment options, including but not limited to:
Credit / debit card (Mastercard & Visa)
PayPal
Bank transfer (including SEPA)
Payeer
Skrill
ApplePay
Google Pay
Western Union
Gift card (including Google Play, Amazon, Steam, & iTunes)
---
4. OKEx Fees
OKEx's fees are highly competitive. The exchange uses a maker-taker model. This means that if you place an order into the order book, you are classed as a "maker" and pay a lower fee. Alternatively, if you take someone else's trade, you're a "taker" and pay a higher fee. This model rewards patience and planning.
It's also worth noting that OKEx uses a dual tiered fee structure. High volume traders, exceeding 1,000 BTC in monthly volume, receive graduated discounts. Those trading above 150,000 BTC per month actually receive negative fees on maker trades – in other words OKEx pays them to provide liquidity.
Another way to reduce fees is to hold OKB, OKEx's proprietary exchange token. Holding more than 2000 OKBs gives about a 40% reduction on fees.
For a new user, there is a 0.1% maker fee and a 0.15% taker fee. Fees on non-spot trading are much cheaper; 0.02% for makers and 0.05% for takers.

Withdrawal fees are also modest on OKEx; 0.0004 BTC for Bitcoin, 0.003 ETH for Ethereum, and so on.
Overall, OKEx has notably low fees, which compare favourably to most other leading exchanges. However, the spread, or difference between the buy and ask price, must also be considered as a trading cost. Generally, spreads are low on coins with a lot of trading activity, so you should compare OKEx's markets for your coin(s) of choice to other exchanges to find the best spread.
---
5. Supported Countries
OKEx can be used in 11 major languages, including English, Spanish, French, and Russian. As with other big exchanges, OKEx accepts users from most countries, with the following notable exceptions:
United States of America
Hong Kong
Malaysia
Bangladesh
Ecuador
Bolivia
Cuba
Syria
Iran
North Korea
Kyrgyzstan
Crimea
Sudan
Although the exclusion of the US and some other major countries limit OKEx's global audience, these limitations are due to regulations within these countries and not by OKEx.
---
6.Customer Support and Reviews
OKEx's support center and academy provide some useful articles and short videos on crypto basics. While some information on the exchange itself is rather lacking or hard to find, these guides explain sophisticated trading concepts and methods rather well, plus the academy is constantly being updated.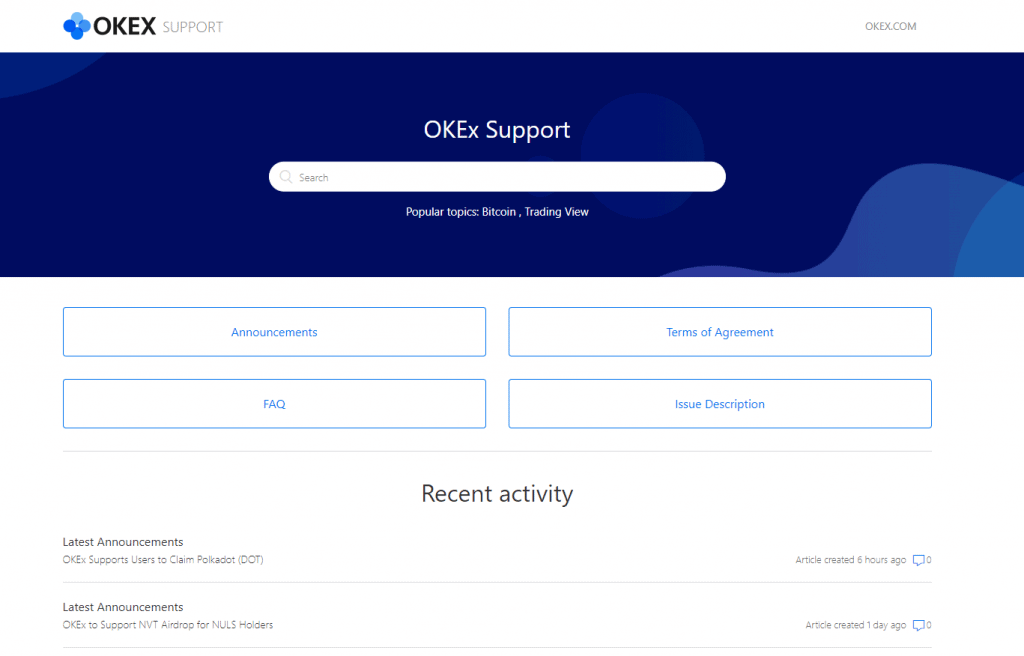 Support requests can be submitted via email and the exchange also provides a phone number for users.
As with many crypto exchanges and high-volume services, there are, at times, complaints regarding slow response times and ineffective resolutions. While OKEx claims to prioritize user experience, delays can be expected during peak market timings.
---
7. Security
The exchange offers security measures to assist users in securing their coins. OKEx strongly encourages the use of second / multi-factor authentication (2FA or MFA). It's possible to make 2FA / MFA mandatory for important actions and to set an anti-phishing code which will appear in all emails sent by OKEx. A Valid user location or IP address can also be set.
---
8. OKEx vs. other competitors
OKEx is far from being the only exchange to feature numerous altcoins, margin trading and lending, and similar features. However, there are some notable differences between these OKEx and other exchanges:
OKEx allows for P2P / customer-to-customer trading, which is an interesting solution for users in countries where Bitcoin is tightly-regulated and normal exchange trading is difficult or impossible.
OKEx has extremely diverse funding options, covering numerous fiat currencies and payment channels. Many of its rivals only accept a couple of fiat currencies via a few payment methods.
---
9. Conclusion: Is OKEx Legit?
Short answer – Yes. OKEx has been in operation for over 6 years without any major loss of funds occurring. While there have been a couple of "hiccups" along the way, OKEx has a relatively good track record compared to other crypto exchanges, many of which have folded either due to major hacks or the failure to anticipate regulatory changes.
OKEx has also continued to adapt and expand its service offerings. It currently provides an impressive array of options across the board, including several products which are hard to find on other exchanges, such as mining pools and lending. While not as polished as some leading exchanges, the OKEx interface is refined and intuitive with no obvious oversights or flaws.
Do you have some experience with OKEx? If yes please share it in the comments section below.