KatsuBet Review
By: Shennon Hewa | Last updated: 3/7/23
KatsuBet is an Asian-themed online casino that is run by one of the largest online casino operators. In this review I'll cover some of the games they offer, their licensing and regulation, as well as their fees and bonuses.
KatsuBet Review Summary
KatsuBet is a licensed online crypto-friendly casino that is operated by one of the leading operators. They have over 7,000 games from some of the most reputable casino game developers, who provide a variety of provably fair games.
That's KatsuBet in a nutshell. For a more in-depth review keep on reading, here's what I'll cover:
---
1. Overview
KatsuBet is an online, crypto-friendly casino that was founded in 2020 by Dama N.V., a company that owns and operates several large online casinos including Wildtornado, which we have already reviewed. They offer over 7,000 different games that range from slots, jackpot, table, live dealer and BTC games. All their games come from the largest and most reputable casino game developers so you know that the games you are playing are provably fair.
As with almost every online crypto casino, KatsuBet is registered and licensed in Curaçao. The reason most online casinos choose Curaçao for licensing is that it is far easier to obtain a license in Curaçao when compared to places like the US or Europe.
The KatsuBet website is well-designed and has one of the best layouts we have seen out of all the online casinos we have reviewed. Right from the homepage you can quickly filter by the type of game you are looking for, whether that be slots, table or live dealer games. You also have the option to filter by game provider, meaning if you have a trusted game provider that you have already played with, you can quickly find all the games that the casino has from that provider. KatsuBet makes it very easy to register and deposits are processed quickly, allowing you to jump right into the action.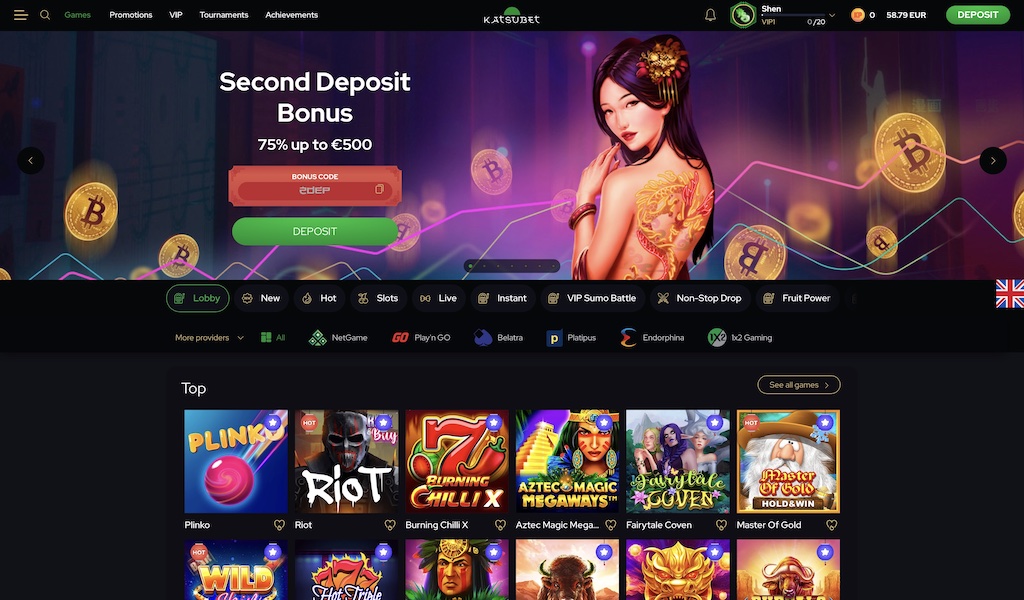 ---
2. Regulation
As mentioned before, KatsuBet is owned and operated by Dama N.V. who own and operate over 60 different online casinos and sports betting platforms. Like the casino itself, its parent company, Dama N.V. is also registered in Curaçao, although they do have a subsidiary that is registered in Cyprus.
KatsuBet prides itself on the fairness and transparency of its games, something that is important when choosing an online casino. Most games that are developed by the major casino game developers are provably fair and use a random number generator to ensure the fairness and randomness of results.
As with all online casinos, we recommend you thoroughly read their terms and conditions before registering and depositing any money. Online casinos can sometimes be extremely strict when it comes to their terms and conditions as well as what constitutes a breach of their terms. If you deposit money into your account but then are found to be in breach of the terms and conditions, it could result in the casino denying your withdrawal, closing your account and keeping any money that you had deposited.
---
3. Deposit and Withdrawal Fees
KatsuBet does have deposit/withdrawal fees, which can vary depending on the transaction method you use. There are also minimum and maximum transaction amounts that you have to follow.
Fiat deposits and withdrawals made using Visa, Mastercard and Maestro will incur a 2.5% fee. There are however other fiat payment methods that are free such as, PurplePay, Neosurf, EcoPayz, iDebit and Interac. When making withdrawals there are two additional payment methods available, virtual credit card and bank transfer, but keep in mind that these are only available when withdrawing funds from your account and they have a 2.5% fee applicable to all transactions.
All fiat deposits have a minimum transaction amount of $10, or equivalent, and a maximum transaction amount of $4000 or equivalent. Fiat withdrawals have a minimum transaction amount of $20, or equivalent, and a maximum transaction amount of $4000 or equivalent. The only exception to these limits are withdrawals via bank transfer which have a minimum transaction amount of €200 or equivalent and a maximum transaction amount of €4000 or equivalent.
KatsuBet also supports crypto deposits and withdrawals, with crypto transactions being mostly free. However, if you use Bitcoin, Litecoin or Tether, there will be a small transaction fee applicable on top of the network fees. The minimum transaction amount will vary depending on which crypto you use, however there are no maximum transaction amounts when using crypto. For a full list of transaction limits and fees, click here.
---
4. Highlight Games
KatsuBet lets players choose from over 7,000 different casino games, including a large variety of slot games, classic table games and even live dealer games. So no matter what your preferred type of game is, KatsuBet will have something for you.
Given that there are thousands of games to choose from, you may think that it would be hard to find the game that you are looking for, but KatsuBet has all their games well laid-out so that it is easy to navigate and find the game you are looking for. Since KatsuBet is owned and operated by Dama N.V., who also run other online casinos like Wildtornado, you will find that a lot of the same games will be offered across all casinos run by Dama N.V.
I tried a variety of different slot games, with one of the most popular slot games being Aztec Magic Bonanza. Even though there are thousands of different slot games to choose from, most of them are pretty much the same in terms of gameplay, with the main difference being the theme.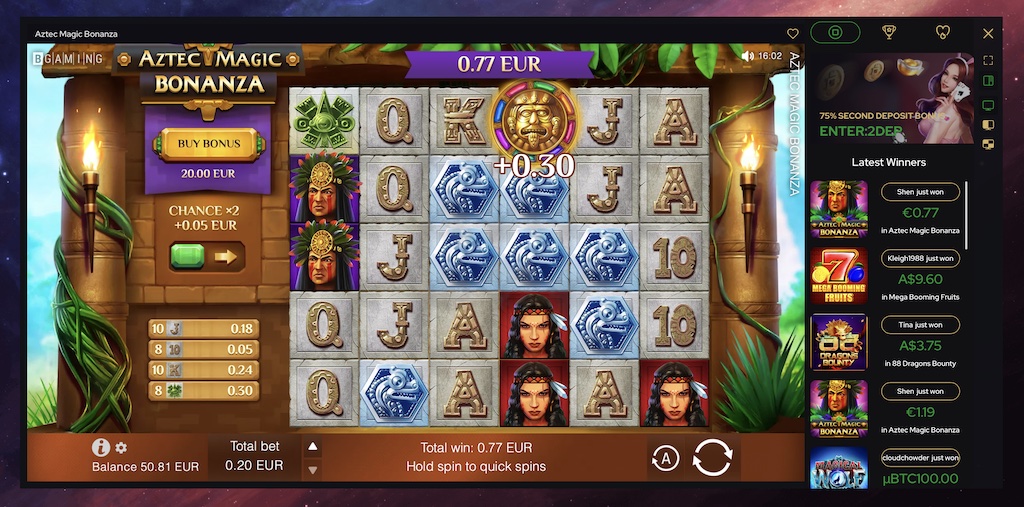 Most of the games start with a minimum bet of €0.20, but you can up the risk and try to win one of the jackpot games – however, these have a significantly higher minimum bet. Slot games are some of the most popular games on KatsuBet and they have some of the biggest jackpots, but you can also burn through your money quickly while playing slots.
KatsuBet also has a lot of the more recently trending online casino games like Plinko, which is a fresh take on a classic game show. You make a bet per ball and drop them down a maze of pins, whichever box the balls lands in will determine how much you win or lose. With Plinko you can even choose your risk level, with a maximum return of 29x per ball if you are willing to play in the high risk mode.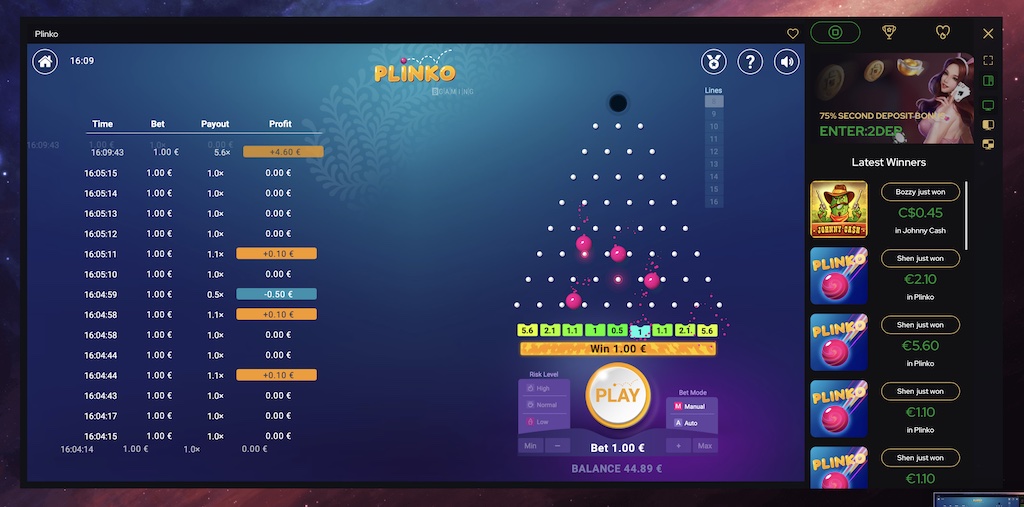 When it comes to classic table games, KatsuBet has a large selection of games to choose from, including Blackjack, Poker and Roulette. Table games tend to involve a bit more skill than slots which does mean that you can tip the odds in your favor if you are a skilled player. I played several different games and they were all smooth and responsive. I found that the live dealer games on KatsuBet worked much better than on the other casinos we have reviewed. All the live dealer games worked well, with high quality video streams and responsive UI when playing.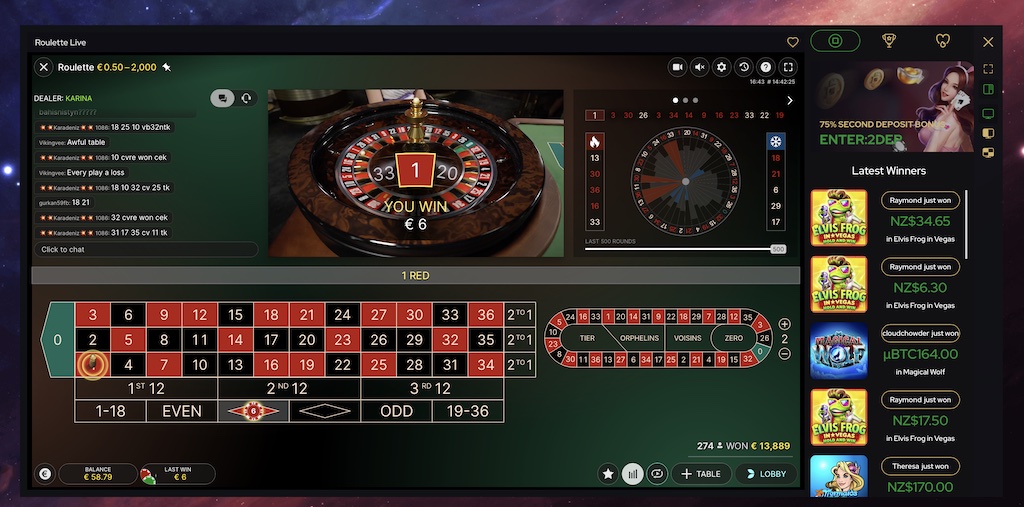 ---
5. Currency and Payment Methods
KatsuBet supports a variety of payment methods that includes both crypto and fiat payment options, both of which can be used for deposits and withdrawals. When it comes to crypto, KatsuBet accepts the following cryptocurrencies:
You can also make payments using fiat currency with a variety of fiat payment options supported. KatsuBet accepts payments using Visa, Mastercard or Maestro bank cards, PurplePay, Neosurf and a variety of other fiat payment providers. Supported fiat currencies include:
Australian Dollars (AUD)
Euros (EUR)
US Dollars (USD)
Norwegian Krone (NOK)
Polish Zloty (PLN)
New Zealand Dollars (NZD)
Canadian Dollars (CAD)
Russian Rubles (RUB)
Japanese Yen (JPY)
---
6. Available Countries
KatsuBet accepts users from most countries around the world, however this can depend on country specific laws that prohibit gambling. There is also a further list of countries that KatsuBet does not accept users from.
Residents of the following countries are not allowed to deposit and play real money games on KatsuBet: the US, UK, Greece, Spain, France (including French overseas territories), the Netherlands, Israel, Lithuania, Ukraine, Belgium, Russia, the Czech Republic and a few others.
For a full list of restricted countries, click here.
---
7. Customer Support and Online Reviews
When it comes to customer support, KatsuBet has a fairly comprehensive FAQ section that covers all the basic questions you may have when it comes to registration, deposits/withdrawals and general casino information.
KatsuBet also offers customer support via an email contact form and live chat, where you can speak directly to a customer support agent. However, during my testing the live chat feature was not working despite having registered and tried using several different internet browsers. This was disappointing, since having good customer support is key to any good online casino. Your experience may be different, however during our testing we were left with the email contact form as our only method of contacting customer service – which is much slower than the live chat available on most competing platforms.
When it comes to online reviews, KatsuBet has received mixed reviews from users. As of the time of writing, there are 14 reviews on Trustpilot with an average rating of 3.1 stars. Whilst many users praised the casinos easy registration and deposit process, as well as the large selection of games, there were a significant number of users who claim that the casino had either refused to pay out their winnings or were delaying the withdrawal process and asking users to verify several different times.
KatsuBet was also reviewed by askgamblers.com who gave the casino a CasinoRank of 8.94 and a Player Rating of 8.8. Feedback on this platform was very much along the lines of that on Trustpilot, complimenting the platform's gaming experience, but criticizing the withdrawal process. It is worth mentioning that askgamblers.com have an affiliate program with the casino so take their reviews with a pinch of salt – we cannot verify that the reviews are completely unbiased. On the other hand, the negative reviews should also be taken with some suspicion; often disgruntled users tend to leave those, even when the reason for their feud has to do with violating the T&C of the company.
---
8. Conclusion
All in all, KatsuBet is a great online casino with a lot of positive features, like their huge selection of over 7,000 games as well as their well-designed and laid out website. The casino is well-built and everything worked perfectly without any lagging or bugs. All the games we tried worked flawlessly and loaded up with high-quality graphics and smooth gameplay.
Even the live dealer games worked without any issues, which is more than can be said for some of the competing casinos we have tried. Overall KatsuBet provided a very pleasant casino experience and I enjoyed my time playing at the casino.
Whilst there are a lot of things to praise KatsuBet for, there are a few downsides. This includes the fact that their customer support live chat did not work for the duration of our testing, leaving us with only the email contact form which takes much longer to get a reply from the customer support agent.
There is also a lengthy verification process that you have to go through in order to withdraw your winnings and the casino reserves the right to ask for as much verification as they like or even deny your withdrawal if they feel that you have breached the casino terms of service. However, if you are honest and follow the casino rules, you should have no problems with KatsuBet.
That's it! If you have any comments or whish to share your personal experience with Katsubet, please leave a comment on the comments section below.