JustBit Review
By: Shennon Hewa | Last updated: 9/6/23
JustBit casino is a new, up-and-coming online casino and sports betting platform. In this review I'll cover some of the games they offer, their licensing and regulation, as well as their fees and bonuses.
JustBit Review Summary
JustBit is a licensed online casino and sports betting platform that offers thousands of different casino games from many of the leading casino game developers, as well as a full-feature sports betting platform.
That's JustBit in a nutshell. For a more in-depth review keep on reading, here's what I'll cover:
---
1. Overview
JustBit is a new online casino and sports betting platform that was founded in 2021 and is owned and operated by Casbit Group N.V. They offer over 2000 of the most popular casino games, including a variety of slot games, table games and live dealer games.
Casbit Group N.V. is licensed and registered in Curaçao. The reason most online casinos choose Curaçao is because it is much easier to obtain a gambling license in Curaçao when compared to places like the US or Europe.
The JustBit website is very well-designed and is easy to navigate, which allows for a great user experience. From the homepage you can quickly navigate to the different casino or sports betting pages, as well as see what promotions are available at the time. JustBit makes registering and depositing quick and easy, so you'll be playing in no time.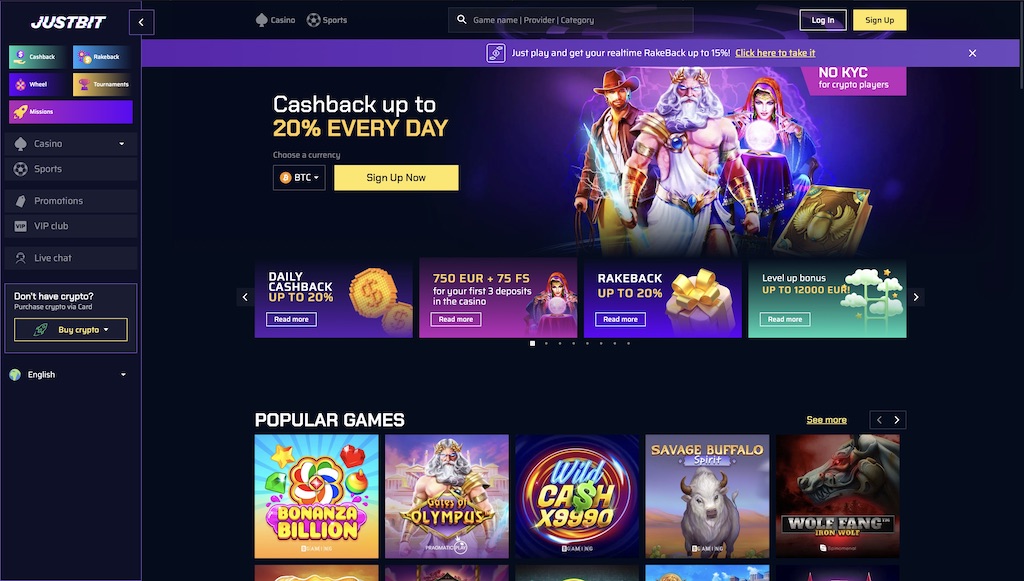 ---
2. Regulation
JustBit is owned and operated by Casbit Group N.V., who operate 5 online casinos, including JustBit. It is common to see one parent company operating multiple online casinos, however the number of casinos operated is usually much higher than 5. 
This may actually be a promising sign for Casbit Group N.V., as it means that they are able to focus all their effort and resources between just 5 casinos as opposed to 30 or 40 of them, as seen with some competitors.
When it comes to online casinos, transparency and fairness are key to a good casino experience. Whilst the casino does not explicitly state that they are provably fair, they offer games from some of the biggest and most reputable casino game developers whose games are known to be provably fair. 
Unfortunately you cannot filter for provably fair games, so if you wish to verify fairness you'll have to research which providers develop provably fair games – such as BGaming.
As we do with all our online casino reviews, we strongly recommend that you thoroughly read the casino's terms and conditions before you register and deposit any money. Online casinos can sometimes be extremely strict when it comes to their terms and conditions. 
Any breach of these terms and conditions can lead to your account being closed, and any money you deposited or won may be lost.
---
3. Deposit and Withdrawal Fees
JustBit does not charge any deposit fees, but minimum transaction amounts do apply when it comes to both deposits and withdrawals. For crypto transactions, the minimum deposit and withdrawal amounts will vary depending on which cryptocurrency you use. There are no deposit or withdrawal fees when making transactions using cryptocurrencies, however you will have to pay for network fees which will vary depending on which crypto you use.
When it comes to fiat transactions, there are strict deposit and withdrawal minimum/maximum transaction limits, as well as restrictions on the number of different transactions that can be made per-day or per-month. Fiat deposits have a minimum transaction amount of 20 EUR or equivalent and there is a maximum fiat transaction amount of 5,000 EUR per transaction and 10,000 EUR per day. 
When using fiat currency, you are also limited to a maximum of 10 separate transactions per day and 40 transactions per month. 
For more information on the deposit and withdrawal fees/limits click here.
---
4. Highlight Games
JustBit has over 2000 games to choose from, so rest assured there will be a game to suit you – regardless of whether you prefer classic table games, slot games or live dealer games.
Choosing a game can be overwhelming when there are over 2000 of them to choose from, but JustBit has made this part easier by letting you filter depending on what type of game you want to play. JustBit has also placed the most popular casino games like Bonanza Billion at the top of the page, so they are easier to find.
I tried several different games including Bonanza Billion and Gates of Olympus, however most of the slot games you find on online casinos are very similar, with different themes applied on top.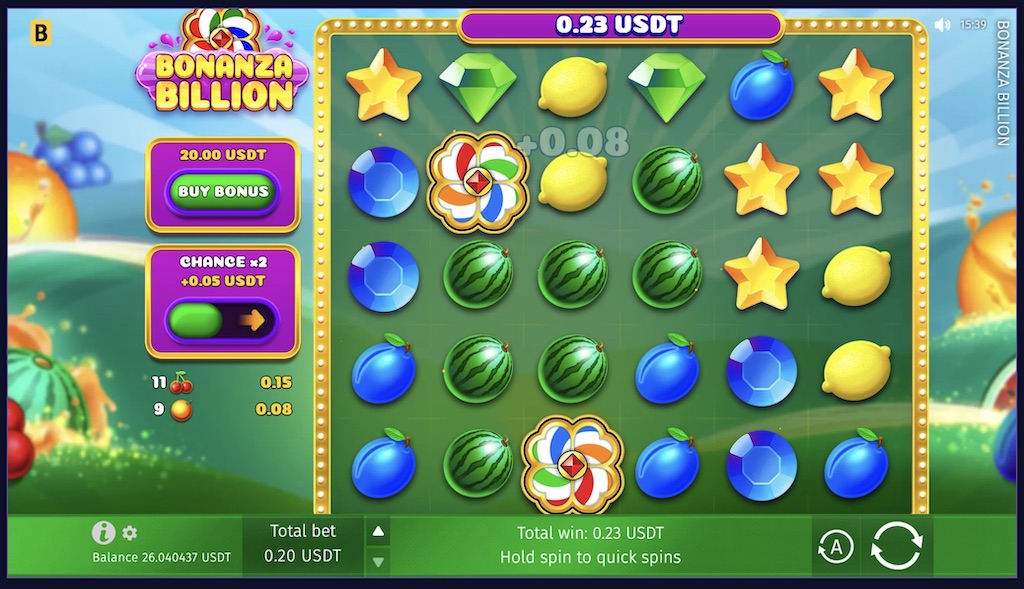 Many of the slot games start with a minimum bet of $0.20 or $0.25, but you can bet all the way up to $50 per bet if you want to up the stakes and try to win one of the jackpots. However, keep in mind that despite being some of the most popular games with the biggest jackpots, slot games make it very easy to burn through your money.
I also tried out some of the table games JustBit has to offer, including Roulette and Blackjack. These games are less reliant on luck and have more of a skill element to them, meaning that if you are a skilled player you may be able to tip the odds in your favor. All of the games I tried were very responsive and played without issues, which provided an extremely smooth and enjoyable gaming experience.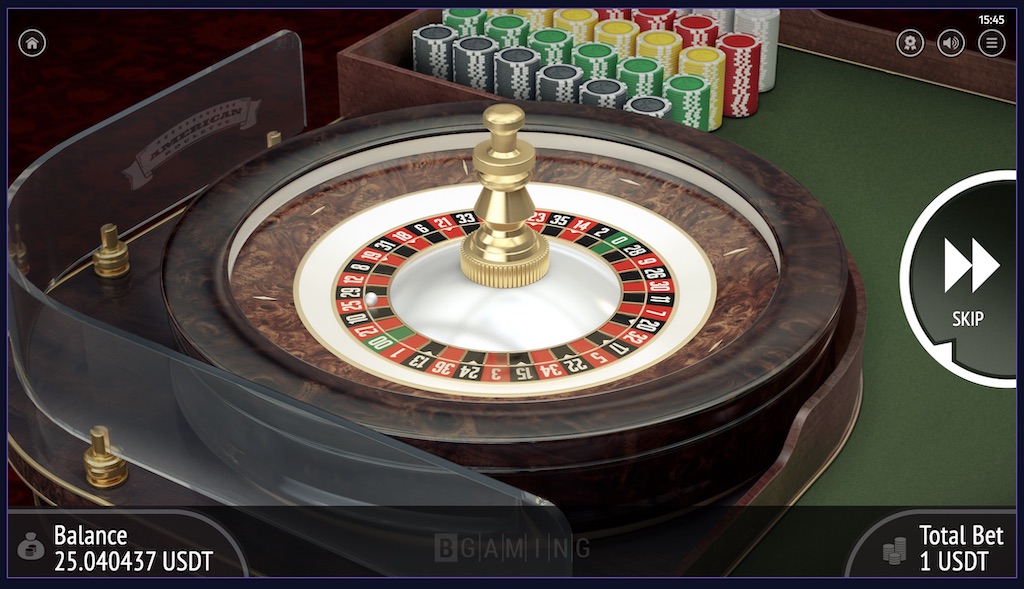 These classic casino table games can also be played as live dealer games, where there is a real life human who plays as the dealer in real time with a live video feed for you to play though. You should note that in order to play live dealer games you will need to provide your full name, city and date of birth so these games are not completely KYC-free.
---
5. Sports Betting
JustBit also offers odds for sports betting on a variety of different sports. This is something we don't see from many online casinos and is something that sets JustBit apart from the competition. JustBit offers a variety of different betting lines on over 26 different sports, including all the major sports and leagues – ranging from the English Premier League to the Champions League, NBA, NFL, tennis grand slams and many more. 
JustBit's sports betting section is well laid-out and it is easy to navigate and find your favorite sport. JustBit also supports a variety of different Esports including Call of Duty, League of Legends, CS:GO and many more. 
One thing that I was surprised to see is that JustBit was offering odds on Political Events and even TV shows/awards. There were betting lines on the upcoming Mayor of London election in the UK, as well as betting lines on the outcome of the 2024 US Presidential Election. As far as TV shows & awards betting lines go, there were lines offered for picking the winner of various reality TV shows from around the world, as well as betting lines for picking winners for the 2024 Academy Awards and Emmy Awards.
When comparing odds offered by JustBit and the other major online sports betting platforms, you will find that the odds offered by JustBit are actually slightly better than some of their competitors. When comparing odds for the English Premier League I found that JustBit was offering anywhere from 0.1 – 0.25 better odds when compared to other online sports betting platforms.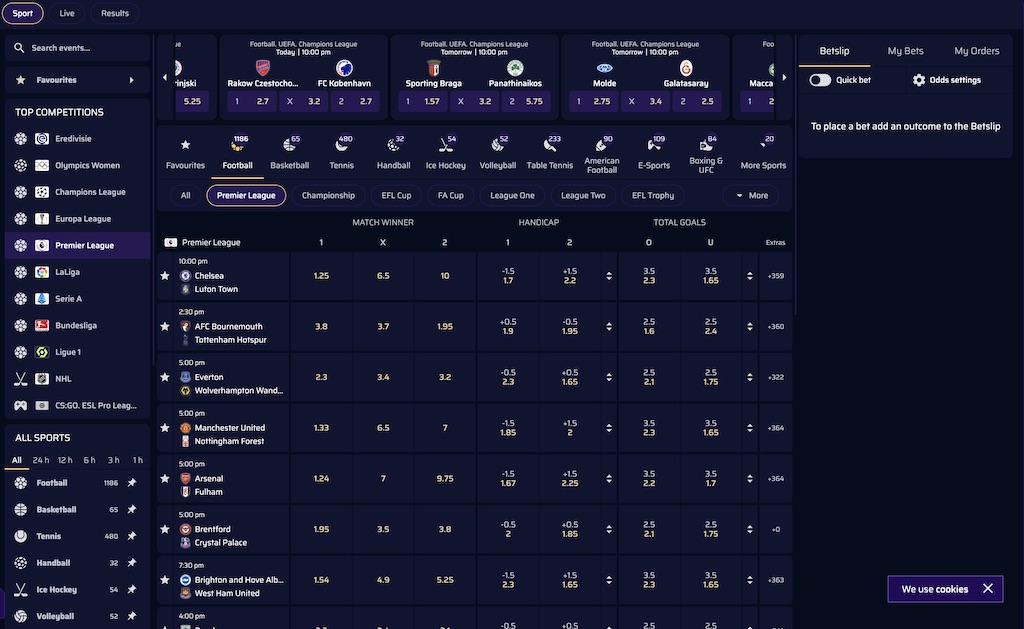 ---
6. Currency and Payment Methods
JustBit is a casino that accepts both crypto and fiat currencies, however if you decide to use fiat currency you will have to pass KYC checks in order to process the transactions – something that is not needed if you use crypto. 
If you do not own any crypto, JustBit gives users the option to purchase a variety of cryptocurrencies using fiat currency directly through the JustBit website via a partnership with Changelly. 
As far supported cryptocurrencies go, JustBit accepts deposits with the following cryptocurrencies:
   

Bitcoin (BTC)

   

Ethereum (ETH)

   

Binance Coin (BNB)

   

Litecoin (LTC)

   

Cardano (ADA)

   

XRP (XRP)

   

Bitcoin Cash (BCH)

   

Tron (TRX)

   

Dogecoin (DOGE)

   

Neo (NEO)

   

Tether (USDT, ERC20 & TRC20 only)

   

Casino Coin (CSC)
As far as supported fiat currencies go, you can deposit a variety of different currencies using Visa, Mastercard, Skrill, Neteller, Paysafe, Revolut and many more. But keep in mind again that if you decide to withdraw fiat currency, you will have to pass KYC checks before your withdrawal can be processed. 
JustBit supports the following fiat currencies:
   

Euros (EUR)

   

Canadian Dollars (CAD)

   

Australian Dollars (AUD)

   

Japanese Yen (JPY)

   

New Zealand Dollars (NZD)

   

Norwegian Krone (NOK)

   

Danish Krone (DKK)

   

Singapore Dollars (SGD)

   

Hungarian Forint (HUF)

   

Czech Koruna (CZK)

   

Croatian Kuna (HRK)

   

South Korean Won (KRW)

   

Mexican Peso (MXN)

   

Brazilian Real (BRL)
As mentioned above, if you don't own any crypto then you can quickly and easily buy crypto using JustBit's partner Changelly. This makes it very easy to quickly buy crypto without having to go to a separate exchange to make your purchase. Purchases can be made using MasterCard, Apple Pay, Google Pay and Samsung Pay, using a variety of fiat currencies which can be found here.
---
7. Available Countries
JustBit accepts players from all over the world, as long as online gambling is permitted by law in the player's country, which can differ from country to country. Players must also be over the legal age of majority, which in most countries is 18 years of age. 
There are a few countries from which JustBit does not accept players – those who are citizens or residents of the following countries will not be able to use JustBit at all. Restricted countries include the US (including all American territories), France (including all French territories), Spain, Portugal, the United Arab Emirates, Israel, Malta, Serbia, Ukraine, Curaçao and a few more. 
For a full list of restricted countries, click here.
---
8. Customer Support and Online Reviews
We consider customer support to be one of the most important factors to consider when choosing an online casino, and despite not having a FAQ page like many of its competitors, JustBit does offer 24/7 customer support via live chat and email. 
One thing we loved about JustBit's customer support is that unlike some other online casinos, you don't have to sign up in order to access the live chat, where you can speak to a customer support agent to answer any questions or concerns you may have before registering. In my experience using the live chat, an agent was almost immediately available to speak to me and he was able to answer my question within a few short minutes.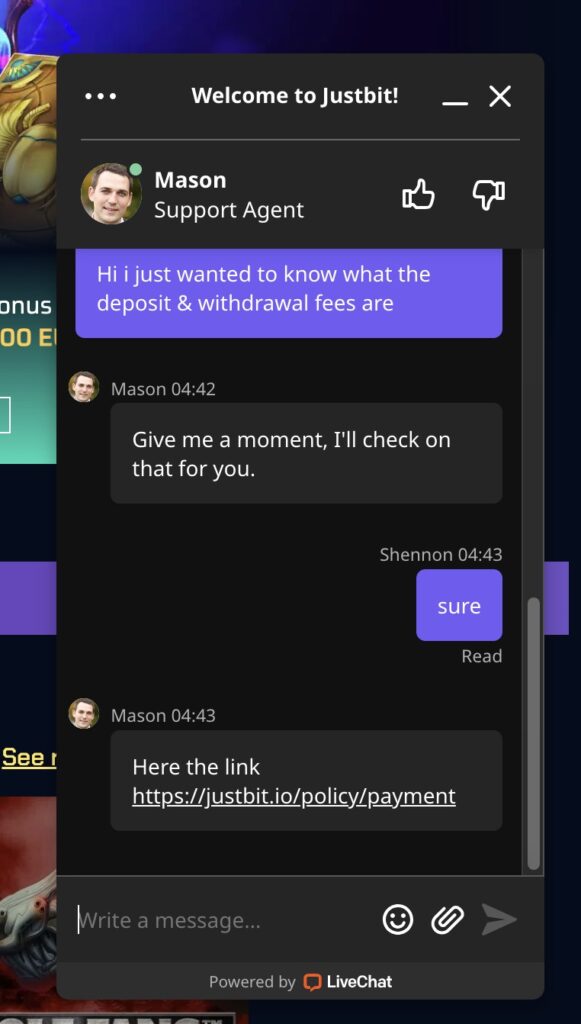 As far as reviews go, JustBit has favorable reviews from players across the board. The platform has a 4.0 star rating on Trustpilot, with over 65% of the ratings being 5 stars. There are over 100 reviews on Trustpilot from users all over the world, so there is a fair sample size. 
JustBit was also reviewed by askgamblers.com, who gave an average CasinoRank of 5.79 out of 10 – however the Player Ratings on askgamblers.com was an 8.7, suggesting that players were still having a pleasant experience on JustBit.
It is worth noting that there have only been 9 Player Ratings submitted on askgamblers.com, so keep in mind that the rating comes from a small sample size.
---
9. Conclusion
Despite being a relatively new casino, there are a lot of things to love about JustBit, like its large selection of games and its quick-and-easy registration process. JustBit's large selection of games are well-organized, with different menus and filters to make it even easier to find the game you're looking for. JustBit has made the experience for new users very simple, so you will be set up and playing games in no time.
No online casino is perfect, however, and JustBit does have some drawbacks that are worth mentioning. Firstly is the aforementioned lack of FAQ section or written support center, which are commonly expected on online casinos. These sections are usually the first stop when you are looking to have basic questions answered, such as how to deposit funds or how to set up 2-factor authentication. While the live chat function on JustBit is extremely helpful, a lot of common queries could be addressed rapidly with a simple FAQ section.
Overall, I had a great experience using JustBit casino and it was definitely amongst the best online casinos I have tried. JustBit delivered a very enjoyable playing experience and getting set-up was extremely easy.
Justbit Casino
Pros
Large selection of games
Support for both crypto & fiat deposits
Fast & simple registration/deposit process
Great live chat support
Mobile friendly website
Cons
KYC required for fiat deposits/withdrawals
No FAQ page to answer basic questions