bspin Review
By: Shennon Hewa | Last updated: 7/14/23
bspin casino is an upcoming online casino that is quickly establishing itself as one of the main players when it comes to online casinos. In this review I'll cover some of the games they offer, their licensing and regulation, as well as their fees and bonuses.
bspin Review Summary
bspin is an established, licensed online casino that offers over 600 games ranging from classic table games, slot games and live dealer games. They offer games from all the major casino game developers and these games deliver a safe, provably fair gambling experience for players across the world.
That's bspin in a nutshell. For a more in-depth review keep on reading, here's what I'll cover:
---
1. Overview
bspin is an online casino that was founded by Meta Gaming N.V. in 2018. The casino is operated by Meta Gaming N.V. who, unlike most other online casino operators, only operate a single online casino. bspin offers over 600 of the most popular casino games from several of the industry leading online game developers.
As we see with most online casinos, bspin and its parent company Meta Gaming N.V. are licensed and registered in Curaçao. This is because it is much easier to obtain a gambling license in Curaçao when compared with countries like the US or UK.
The bspin website is easy to navigate and features tabs to help you quickly jump to the section you are looking for, whether that be table games, slot games or live casino games. The design of the website might not be as flashy or visually appealing as some of its competitors but the design is definitely functional and gets the job done. The only feature I would say is missing would be the ability to filter games by developer, since many players have their favorite game developers that they like to stick to, having the ability to quickly filter or search for games based on the developer would be a great addition.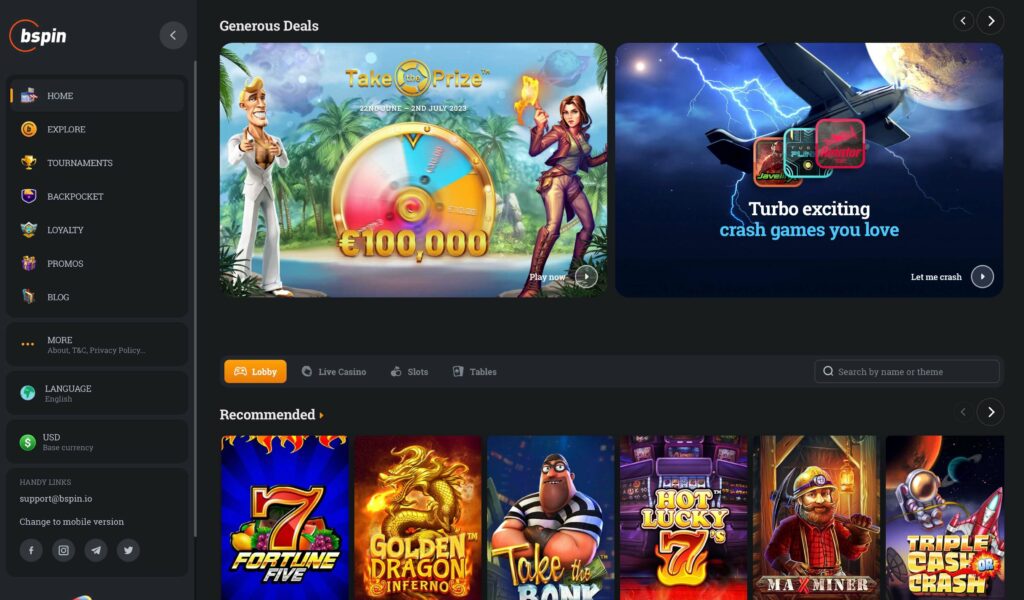 ---
2. Regulation & Fairness
bspin is owned and operated by Meta Gaming N.V. who unlike most of their competitors, only operates one online casino. It is not uncommon to see 30 or 40 different online casinos being operated by the same parent company, but it seems that Meta Gaming N.V. is focusing all their efforts on developing bspin. Like most online casino operators, Meta Gaming N.V. is licensed and registered in Curaçao as there it is easier to obtain a gambling license.
When it comes to the fairness of games, not all of the games offered by bspin are provably fair, however most of the games created by the major casino game developers will be provably fair. These games will use random number generators that are audited by third parties. This means that the results of games can be verified independently and neither the casino nor the player can know the results before the game has begun. To make things easier for players, bspin allows you to filter games depending on whether they are provably fair or not, making it easy to identify which games are provably fair.
As we do with all our online casino reviews, we recommend that you thoroughly read the casino's terms and conditions before registering and depositing any money. Online casinos can sometimes be extremely strict when it comes to their terms and conditions. Any breach of these terms and conditions could lead to your account being closed, and any money you deposited being lost. It is important to note that bspin only allows one account for each household, IP and PC. If multiple people within the same household create accounts they will be treated as duplicate accounts and will be closed, with any deposits and bonuses being kept by the casino.
---
3. Deposit & Withdrawal Fees
bspin does not have any deposit fees and there are no maximum deposit amounts but there is a minimum deposit amount which will differ depending on which cryptocurrency you choose to deposit. The minimum deposit requirements are very small and are mostly less than $5.
Withdrawal fees are also very small and are taken to cover the network fees associated with making the crypto transaction from your bspin account to your personal wallet. This does mean that the network fee and thus the withdrawal fee will vary depending on which cryptocurrency and network you use to make your transaction. There is also a minimum withdrawal amount that is enforced but again these are fairly small and rarely more than $5. All applicable deposit & withdrawal fees are shown before you make a transaction.
---
4. Highlight Casino Games
bspin has a selection of over 600 different casino games that range from classic table games to a variety of slot games and even live casino games. bspin features games from some of the biggest casino game developers.
Unlike most of the competing online casinos that feature thousands of different games, bspin has limited the number of games they offer on their website to just over 600. Despite offering less games, bspin still manages to cover all the bases and offer some of the most popular games such as Elvis Frog in Vegas.
I tried a variety of different games including Elvis Frog in Vegas, although many of the slot games are fairly similar to play, just with different themes.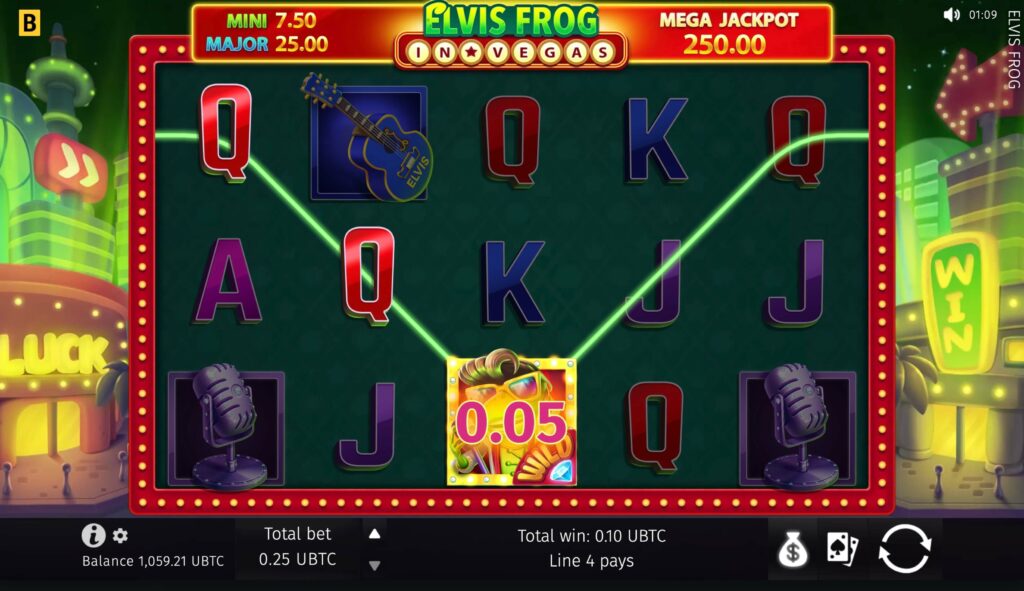 Most of the slot games start with a minimum bet of $0.10 but you can up the risk and try to win one of the jackpot games – however, these have a significantly higher minimum bet. Slot games are some of the most popular games on bspin, with some of the biggest jackpots, but you can quickly burn through money playing slots.
When it comes to table games, bspin has a large selection of traditional table games like Poker, Roulette and Blackjack. These table games require a bit more skill than the slot games which means that skilled players will be able to tip the odds in their favor. I tried a variety of different table games and found that all the games I tried loaded smoothly and provided a pleasant gaming experience.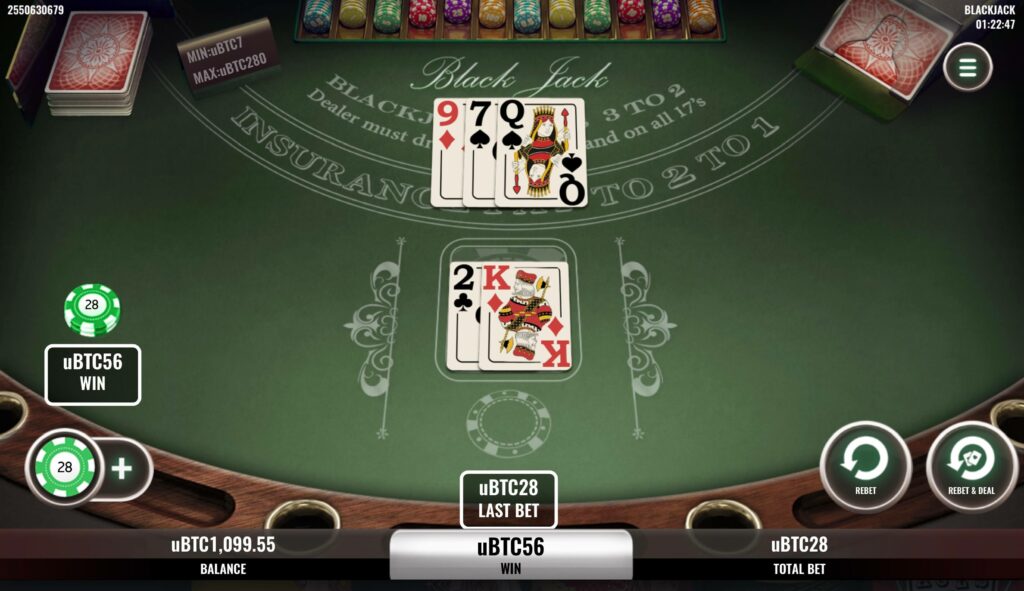 ---
5. Accepted Currencies & Payment Methods
bspin is a crypto-only casino which means they only accept deposits using cryptocurrency. The same applies for withdrawals so you will only be able to withdraw crypto as well. If you don't own any cryptocurrency, bspin offers you the ability to purchase crypto using fiat currency directly through the casino thanks to a partnership with Changelly and MoonPay. As far as supported cryptocurrencies go, bspin accepts the following cryptocurrencies:
Bitcoin (BTC)
Ethereum (ETH)
Bitcoin Cash (BCH)
Litecoin (LTC)
Dogecoin (DOGE)
Tether (USDT)
USD Coin (USDC)
Binance Coin (BNB)
Binance USD (BUSD)
Cardano (ADA)
XRP (XRP)
Tron (TRX)
Despite the deposits being taken as cryptocurrency, your account balance will be displayed in fiat currency to help you easily keep track of how much you are wagering. There are a variety of different fiat currencies you can choose to display your account balance including, USD, EUR, GBP, JPY, TRY, AUD, CAD, MXN, CZK, HUF, BRL, ARS, UAH, RUB and SGD.
---
6. Available Countries
bspin accepts players from all over the world, as long as online gambling is permitted by law which can differ depending on where you are located. In addition to this, there is a list of countries from which bspin does not accept players.
Users from the US and its territories, the UK, France and its territories, the Netherlands and its territories, Australia and its territories & Spain, are all prohibited from using bspin.
Games from certain game providers may also be restricted in certain countries. For a full list of restricted countries and a detailed explanation on restrictions, click here.
---
7. Customer Support and Online Reviews
Customer support is one area that I feel that bspin can improve significantly in. Customer support is usually an area where online casinos excel, however bspin seems to be lagging behind the competition in this field. There is no FAQ section or support center that I could refer to if I needed help registering or making my first deposit. Almost all the other online casinos offer a live chat feature where you can be connected to a customer support agent in real time, however bspin does not have a live chat feature yet so we have to rely on an email contact forms to speak to customer support. The bspin contact page does offer links to some of the casinos social media channels but these channels are purely for promotional purposes and cannot be used to contact customer support.
As far as reviews go, bspin has been rated 'average' with 3.3 stars on Trustpilot. The majority of the reviews are positive however there are also a significant number of negative reviews. It is worth mentioning that there have only been 31 reviews so it is hard to come to a concrete judgment from such a small sample size. bspin has also been reviewed by askgamblers.com who gave them a CasinoRank of 6.81, with the players being a bit more generous and giving a Player Rating of 7.1. The number of reviews on both Trustpilot and askgamblers.com are fairly low so we cannot draw any solid conclusions just by looking at user reviews.
---
8. Conclusion
All in all, bspin has a lot of good things going for it, such as their easy to navigate website that isn't cluttered with thousands of identical slot games or the seamless registration and deposit process. The casino is well built and they have made it very easy to get registered and start playing games in a matter of minutes. I had no issues with any of the games I tested, even the live dealer games, which in previous reviews have been problematic, ran smoothly without any issues.
bspin does however have its downsides, chief among which is the lack of a proper support center or customer support live chat. Having good customer support is one of the most important features of an online casino and this is the main area bspin should focus on improving.