Anmerkung: Wenn Sie handeln Bitcoin mit Paypal oder Kreditkarte wollen versuchen AvaTrade und Plus500. Für weitere Informationen lesen Sie diesen Artikel.
Hier finden Sie eine kurze Erklärung darüber, wie Sie BTC mit PayPal oder mit einer normalen Kreditkarte kaufen können. Wir erledigen dies über einen Marktplatz, der VirWoX heißt.
WICHTIG: Hier werden höhere Transaktionsgebühren als üblich verrechnet. Es ist wichtig, dass Sie die verschiedenen Transaktionsgebühren kennen.
Schritt 1: Gehen Sie zu VirWoX.
VirWoX ist ein Austausch von virtueller Währung. Dort können Sie Lindens, Bitcoins und andere kaufen …
Schritt 2: Öffnen Sie ein kostenloses Konto
Klicken Sie auf "Noch nicht registriert", um ein neues Konto, wie hier gezeigt, zu öffnen: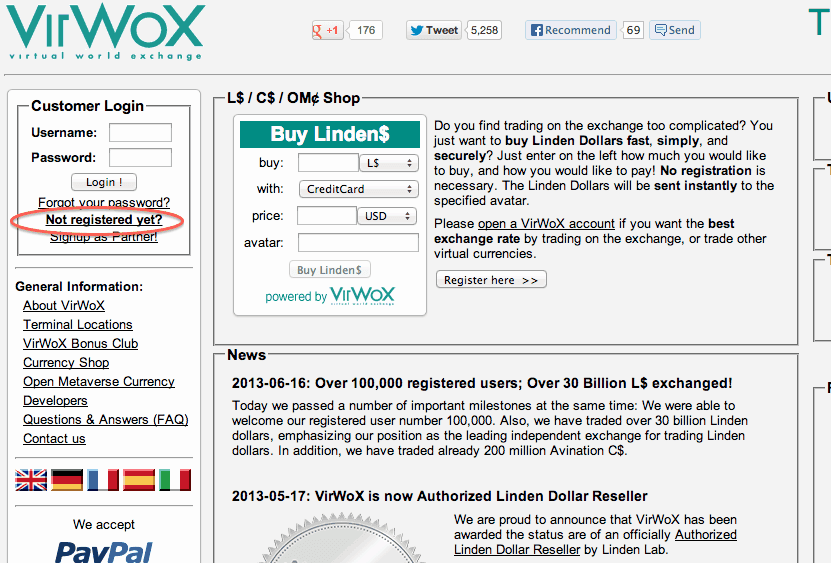 Schritt 3: Geben Sie Ihre persönlichen Daten ein
Geben Sie Ihren Benutzernamen und Ihre E-Mail-Adresse ein. Dort, wo Sie nach dem "Avatar-Namen" gefragt werden, lassen Sie es einfach so wie es ist.
Sobald Sie fertig sind, klicken Sie auf "Registrieren".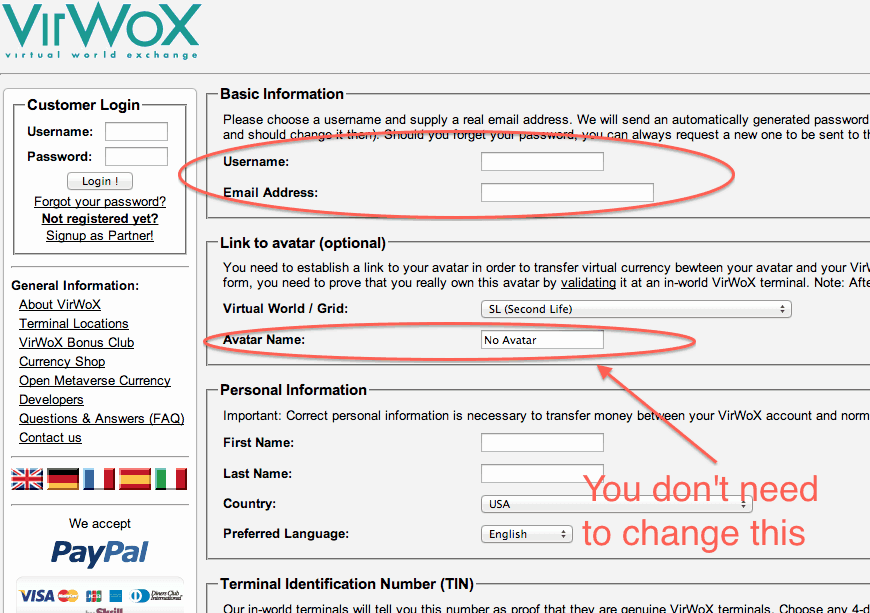 Schritt 4: Aktivieren Sie Ihr Konto
Sobald Sie auf "Registrieren" geklickt haben, erhalten Sie eine Bestätigung per E-Mail mit Ihrem Passwort. Öffnen Sie die E-Mail, kopieren Sie das Passwort und melden Sie sich wieder bei VirWoX an.
Schritt 5: Überweisen Sie über PayPal Geld auf Ihr Konto
Klicken Sie auf Einzahlen auf der linken Seite und wählen Sie PayPal Express. Überweisen Sie so viel USD, wie Sie möchten, auf Ihr Konto.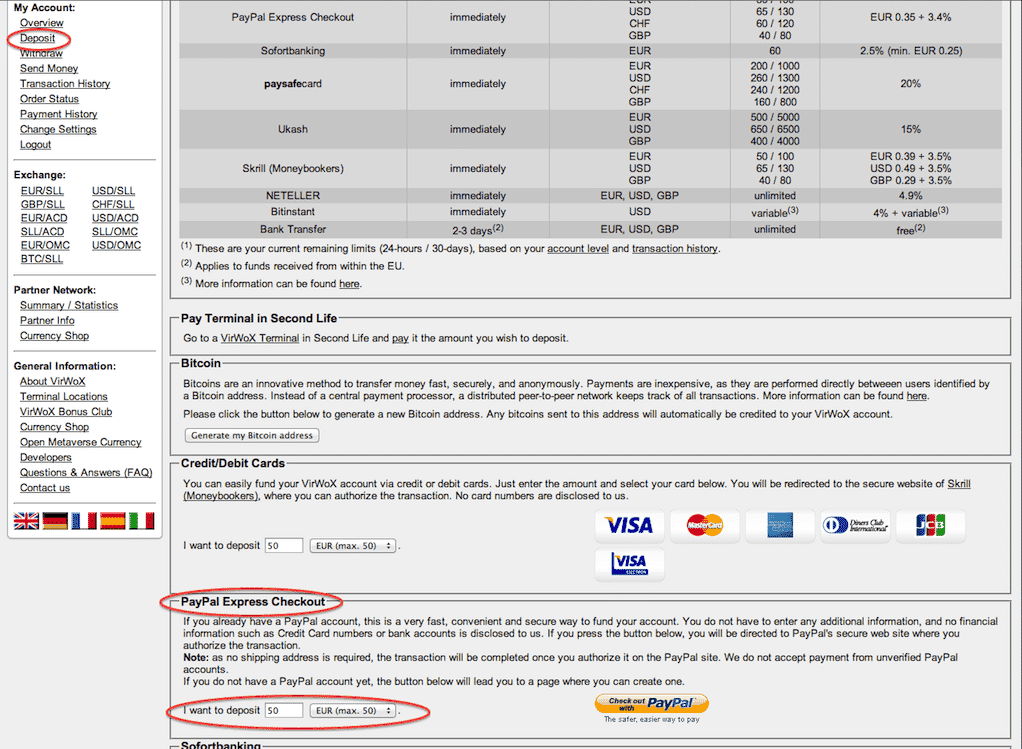 Hinweis: Von nun an wird bei jeder Überweisung eine Gebühr verrechnet – versichern Sie sich, dass Sie die Ein- und Auszahlungs-Gebühren kennen.
Schritt 6: Kaufen Sie SLL mit USD
Gehen Sie zu Wechseln->USD/SLL auf der linken Seite. Kaufen Sie SLL (bedeutet Second Life Lindens). Später werden wir diese SLL in Bitcoins eintauschen.
Hinweis: Wenn Sie noch keine Einzahlung gemacht haben, erscheint der oben gezeigte Bildschirm, der Sie auffordert Geld einzuzahlen, bevor Sie SLL kaufen.
Schritt 7: BTC mit SLL kaufen
Sobald Sie SLL auf Ihrem Konto haben, gehen Sie zu BTC/SLL und kaufen Sie Bitcoins mit den SLL.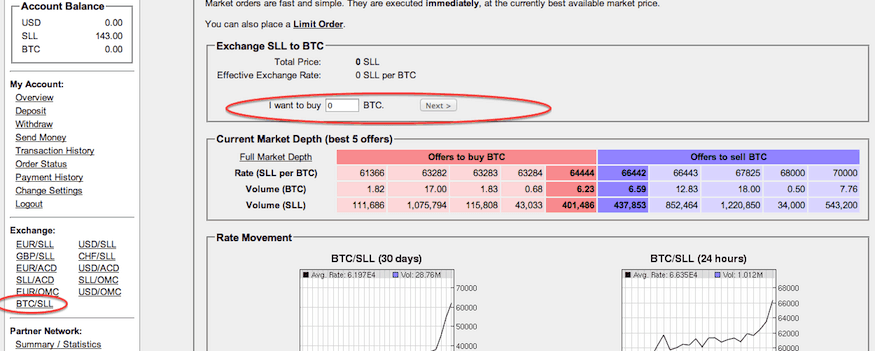 Schritt 8: Bitcoins auszahlen lassen
Wählen Sie "Auszahlung" auf der linken Seite und senden Sie die Bitcoins an Ihr Konto.

Bitcoin Video Crash Course
Dummy-proof explainer videos enjoyed by over 100,000 students. One email a day for 7 days, short and educational, guaranteed.
We hate spam as much as you do. You can unsubscribe with one click.