Unstoppable Domains Review and Tutorial Guide
By: Alex Miguel | Last updated: 12/1/21
Unstoppable Domains is a platform that sells blockchain-based NFT domain names, which can be used as human-readable wallet addresses, NFT galleries, and/or hosting decentralized websites. In this post, I'll cover how Unstoppable Domains works, some of its features and how to buy your very own .crypto domain.
Don't like to read? Here's a 2 minute video of this review:
---
Unstoppable Domains Summary
Unstoppable Domains is a platform that makes it super easy for anyone to buy a blockchain-based domain name, as well as set it up as a human-readable wallet address or website. Although these aren't quite yet supported by all browsers and wallets, it's a great innovation which has already gained good traction and support.
That's Unstoppable Domains in a nutshell. If you want a more detailed explanation about Unstoppable Domains and a tutorial on how to set up your own, keep reading this post. Here's what I'll cover:
---
1. Unstoppable Domains Overview
Unstoppable Domains is a San Francisco-based company that sells domains secured by blockchains. It was founded in 2018 by Bogdan Gusiev, Brad Kam, Braden Pezeshki and Matthew Gould, with a combined $5.2 million in backing from Boost VC and Tim Draper's Draper Associates.
The company sells .crypto domains, as well as 9 other domain endings like .nft and .wallet, that can be used as human-readable cryptocurrency addresses, replacing the need to copy and paste (or type out) the long strings of random numbers and letters that usually make up an address. Additionally, these domains can be used to create decentralized  websites in conjunction with the decentralized storage network, InterPlanetary File System (IPFS).
---
2. Unstoppable Domains Services
All of Unstoppable Domains' features and services revolve around their NFT domain names. Read here to learn what is an NFT. Unstoppable Domains provide a bunch of tools to purchase and mint domain names, connect them to your crypto addresses, and to build and deploy websites.
Purchase and Mint Domain Names
First and foremost, Unstoppable Domains allows users to purchase domain extensions like .crypto or .zil and mint them to their personal wallets.
Unstoppable Domain ownership exists in the form of non-fungible ERC721 tokens, which are stored in the owner's wallet instead of with a third party. They only need to be purchased once, with no renewal fees, ever. They can also be easily sold or transferred at will.
Purchases can be made using a variety of fiat and crypto payment methods. Be aware that withdrawing a purchased domain (i.e. "minting" a domain) to begin using it costs additional fees for Ethereum gas when done on layer 1. However, Unstoppable has recently integrated with Polygon, allowing for gas-free minting on layer 2.
Add Crypto Addresses
Once you have purchased a domain name, you can use it as a human-readable address for receiving crypto. This means that people using supported wallets will no longer need to type or paste your public key (the long string of numbers and letters that represents your crypto address).
For example, if you wanted to send me a crypto payment, you could use my alex99bitcoins.crypto domain as my address, instead of typing out my Bitcoin or Ethereum public key.
Unstoppable Domains provides an easy-to-use interface to easily connect wallet addresses for supported cryptocurrencies to your domain. Bitcoin, Ethereum, Litecoin, Ripple and Zilliqa addresses can all be linked.
These human-readable addresses are currently supported by Coinbase Wallet, MyEtherwallet, Trust wallet, Chainlink and more.
Build and Connect Websites
Unstoppable Domains also enables users to build and connect websites to their domain name. This may sound like it's too technical for the average person, however Unstoppable Domains provides some great tools to make the process easy for anyone.
The Unstoppable Domains website offers four different types of templates you can use for free, including:
Personal
For sale
Coming soon
Blog.
When using a template to build a website, Unstoppable Domains will help you store it with the decentralized storage network, InterPlanetary File System (IPFS), with just a single click.
There is also an option for more advanced users to create their own website from scratch manually and link the IPFS hash via the Unstoppable Domains user interface.
These decentralized websites are viewable natively in the well-known Brave and Opera web browsers, as well as in Chrome, Firefox and Edge by installing the Unstoppable Domains  browser extension.
---
3. Pricing and Payment Methods
Domains start at $40 for the .crypto extension, while domains with the .zil extension start at  $20. You may also encounter more expensive domains that are shorter or more desirable., You can also find domains on the secondary market, which have actually already been purchased but are being resold by the owner (rather than by Unstoppable Domains itself).
A wide range of payment options are available when purchasing an Unstoppable Domain. In fact, you don't even need cryptocurrency to get a domain up and running.
For purchasing a domain name, Unstoppable Domains accepts credit card payments via Stripe, PayPal, Crypto.com payments, and the following cryptocurrencies:
Bitcoin (BTC)
Bitcoin Cash (BCH)
Ether (ETH)
Litecoin (LTC)
Dai (DAI), ERC20 only
USD Coin (USDC), ERC20 only.
There may also be additional costs for the gas fee associated with "minting" a domain to your wallet once it has been purchased. But again, this gas fee only applies when claiming to Ethereum, and can be avoided by claiming your domain on layer 2 with Polygon.
Minting fees are payable directly from your wallet in Ether (ETH) at a gas price set by yourself,
---
4. How To Use Unstoppable Domains Tutorial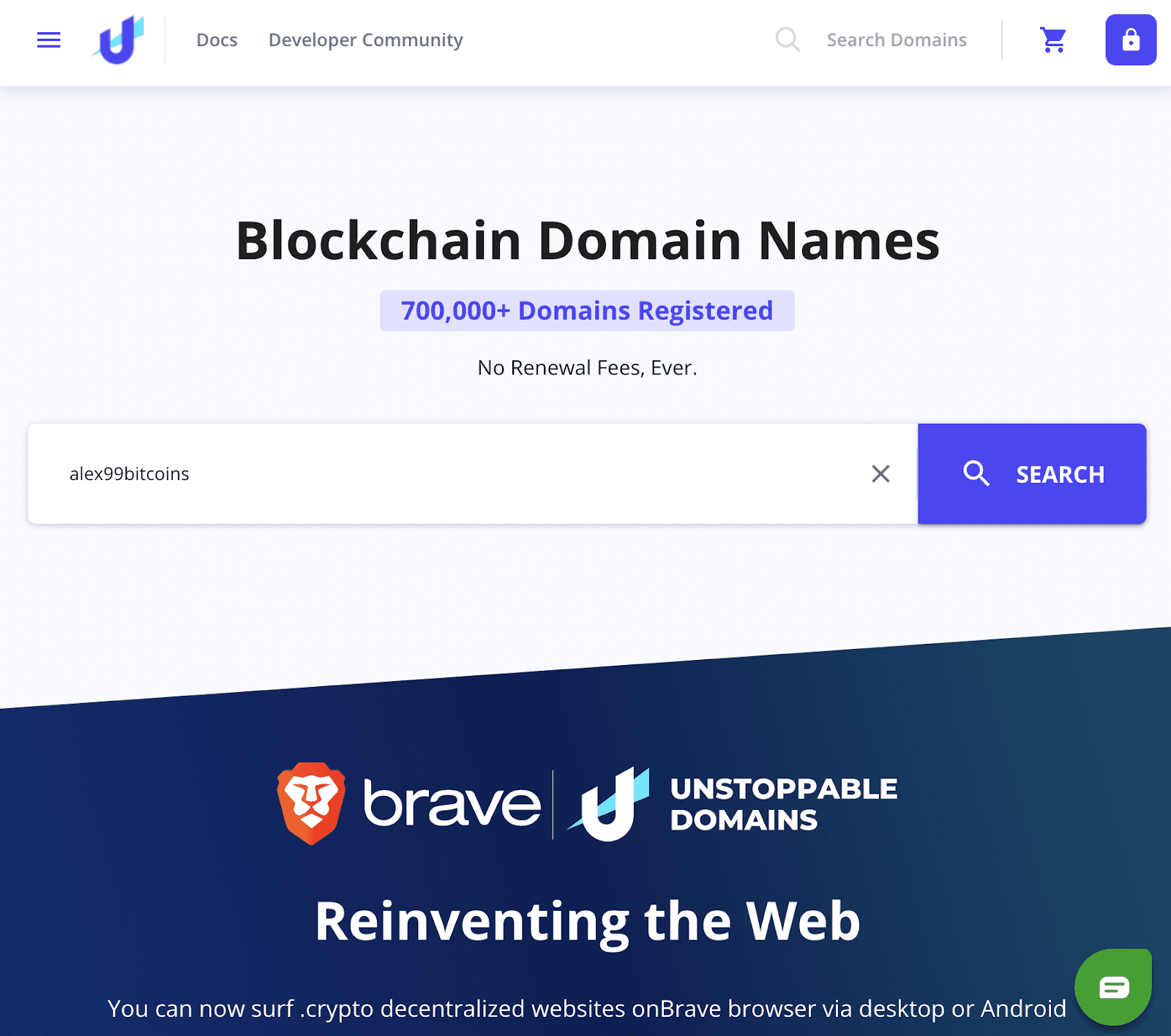 Once you've found the domain you want, click "add to cart", then follow the checkout process. You can pay for the domain using a range of fiat and crypto payment methods.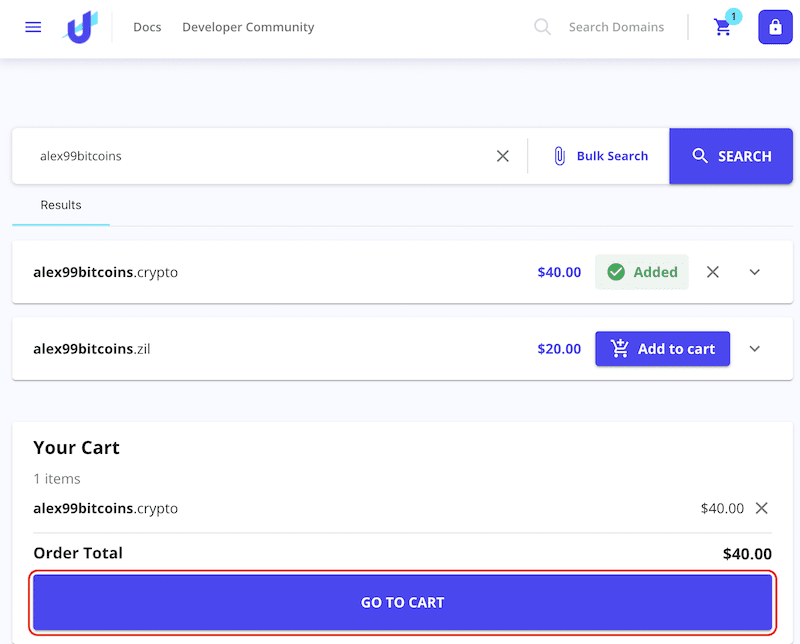 Now, you're the proud new owner of a .crypto domain! However, it's still in the hands of Unstoppable Domains. To hold and use your .crypto domain, you'll have to mint it to your own ethereum wallet using MetaMask.
Navigate to the hamburger menu, then click "My Domains", here you will mint your domain by either paying using your own Ether in your MetaMask wallet, or alternatively by purchasing "Mint Credit" through Unstoppable Domains. Select the option that applies to you, then follow the mint instructions on the screen.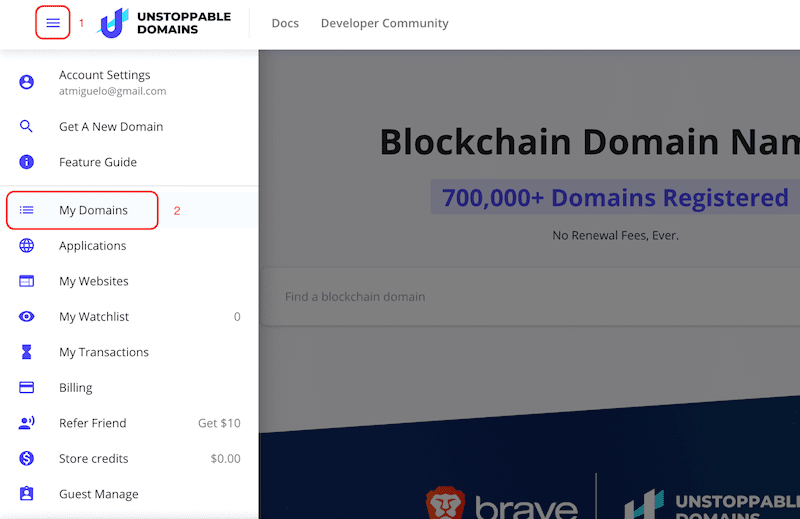 Once you have submitted the mint, it will take a little while to process it on the Ethereum blockchain. You will see "pending" next to your minted domain name. Once it clears, you will have your domain name stored in your wallet!
Finally, we'll link our crypto addresses to our domain name. Navigate to "my domains" and click "Manage".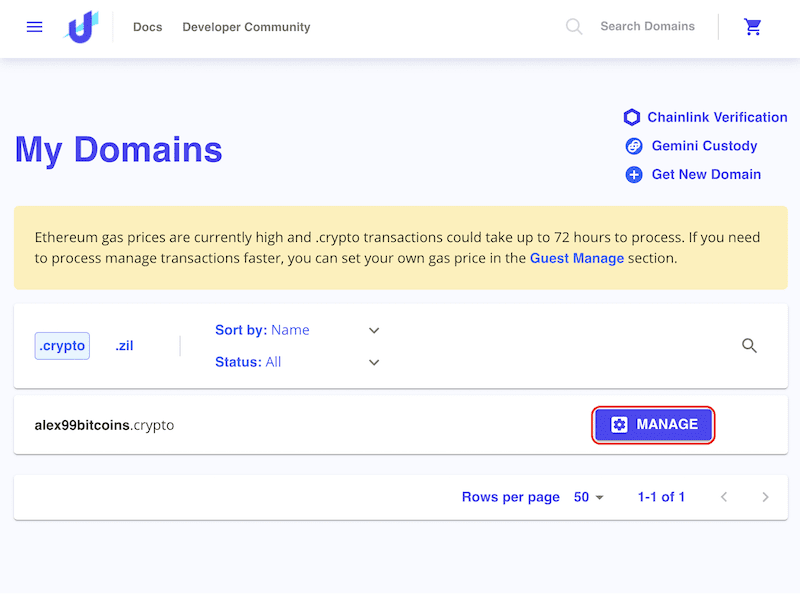 Copy and paste your crypto addresses into the fields shown, then scroll down and click "save all changes". You will need to sign the transaction using your web 3.0 wallet.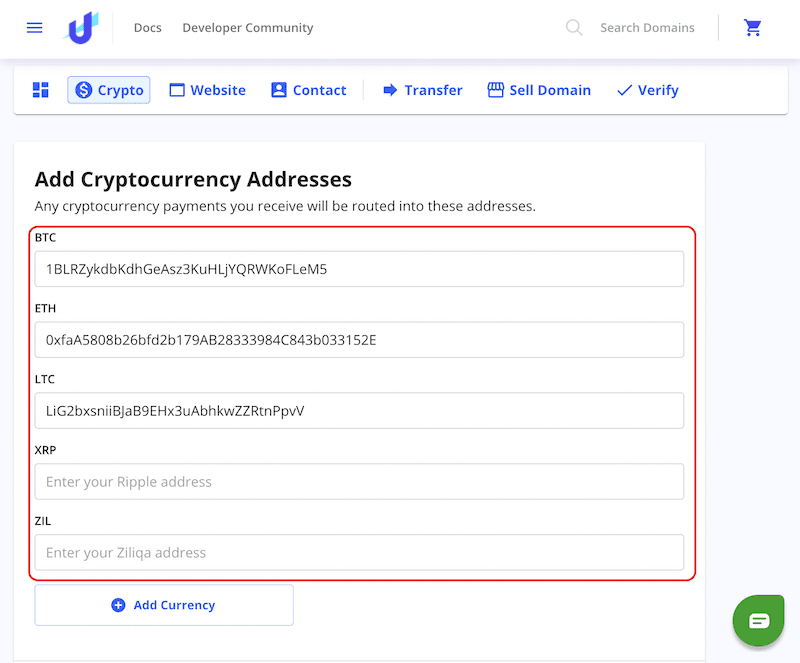 And that's it! Now, whenever someone wants to send you funds from a supported wallet, they can simply enter your .crypto or .zil domain name instead of your traditional crypto address.
---
4. Conclusion
Unstoppable Domains is a great innovation that allows anyone to take advantage of the new generation of human-readable addresses and websites based on the blockchain.
Even though the concept is complex, Unstoppable Domains does a great job at streamlining the process for the average user – even removing the need for a user to own crypto at all when they're getting started. The website builder feature is also amazingly simple to use, especially for how complex it would be to create and deploy a decentralized website today.
Both human-readable addresses and decentralized websites are innovations that are likely to be very widely used in the future – and Unstoppable Domains may be the easiest way to get your very own.
Have you had any experience with Unstoppable Domains? If so, let me know how it went in the comments section below.