Bitcoin is not just about anonymity, at least not anymore. This is especially valid when celebrities start talking about it. After five years of powerful activity, this cryptocurrency has conquered the hearts and virtual wallets of several known personalities and some of them, whether they are Bitcoiners or not, are tweeting about it.
If you're curious about what Snoop Dogg or Richard Branson have to say about the digital currency, check these six recent tweets Bitcoin Examiner gathered for you.
1. Snoop Dogg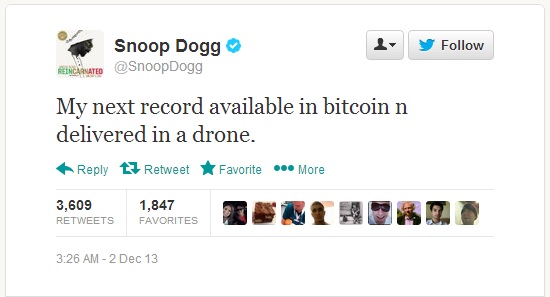 Snoop Dogg may not know what name he is going to have next, but the music artist doesn't have any doubts about the future. Apparently, his next album will be "available in Bitcoin and delivered in a drone".
2. Ashton Kutcher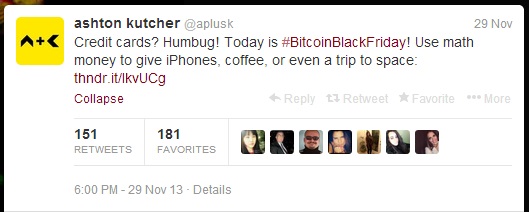 Ashton Kutcher is a famous Bitcoin supporter and investor. The actor even took his time to promote Bitcoin Black Friday via Twitter, an event that happened on November 29.
3. Max Keiser

Well, what could we say about Max Keiser? Obviously, he tweets a lot about Bitcoin. The host of the famous show "Keiser Report" and Bitcoin aficionado defended cryptocurrency with this awesome tweet a couple of days ago.
4. Richard Branson

The billionaire entrepreneur Richard Branson revealed he is a Bitcoiner a few weeks ago when he announced that Virgin Galactic would start accepting cryptocurrency to pay for trips to space. According to Branson, Bitcoin is "a futuristic currency".
5. Jeffrey Tucker

The famous executive editor of Laissez Faire Books, Jeffrey Tucker, has publicly supported Bitcoin many times. He's constantly talking about cryptocurrency in his Twitter account, claiming that the cryptocurrency is a synonym of "change".
6. Mark Hughes

Mark Hughes might be the least famous of these personalities, but his tweet deserves to have a place in this list. The European Parliament member for the East of England and well-known financial planner says Bitcoin is "the biggest innovation in currency in 6,000 years".