Full Disclosure:  I, Dustin O'Bryant, previously worked for Trucoin, have a small stake in the company, and I have been interested in their work for almost 2 years. Chris Brunner is the person that introduced me, and many others, to Bitcoin. Without him, Coin Brief likely would not exist.
Trucoin recently sent out a press release announcing their soft launch in 25 states, with more coming soon.  As I have been focused on Coin Brief for quite a while, I reached out to Chris Brunner, Trucoin's President, to get me up to speed on what the company has been doing, and how they are moving forward.  Today I had the chance to interview Chris, as well as Brent James, Trucoin's VP of Marketing.
[divider]
The Interview
CB = Chris Brunner
BJ = Brent James
Trucoin was Founded in 2011, Employed Gavin Andresen Before He Worked at the Bitcoin Foundation, and Ran Bitcoindeals.com for a Year. What has the Company Been Doing Recently?
CB:  We have been gearing up for this launch.  A lot of resources have been put into achieving compliance in the states where we are launching.  We ran a 3 month pilot program in 8 states with money transmitter partners in South Florida, and that went extremely well.  So, we have decided to expand, and  forged a new partnership with a money transmitter in Atlanta, Georgia.  Through that partnership, we are launching in over 2 dozen states.
What Makes Trucoin Unique When it Comes to Purchasing Bitcoin?
CB:  So there are a few things that make Trucoin unique.  One is the purchasing power.  With other services you may be limited to $200 – $500 in purchases per week.  With our service, you can purchase that each day.  We can do this because of  the fraud mitigation technology that we have.  We are able to successfully mitigate the chargeback risk associated with accepting card payments, and that allows us to offer more purchasing power to our customers.
BJ:  A few more things that also separate us. 
First, we are very transparent when it comes to any fees associated with purchasing Bitcoin.  This means that there are no hidden charges that will pop up on any statement.  
Second, we have instant delivery of the Bitcoin
Third, which is very important to us, we have customer service always available through various channels.  We like to be able to answer customer questions, or address any issues in a very timely manner.
CB:  Also, there are no cash advance fees.  One really big deal about the cash advance fees is that some of the people in the industry like to play it off as if it is the bank's fault that the cash advance fees are charged.  
In reality, it is up to the merchant.  It depends on how the transaction is coded.  The people who are getting charged the cash advance fees are being charged that way as a result of a merchant making a decision to make it harder for chargebacks to occur.  So, basically what they did is said,"ok, well we can run this as a cash advance, and that will make it harder to charge back, but then the user gets hit with a bunch of fees," and that is what they are choosing to do.
Instead of doing that, we run our transactions as standard sale transactions, and that doesn't result in any additional fees.
BJ:  The cash advance fee causes an instant fee, in addition to carrying a higher APR.  So, if it is not paid off at the end of the month, the interest rate is going to be much higher than a typical purchase.
CB:  So, what a lot of people in the space have done is try to claim low fees, or no fees, when really they are only hiding the fees in the form of a cash advance.
So, What is Trucoin's Overarching Purpose?
CB:  We want to make Bitcoin accessible to the masses.  We want to make it easy for anyone to buy Bitcoin, and get that Bitcoin in their hands.
BJ:  Something that we say a lot is that,"we want to lower the learning curve."  
A lot of us that have been in the space for a while understand digital currency, cryptocurrency as it were, or Bitcoin specifically.  But, a lot of people are now catching wind of it, because of big merchants signing up to accept Bitcoin, and there has been a lot of media coverage.  
The average person wants to be able to use technology without having to spend a lot of time learning.  
For example, MP3s, other types of compression, and streaming in general have been around for a long time, but weren't used as much by the average person.  Apple, and other companies, created products that make it very very easy for the people who are not as tech savvy, which resulted in mainstream adoption.  Voice Over IP (VOIP) is similar.  Now you have Skype, Google Voice, and a plethora of other choice to make that technology very easy for the end user.  They don't have to understand the underlying technology, just that it is more convenient, less expensive, and faster.  We are aiming to do the same thing in this space.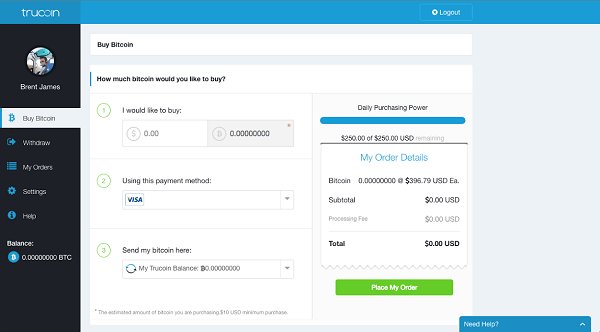 Trucoin Recently Announced Its Soft Launch in 25 States, As Well As an Increase to 32 in the Near Future.  What Exactly is Meant by "Soft-Launch"
CB:  So what we are doing is launching in phases.  We have allowed all of our pilot customers back in, we have sent out invites to a lot of people on our waiting list, and we are gradually opening the flood gates wider to begin serving the general public, most likely sometime next week.
BJ:  One thing to add to that.  Since the very beginning we have taken a very measured approach with what we announce, what we promise, and that has served us really well.  We will continue to do that, so that we make sure that things are ready for the public when we release them.  
The same thing is happening here.  We let in our customers from the pilot program first, and got a lot of feedback from them.  We value that a lot.  That is what helps us build our products.  Then we started opening it up to the invite list, which has been happening this week.  Then, as Chris said, if everything goes smoothly with that, we will open it up to the general public.
Do You Have a Timeframe on the Next 7 States?
CB:  That is something that we are working on actively.  Just like we expanded from 8 to over two dozen states, we are working to expand that further.
BJ:  Compliance, as you know from this week, with all of the announcements and chatter about it, is a very difficult process.  We have to balance fraud mitigation, compliance, and a smooth user experience.  So, because of that, we sometimes have things to do on a state level, sometimes it is something that must be worked on internally to make sure we deliver a smooth product.  That is why we have to be measured, and certain things take some time.
While You Are Working on these US States, Are You Also Moving Toward International Service?  Or, Will That Come Later?
CB:  In the future we will absolutely be expanding to outside of the US, but we are focusing on the US first.
With the Many Scandals Over the Past Year, Most Recently Involving Mintpal and Moolah, What Makes Trucoin Deserving of the Community's Trust?
CB:  We have been members of the Bitcoin community since the beginning.  We have supported Bitcoin directly, financially and otherwise.  We have put resources into the development of the core Bitcoin protocol.  We have done everything we can to support the community at large.  We are not newcomers, and have been around for a long time.  We have put a lot of effort into setting our company up in a way that it can become a stable resource for the Bitcoin community.  
That is why we have done things the way that we have done them.  Rather than launching 3 years ago, and not being a stable resource for the community, we decided to do things the right way, and the legal way, so that we can be a long-term resource for the community.  We hold ourselves up to be a company that the Bitcoin community can rely on.
BJ:  That's your point right.  There is a track record of companies that pop up in the space, and then disappear.  In a way, the folks that have been Bitcoiners for a long time can be a bit cynical, and there is good reason for that.  So we just want to make sure, back to Chris' point, that people know we are in it for the long haul, and you won't see Trucoin come and go.  We are here as a company that they can look to for the future.
Can You Explain the Process Needed to Verify User Identity in Order to Purchase Bitcoin?
CB:  Yeah, absolutely.  So, the process for almost everyone is very, very simple.  You log in, you confirm your information, you add a card that you would like to pay with, and then you can start buying.  There are some edge cases where someone may be asked to provide photo ID, or another document for identity verification.  
95% of the time users are able to log in, confirm their information, and start purchasing without any delays.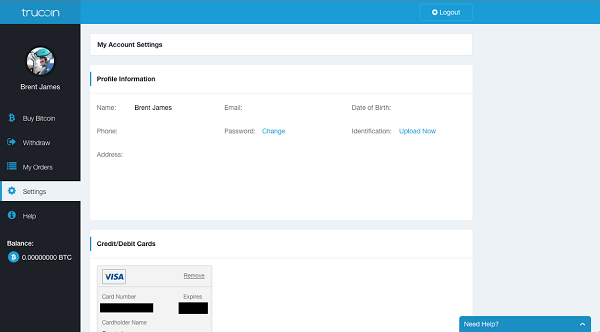 Do You Have Tiered Purchasing Limits?
CB:  Yes, everyone starts out with a $250 limit per day.  By supplying a utility bill, they can go to $500 a day immediately, which is what most services limit users to for an entire week.  There are tiers beyond that, and all they have to do is request an increase from customer service in the "help" section.
How Long Should it Take For the Average User to Go From Account Creation, to Purchasing Bitcoin, to Having it Sent To Their Personal Wallet?
CB: Less than 2 minutes.
What Are Trucoin's Plans for the Future Outside of Expanding Coverage for Current Debit/Credit Bitcoin Purchasing?
CB:  We've got some really exciting things down the road, but we are not announcing any of that today.  What we are announcing today is that we are expanding to over 2 dozen states, and we are excited to have our old customers be able to come back in and purchase, and we are excited to serve a much larger portion of the Bitcoin community than we have before.
Is There Anything Else That You Would Like the Bitcoin Community to Know About Trucoin, or Anything You Would Like to Say to Them?
CB:  There are all kinds of things.  I think the biggest is that we really appreciate the support that the community has offered, and their patronage, and I would like to thank the Bitcoin community for making it possible for us to expand.  It wouldn't have been possible without the support of the customers that have been with us, and the support the community has shown.
BJ:  And we are going to continue to make the technology something that is more accessible.  That is lower in cost, and more convenient.  Everything we do is in an effort to provide it in that manner.
CB:  Yeah, to provide the best experience we possibly can to the Bitcoin community.
[divider]
I am personally very excited to see Trucoin going live, as it has been in development since before I was involved with Bitcoin in any way.  I know the team behind it will do the absolute best they possibly can, and will work hard to stay true to their word.  That is why I wanted to work for Trucoin before I started Coin Brief, and they have my full support.
If you live in Alabama, Arizona, Arkansas, Connecticut, District of Columbia, Florida, Georgia, Idaho, Kansas, Kentucky, Maine, Michigan, Minnesota, Mississippi, Montana, Nebraska, New Jersey, New Mexico, North Dakota, Oregon, Rhode Island, South Carolina, South Dakota, West Virginia or Wyoming, you can sign up at Trucoin.com, and hopefully will receive an invite in the near future.