Before you go, I wanted to share this with you
I'm giving away a one time offer to join the definitive Bitcoin video course with a HUGE discount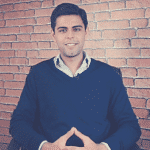 A few months ago I stumbled upon an awesome introductory video course for Bitcoin by Ravinder Deol (see image to your left). The course covers all of the Bitcoin basics you'll ever need. It will basically make you a Bitcoin expert in 7 hours of video tutorials, and no prior experience is needed.
| | | |
| --- | --- | --- |
| | Here are just some of the things you'll learn through the course: | |
All about the world of Bitcoin and Litecoin
Everything there is to know about Bitcoin wallets
The benefits of having a paper wallet
How BItcoins are generated
What you can purchase with Bitcoins
What to do when you want to sell your Bitcoins
How a Bitcoin transaction works
About the inventor behind Bitcoin
How to get involved in Bitcoin mining
How to calculate mining profitability accurately
Ravinder is an award winner entrepreneur who is currently teaching over 8,000 students on Udemy. His Bitcoin for Beginners course has received over fifty 5-star reviews with an average rating of 4.96 out of 5.
"Wow Ravinder! Your course is of high quality, and your experience of being able to teach this course is unrivaled – I have learnt a huge amount...
This is one out of the 75 lectures you'll receive in this course
Throughout the course you'll receive
10,000 Bits absolutely free (equivalent to 0.01BTC).

Ask the instructor your Bitcoin questions over Skype

75 lectures and 7 hours of video content

Quizzes at the end of each chapter 
The course is priced at $147 But since you're now a member of "My Dirty Little Bitcoin Secrets" I've struck a deal so you can get it for only $20, if you act now.