In this chapter you'll learn how to purchase Bitcoins using different Bitcoin exchanges
After all of this preliminary research we're finally at the point where we can make our educated purchase of Bitcoins. There are two ways you can go about this:
Conduct the full research by yourself and tailor your best custom solution.
Use some basic rules of thumb and just pick the relevant exchange according to your needs.
Assuming that most people won't go through option one, here are some basic rules of thumb for where to buy Bitcoins:
If you're buying a large amount of coins (i.e. more than $500's worth) use a trading platform like Coinbase for US residents and Bitstamp or Kraken for all other countries. Deposit money through a wire transfer; the process may be slower but you'll save a lot on fees.
If you're buying a small to medium amount of coins (up to $150) it will depend on which payment method you'd like to use. Choose one of these two options:
If you're looking to buy Bitcoins with a PayPal use one of the three hacks described in Chapter 6.
If you're looking to buy Bitcoins with cash I'd use Local Bitcoins to find someone near your location.
For your convenience here are some tutorials for using the most popular Bitcoin exchanges.
How to buy Bitcoins using Coinbase
Coinbase has a pretty intuitive website which makes it pretty easy to buy Bitcoins from. Start off by signing up to Coinbase. After signing up go to "payment methods" and choose "add a bank account". Coinbase currently supports 25 countries (you can view them all here).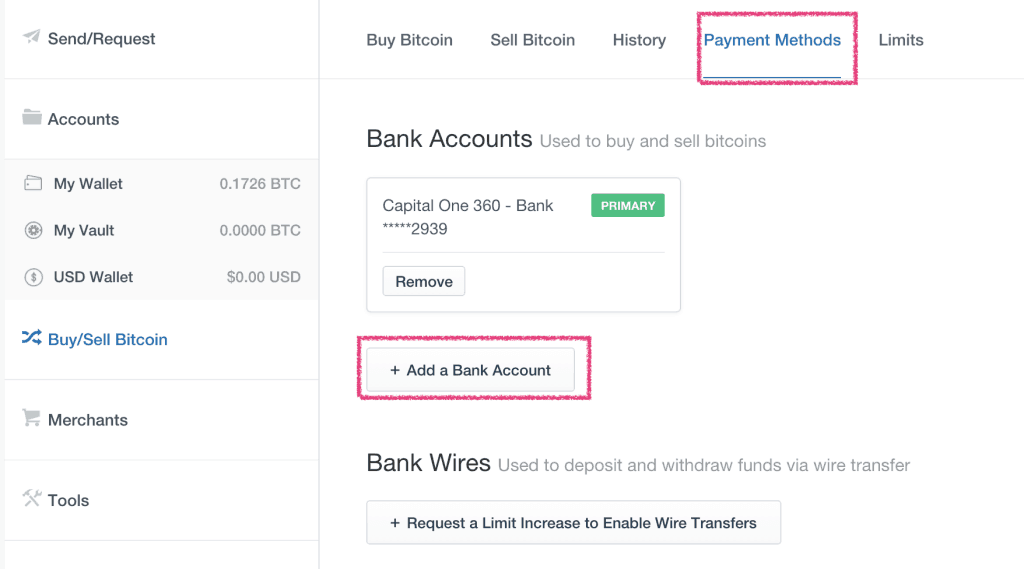 After you've entered your bank account you'll be asked to verify your account. You can do this is one of two ways:
Get billed for 2 small amounts (up to $1). After you see these amounts in your bank statement you can just fill them in and get verified. This takes about 2 days and can be somewhat annoying, but it's much safer than the other option.
Supply Coinbase with your customer number and access code so they can verify you own this bank account. Keep in mind that your access code IS NOT YOUR PIN. If you don't know how to get your access code just Google your bank's name and "access code" and you'll probably see how in a second. Here's an example for getting an access code with Capital One.

After you verify your bank account you will need to verify your phone number as well. Once you finish your account verification just go to "Buy Bitcoin", enter the amount you wish to buy and click the "Buy Bitcoin" button at the bottom.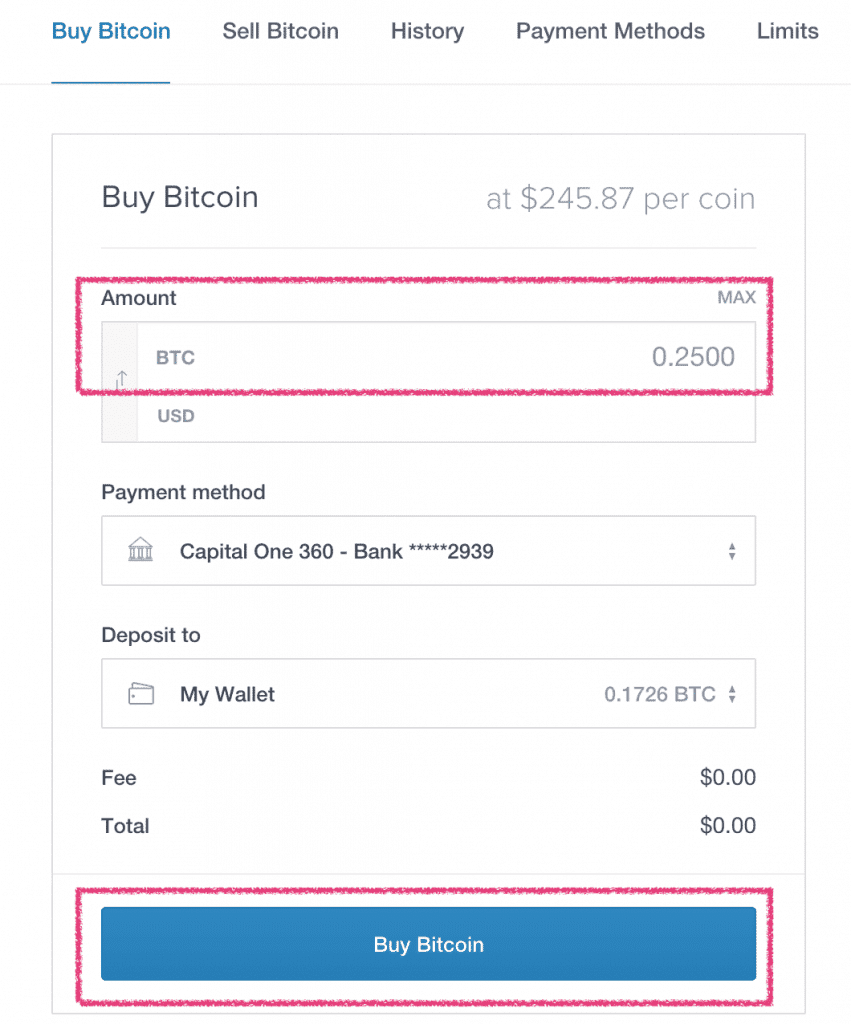 Keep in mind that a verified account at Coinbase has a limit of $3,000 worth of Bitcoins per day.
How to buy Bitcoins using Circle
(International credit card needed)
Circle is one of the hottest new startups at the moment which allow you to buy Bitcoins with a credit card pretty easily. The company just came out of Beta, and they claim to operate in the US. However numerous users (including myself) have managed to purchase Bitcoins through them using an international credit card even though they do not reside in the US.
First sign up for Circle. After you finish the signup process go to "Add funds" and deposit money into your account using your credit card.

If you didn't add a credit card on sign-up, you will be asked to do so during this step.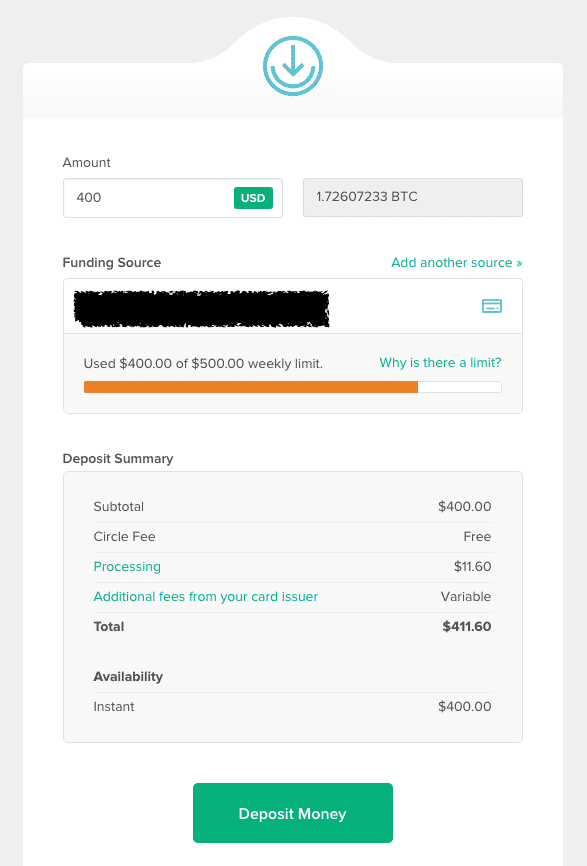 You should see the money in your account instantly. Once the money is in the account, you can withdraw it to your own Bitcoin wallet in the form of BTC. Go to "Send money" -> click on the "USD" sign and it will convert into BTC. Then just fill out your Bitcoin address and the amount you want to withdraw.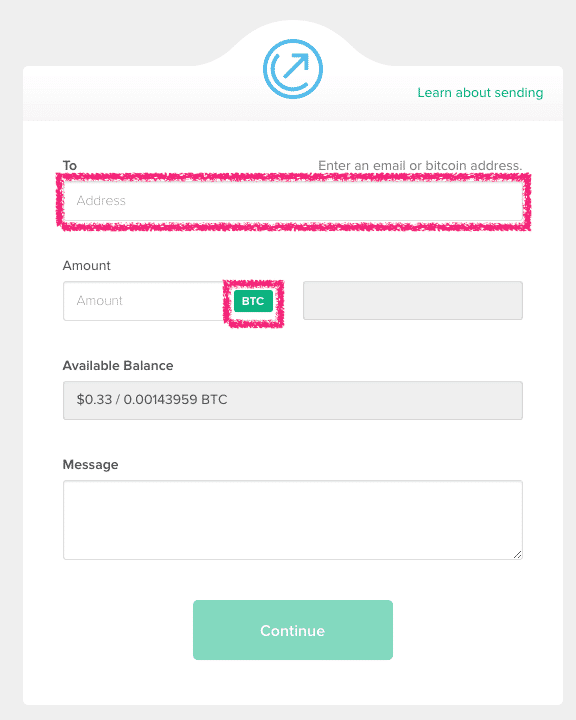 How to buy Bitcoins using CoinMama
(No verification needed up to $500, worldwide)
CoinMama specializes in Bitcoin purchases through a credit card. They take a premium fee for their services but they do not limit you to a maximum amount of Bitcoins that you can buy. You can buy up to $500 worth of Bitcoin without verification. Another good feature CoinMama offers is that once you place your order with them your price is reserved. So if the Bitcoin price goes up while you are purchasing, your price remains the same until you finish the payment process and you will be unaffected.
From Coinmama's homepage you can choose how many Bitcoins you'd like to buy/sell. You can enter the price either in BTC or in USD or choose one of the offered packages.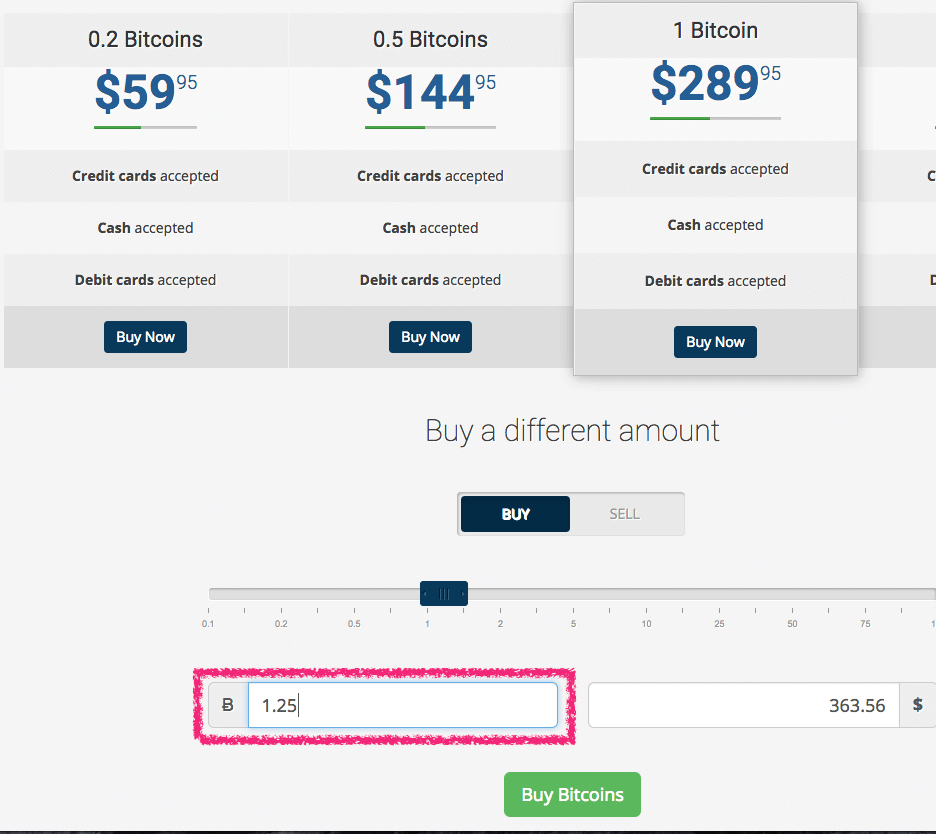 Once finished, click "Buy Bitcoins" and you will be taken to the sign-up page. After you fill out your initial details you will need to go through additional verification by submitting a photo ID document. Verification is usually pretty quick (it took me 1.5 hours to get verified). You can also buy up to $500 without doing the verification process.
Once verified you can buy Bitcoins pretty easily with your credit card through the simple interface. If you verified your address I suggest you use "Visa, MasterCard via Simplex" since it's the fastest option. If you want to continue without verification you can use the "MoneyGram" option. You can then pay the amount with your credit card on MoneyGram's website (this is applicable to US residents only).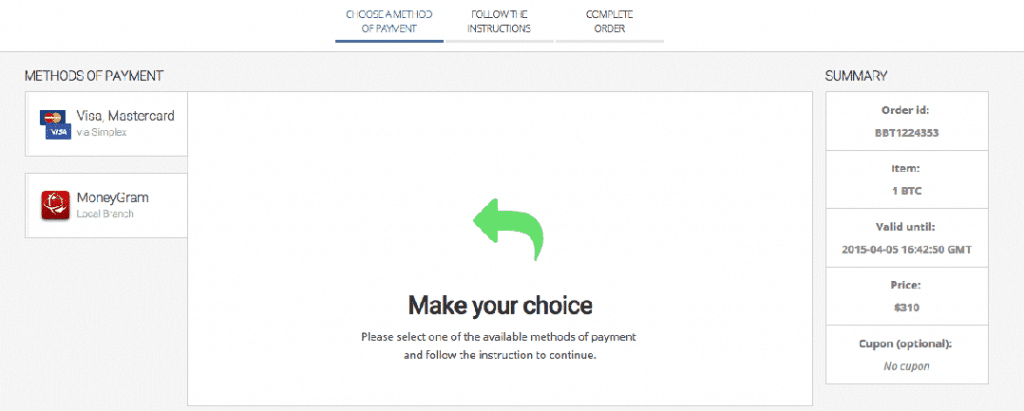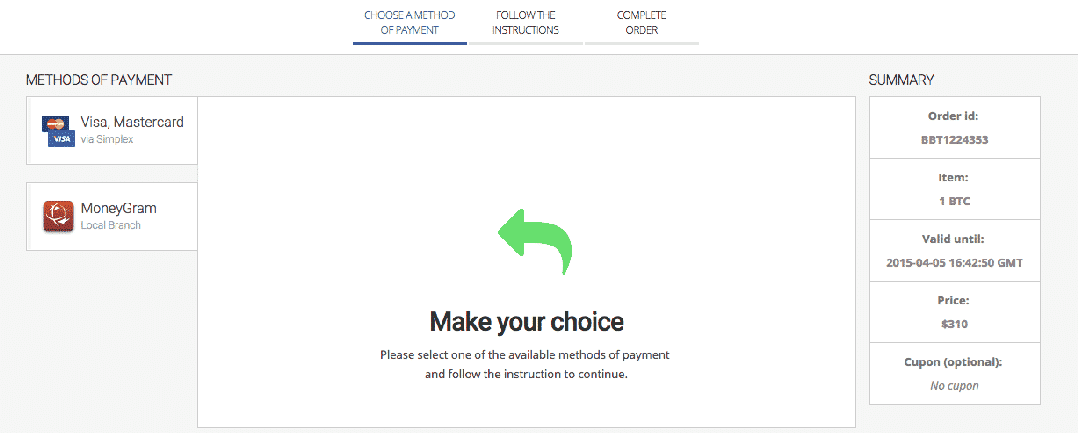 The next step will be to enter your own Bitcoin address. Unlike other exchanges, CoinMama doesn't keep your Bitcoins on their wallet (which is a good thing). This means you'll need to get a Bitcoin wallet before continuing.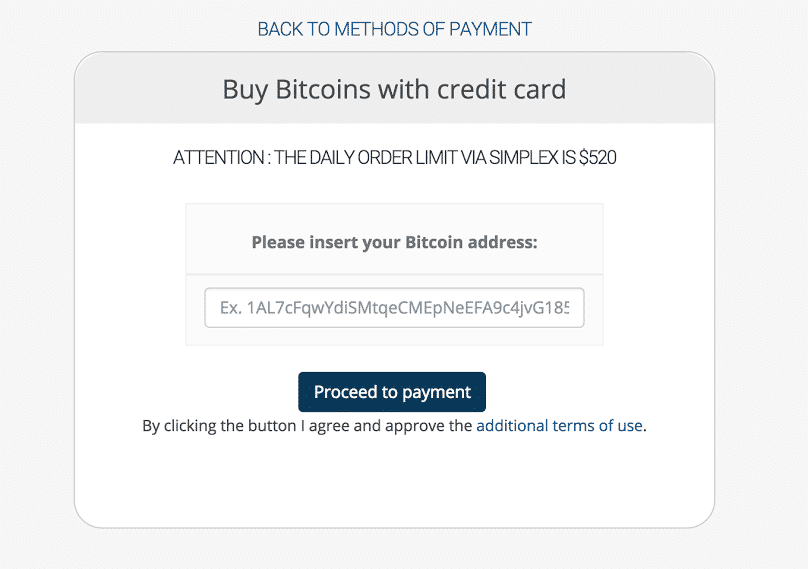 The last step will be to enter your payment details and place your order.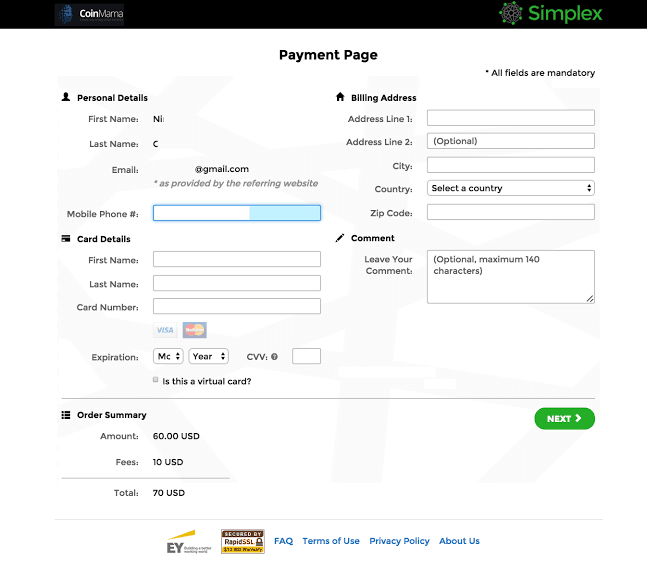 Coinmama uses the services of Simplex, allowing merchants to sell Bitcoins via credit cards as a payment method. I'll probably be doing a more in-depth review of Coinmama soon, as it has become quite a popular method for buying Bitcoins.
How to buy Bitcoins using Coin.MX
(Verification needed, worldwide, $5 bonus on first deposit)
Coin.MX is a marketplace for Bitcoins. Prices are around 1.3% higher than what you would find in Coinbase and you will also have to go through a user verification process in order to deposit money. All in all this is probably the simplest solution for buying with a credit card. If you're a first time customer at Coin.MX you'll get a $5 deposit bonus in your account.
If you don't like to read, here a quick video tutorial about Coin.MX:
User verification takes around 48 hours and requires uploading a short video of you holding a readable government issued document (e.g. passport). Once you've been verified, depositing funds is pretty simple and easy – just go to "deposit" and add your credit card details and you're able to buy Bitcoins.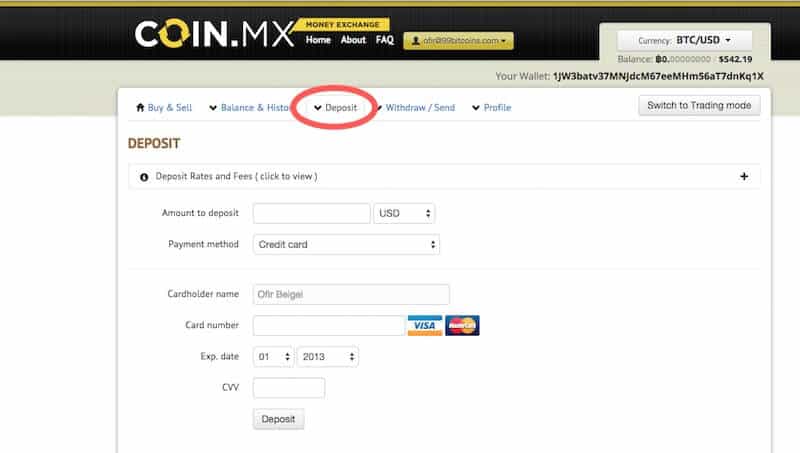 Withdrawing your Bitcoins is pretty easy as well – keep in mind that there's a 0.001BTC withdrawal fee required. Just go to "Deposit", select "BTC" and paste your Bitcoin address. You can read our full CoinMX review here.
Now that we've covered all of the "conventional" methods to buy Bitcoins, let's take a look at some secret hacks to buying Bitcoin with Paypal.