A new report released by the technology research firm Accenture revealed surprising numbers regarding the adoption of Bitcoin between millenials – individuals between the ages of 18 and 34 years old – and high-income respondents, as well as their general feeling towards cryptocurrency.
The study 2014 North America Consumer Payments Survey polled more than 4,000 United States citizens regarding their digital payment preferences and discovered that eight percent of the participants already use digital money.
Also according to the report, "digital currency is a practical reality for consumers today — and usage will only increase by the end of the decade". The numbers don't lie: 18 percent of the participants are likely to adopt Bitcoin by the year 2020, which means both millenials and wealthy consumers could push BTC into mainstream adoption.
The feeling of enthusiasm for cryptocurrency shown by the millenial generation cannot be ignored. A generous slice of the millenials polled – 13 percent – admitted they already use digital money on a daily basis, while 26 percent said that they would likely use BTC in the future.
"Millennials and high-income respondents will be the first to adopt 'the next big thing' and will potentially be willing to pay for it", says the study. Wealthy consumers also showed a high rate of enthusiasm towards Bitcoin with 19 percent of them already using digital currencies and 32 percent expecting to use them by 2020.
"Despite projected growth in use of digital currencies in the coming years, there is work to do to influence consumer awareness and adoption, particularly among people age 35 and over", the report adds, also stating that "current users cite the protection of personal identity via anonymous transactions as the leading benefit of digital currencies. This common view suggests opportunities to build interest in digital currencies around security and privacy advantages".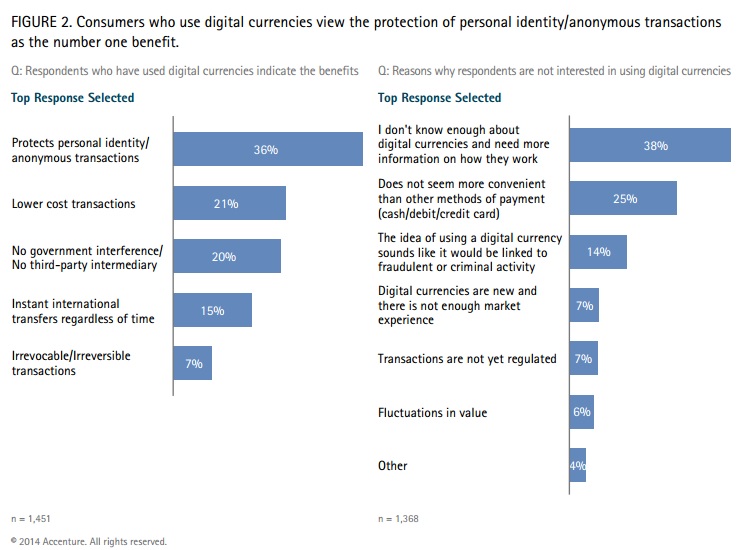 "Consumers who say they are not interested in using digital currencies most commonly point to the lack of information and the belief that digital currencies are not convenient to use", the report points out, suggesting that "for any digital currency to go mainstream, consumers need to be educated and become confident in it as a trusted and easy-to-use payment instrument".
The study's conclusions shows that consumers' habits are changing at the speed of lightning. According to the report, people all over the world "will pay differently in the future, and will value convenience, incentives, and privacy and security no matter how they pay". That being said, "the payments industry must make choices too", a warning especially valid for the banking industry.