South Africa's Standard Bank, a major multinational group and the largest bank in Africa, is running an internal Bitcoin trading platform trial based on technology developed by Switchless.
The news was leaked during the FinovateEurope conference that was recently held in London. According to pictures posted on Twitter and to information published on the conference's blog, this platform that allows investors and traders to buy, sell, store and spend BTC was presented during the event by the co-founders of Switchless.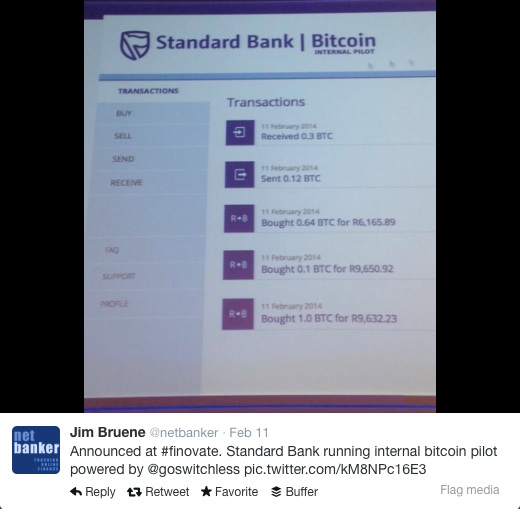 "Our proprietary modular enterprise software allows for partial or full integration into existing financial infrastructures, giving financial institutions maximum flexibility for the unique and complex requirements they face. (…) Our extensive range of exchange, payment and storage modules give financial institutions the unique ability to implement entire crypto-currency ecosystems for their clients", the speakers said during the presentation.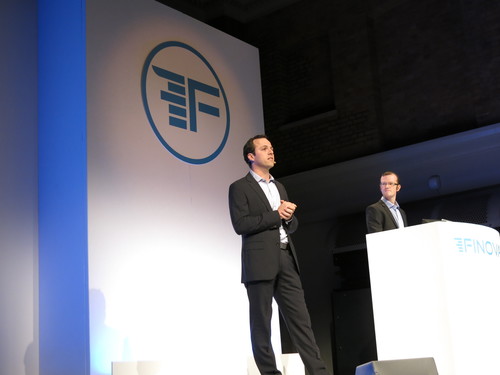 Switchless developed different Bitcoin-related modules that can adapt to the necessities of each type of user:
Broker: Allows end users to buy and sell Bitcoin using traditional currencies. Our broker algorithm searches for the best pricing globally and offers instant and reliable execution.

Vault: Allows end users to store their Bitcoin securely. Our state-of-the-art cold storage system makes use of multi-level security that substantially increases overall security whilst still delivering a frictionless end-user experience.

Merchant: Allows merchants to accept Bitcoin as payment for goods or services, guaranteeing conversion of Bitcoin to traditional currencies at competitive rates. Full integration also means that end users can easily spend the Bitcoin they have purchased.

Controller: Manages the account level end-user environment. It controls interactions with existing banking infrastructure such as online banking and KYC verification, the Broker, Vault and any other Switchless or external modules.
Although the developers declined to comment the issue outside of the conference, a spokesperson for Standard Bank has confirmed that the group is indeed testing a Bitcoin trading platform internally.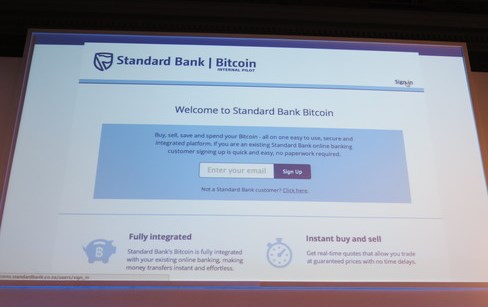 This is the first time a major bank is trialling a cryptocurrency-related software and the expression "mixed feelings" perfectly describes the reaction of the Bitcoin community.
Jon Matonis, executive director of the Bitcoin Foundation, referred to the system on Twitter. He said that "non-US banks integrating Bitcoin directly will lead banking innovation" not long after tweeting the following message: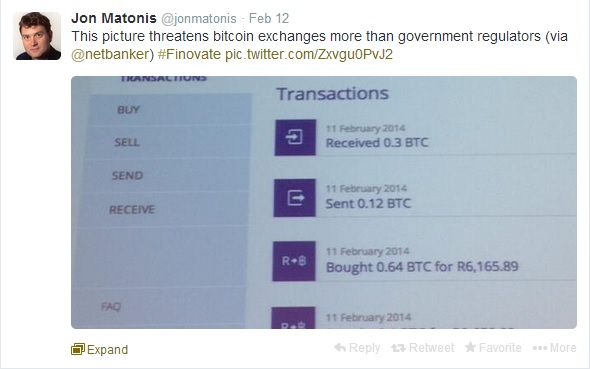 This could be a huge step for the cryptocurrency ecosystem, but obviously also for the banking system worldwide. There is no information so far about how long this internal trial will take, but the potential success of the experiment might lead other banks to consider jumping into  the Bitcoin wagon.
Featured image from Wikimedia