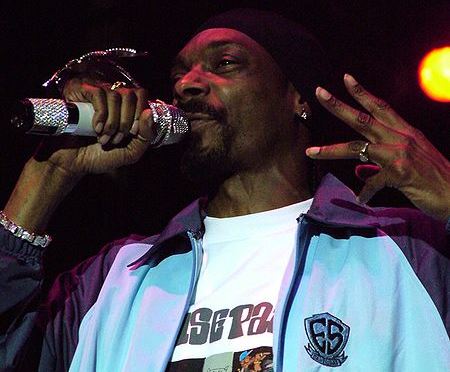 When Snoop Dogg – or the more reggae version "Snoop Lion", as he now likes to be called – announced last week that his next album would be "available in Bitcoins and delivered in a drone", everybody thought he wasn't serious. But, apparently, he really wants to sell his next work, which will be out on December 10th with the title "7 Days of Funk", for cryptocurrency.
Everything started a week ago, when this simple tweet attracted the attention of major platforms like Coinbase and BitPay.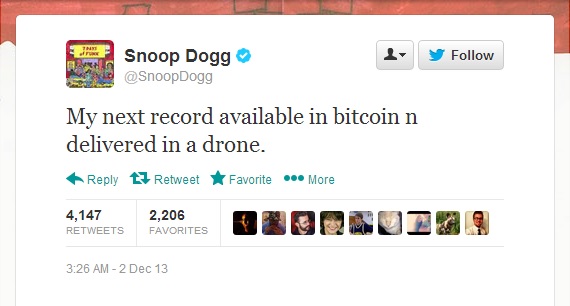 With thousands of retweets, Snoop Dogg's apparent joke quickly arrived to the ears of other Bitcoiners and crypto-platforms. In no time, Coinbase answered to the artist: "we could make the Bitcoin part a reality for you", they wrote. BitPay wasn't shy, as well, saying "Hey @SnoopDogg, we can help you with that Bitcoin".
Snoop Dogg might have taken a few days to answer to the virtual platforms, but his new tweet made the headlines: after asking for more information, the American hip-hop artist wrote "I want to make it happen". This means Bitcoin might eventually get the major support of someone that might not be a famous economist or financial expert, but is a recognized artist and a worlwide known personality.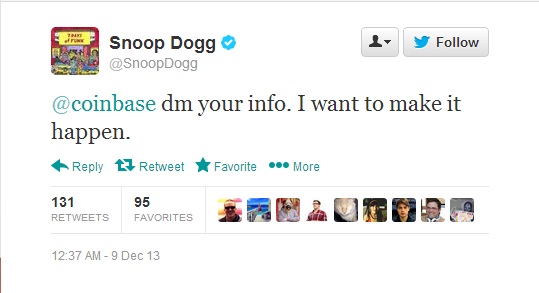 Even though Snoop Dogg seems interested in shaking things up with this move, it could also be a good old publicity stunt. Nevertheless, with the album launching tomorrow (10), maybe we won't have to wait too long to see this happen.
"7 Days of Funk" is the result of a collaboration between Snoop Dogg and Dâm-Funk. According to a press release regarding the new album, the artist says that this is a natural path because he "had funk influences" in his music during his whole career.
Dam-Funk also commented, saying "these beats were made for him [Snoop Dogg] and he laid down some of the smoothest harmonies and melodies I've ever heard. It's hip-hop, but you can also hear what we grew up on, from Zapp to Evelyn 'Champagne' King and Patrice Rushen".
Bitcoin in music and… in The Simpsons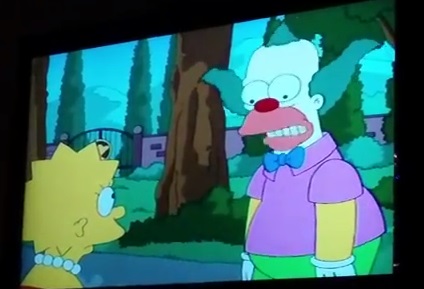 Cryptocurrency wasn't only a hot topic in the music world in the last days, as other entertainer talked about Bitcoin on TV. And by entertainer, we mean a character from the famous series "The Simpsons".
Krusty The Clown was the chosen one. During the latest episode of the show, he said "All it takes is some bad luck at the ponies, worse luck in the bitcoin markets, and heavy investments in a high-end bookmark company", while he talked with Lisa.
The message is not exactly positive, but it means Bitcoin is on TV for everybody to see. What's that sentence advertisers usually say? There's no such thing as bad publicity.
But the Bitcoin community wants more and, in the meantime, there's already a Reddit thread called "I want to see Southpark do an episode on Bitcoins".