Update:  The Kickstarter failed, but the creators of this rig have offered to do individual, custom orders.  They can be contacted via the Kickstarter page, which is linked to in the article.
Bitcoin cloud mining is a juggernaut, even while Bitcoin's future is being held in the air by attempts at Bitcoin regulation and slowing adoption.  At the same time, thanks to Scrypt ASICs, among other things, altcoin mining has begun to grow in a way that seems to be keeping pace, or even surpassing, Bitcoin mining.  This is especially true when you compare the profitability of SHA-256 mining vs Scrypt mining.  That being said, the ASIC takeover has opened up opportunities for using GPUs to profit from the other algorithms, such as the X algorithm family, which was started by Darkcoin and X11, or even using Scrypt ASIC boards in a custom box.
The Digital Gold Rush Is On…In case you aren't tired of the comparisons between the California Gold Rush of 1849, and the mainstreaming of Bitcoin and other cryptocurrencies in 2014, allow me to throw another one at you. It's long been said that it wasn't the miners who got rich back then, it was the guys selling the picks and shovels. With that in mind, I bring you the Sluice Box, a stackable home scrypt mining rig.
What is a "Sluice Box Scrypt Mining Rig"?
At first glance it resembles an ambitious Erector set with some computer fans attached, and that's essentially what it is, albeit one made with aircraft grade aluminum.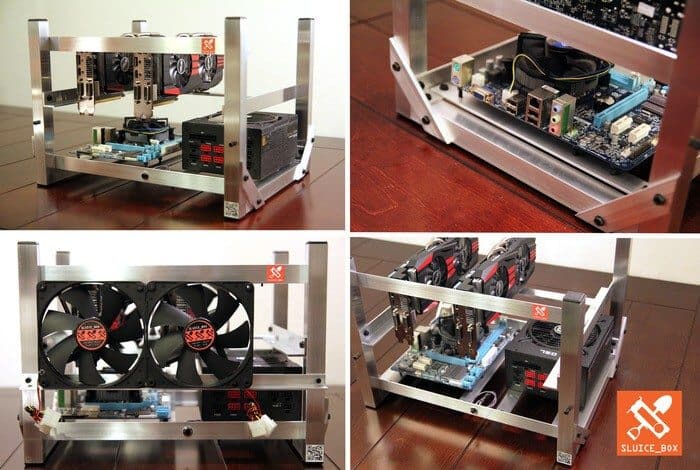 Available now on Kickstarter you can get one of these American-made kits for a mere $99 for the starter model, called the Mini, which can handle 3 GPUs. An additional $50 on your pledge (what they call the "Wind Tunnel Edition") will add four 140mm fans to your mini. The next tier is what they call their "Original Miner's Edition" that can handle six video cards at once and will run you $169. If you want fans, however, tack on an additional $50 for another four 140mm fans.  Or for $500 you can get two SLUICE_PRO frames with 8 fans. Any option you choose comes with a 1 year warranty, a booklet on how to begin mining cryptocurrency, and full access to their web forums for support.
The Sluice_Box was designed by Robert Murray Jr, an IT worker who wasn't happy with any of the existing aluminum mining rigs currently on sale.  He could have gone with a standard milk crate, but he wanted something with a little more class than that, so he decided to build his own. After seeing how well it turned out, he partnered with his father, Robert Sr., another engineer who had more experience with machine work, and friend Robert Aguilar to mass-produce and market the rigs.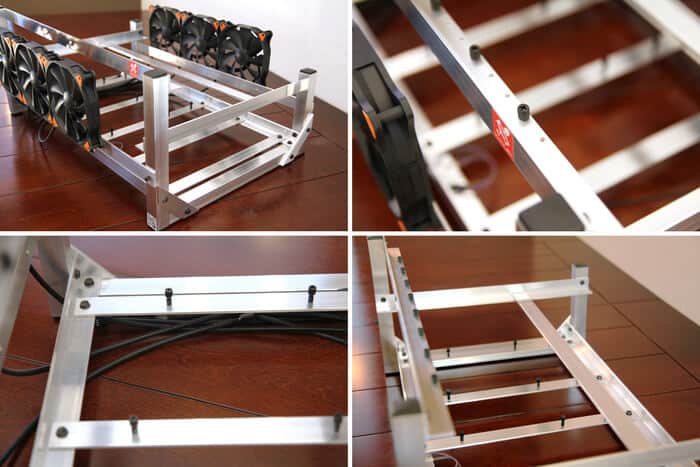 The Mini measures 16"x14"x12" and weighs a solid 8 pounds. On the other end of the spectrum, we find the Pro at 25"x16"x12" and tips that scales at a whopping 14 pounds. If you're looking to build serious mining on a budget, this sounds like a good route to take.
What Perks Does The Kickstarter for this Scrypt Mining Rig Offer?
One final note about those numbers, by the way:  the $99 dollar price for the mini is only available as an Early Bird perk. The same holds true for $169 price of the next size model, the regular price on that one will be $189.  Both the $438 and $498 perks include 8 fans, although that might turn out to be a typo.
With 27 days left on their campaign so far they have raised $338 of their $5,000 goal due to the generosity of two backers. So there's still time to get your miner, if you act now.