The past week was full of good tweets related to Bitcoin. The cryptocurrency is one of the biggest stars of social media and the days between 10 and 17 of June were really fruitful, so we gathered some tweets to show you.

A Reddit user reported that his recently purchased Avalon ASIC miner had already been used to mine digital coins before it had been sent to him. According to some analysis in the Bitcoin Forum post, there is the possibility that the mining has been done during a test, not as a real mining operation. Anyway, the question raises an ethical question.

World War Three is a regular issue in a lot of forums and the ones about Bitcoin can't escape to this topic as well. This tweet was made regarding a heated debate that was occurring here.

So, what would happen to one miner's hardware if Bitcoin died? Especially when this miner has 50 GPUs! However, according to the general predictions and Bitcoin's recent growth and stability, this wake won't be happening so soon.

Fractions of BTC are always able to start some kind of debate… In order to refer to BTC in equivalent value, we have to talk about small fractions of Bitcoins like milli-bitcoin (mBTC) or nano-bitcoin (uBTC).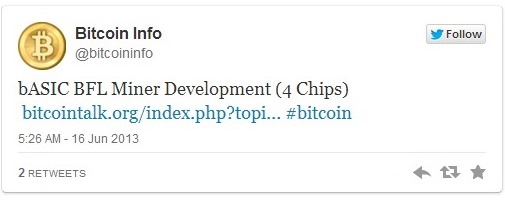 A Bitcoin Forum user, known as allten, posted photos of his ASIC mining rig during its development phase. This DIY devout will be using four ASIC chips cooled by a special system. However, according to allten, his system can be expanded to eight ASIC chips, but will need a customized water block.

This tweet isn't really about news, but more about a wish: a lot of Reddit users have been asking for Starbucks to accept Bitcoins as a form of payment.