Over the weekend Bitcoin entrepreneur Roger Ver set the Cryptosphere on fire when he announced that he was going to donate $10 for every retweet he received about his support for accused Silk Road mastermind Ross Ulbricht. Ulbricht, according to the US government, was the mysterious Dread Pirate Roberts, owner and chief administrator of the notorious Dark Market that helped put Bitcoin on the map. Ver received 160,000 retweets before he announced that he would not be donating any more money to the cause, and he is currently finalizing the amount he is planning to donate to the cause.
The Free Ross campaign, begun by his family and run on the Indiegogo crowd-funding platform, hasn't seen a great deal of activity previously. With a modest goal of $20,000 they have thus far raised less than five, but perhaps this will pick up on the news that Ver is donating so heavily.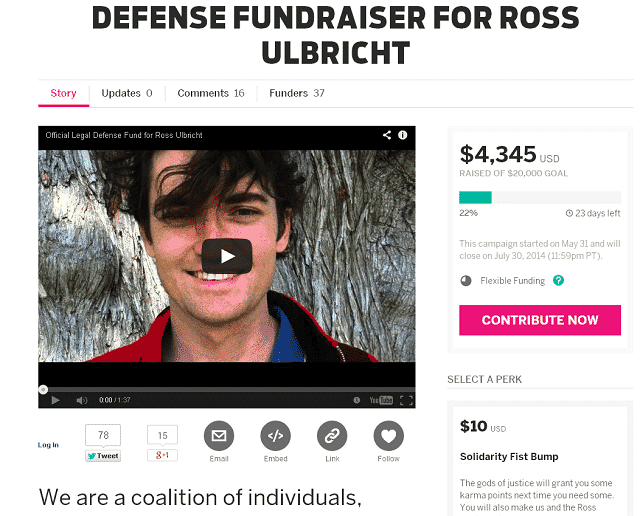 Bitcoin and the Silk Road
The Silk Road opened in February 2011 to little fanfare. In June, however, Gawker ran an article on the site that provided just the sort of publicity that was needed. Traffic to the site increased dramatically, and more news outlets began running exposés about this exciting new use of the Internet. As one customer of the Silk Road said of his experience buying LSD on the site "It's like living in a science fiction novel."
This, to me, was the reason for Bitcoin's initial success. A nearly anonymous currency, that could be used to purchase any sort of drug you wanted from anonymous vendors, at a market place where money was held in escrow to protect both buyer and seller?  If you liked drugs and had an internet connection, how could you not like this?  No one likes buying drugs, it's always a weird experience no matter how often you visit the same dealer. You can see this in portrayed in Pineapple Express, Traffic, Traffic Jam, Requiem for a Dream, and pretty much any other movie about drugs you can name, although some writers/directors have clearly had worse experiences than others.
As Silk Road gained notoriety it attracted customers in droves. In the 18 months it was open the Feds claim DPR and his crew handled over $1 billion in Bitcoin transactions. The press dubbed the Silk Road "the Ebay of drugs" but according to a recent study done by professors of law and criminal science, respectively, it seems that a more apt description would be the "Ali Baba of drugs" as most of the sales were bulk trades.
DPR was a very popular business owner who routinely wrote blog posts about economics and personal freedom, always taking a libertarian tone. His brazen attitude, and apparent contempt for the US government, were definitely motivating factors that led US Senators Chuck Schumer (D-NY) and Joe Manchin (D-WV) to write US Attorney General Eric Holder and ask him to begin an immediate investigation into Roberts and the Silk Road.
The Fed Strikes Back
In response to this request, the Feds organized a task force that included nearly all of its alphabet soup organizations:  FBI, DEA, DHS, IRS, ATF, and the U.S. Postal Inspection and Secret Service. Beginning in Chicago and New York the government began an aggressive campaign to find drug importers, and (their preferred targets) the admins of the Silk Road. The reasoning there was that if they could catch one, they would turn on the others. It was sound reasoning, as everyone learned from the case of Lulzsec shot-caller Sabu:  it's easy to be a tough guy railing against The Man from the safety of the Internet, a lot harder when the police are actually knocking on your door.
The result of this investigation was the seizure of the Silk Road domain, a large amount of bitcoins, and the arrest of several vendors. The prize, however, was the capture of Ross Ulbricht, allegedly the man behind the name "Dread Pirate Roberts."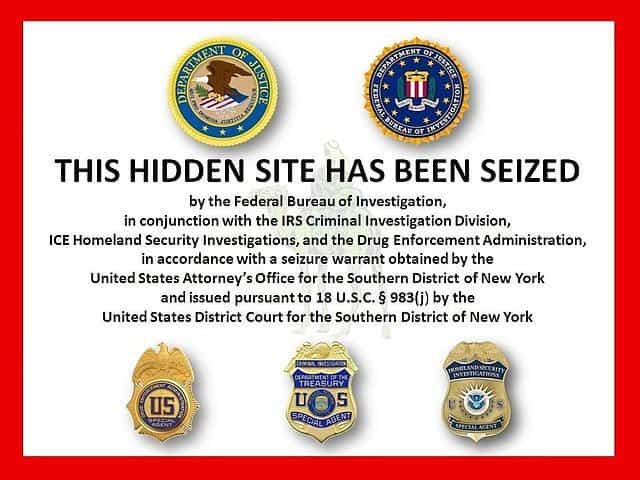 According to the FBI, their investigation showed that Ulbricht created an account on different forums using the name "altoid" to post messages advertising Silk Road, as well as seeking workers. Later, "altoid" told applicants to contact him at [email protected], although he later tried (unsuccessfully) to cover those tracks. Court documents show that the Fed subpoenaed Google to provide information about the accountholder, and authorities also obtained a server image after learning that it was used to host the Silk Road site, giving them access to all the private messages on the site.
The Feds were quick to crow about the arrest, and the media made much of the charges leveled again Ulbricht. In addition to the expected crimes (money laundering, drug trafficking, conspiracy to commit felonies) Ulbricht was also accused of attempting to hire a contract killer to deal with a potential information leak, after one of his employees was arrested as part of an FBI sting operation.
Bitcoin's Champion of the People?
In the wake of his arrest, Ulbricht's family started a website, FreeRoss.org, where they seek to  raise funds for their son's legal defense. The afore-mentioned Indiegogo campaign, with 23 days remaining, has thus far only raised 22% of their goal of $20,000 despite the Ulbricht family painting this as a major moment in individual liberty. The argument being made on the Free Ross site is illustrated in the screenshot below, taken from the Free Ross website.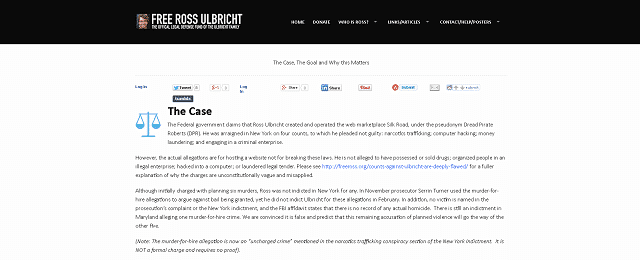 By posting under the name "altoid" and then later posting unique code snippets on Stack Overflow seeking assistance, Ulbricht pretty much announced himself to be DPR to anyone who has the time and money to do the digital archaeology to find out. (The Federal government, for instance.)  Realizing that he had posted these snippets under his own name, he hastily deleted his account, then reposted under a different name and email address, but the damage was already done. The Feds had realized who he was and were in the process of building a case, using all the resources at their disposal.
Ulbricht's family, unless I am misunderstanding this, is making the argument that, even if their son is Dread Pirate Roberts, who cares?  All he did was provide a place for people to buy drugs for their own personal use, a personal choice that the government shouldn't be interfering with. It's an extremely Libertarian argument, and highly popular with that community (although they don't seem to be coming out in droves to donate money to his legal fund, it should be noted).
What everyone seems to be ignoring, however, is that the Silk Road sold more than just drugs. It also sold forgeries, hacking tools, stolen Paypal accounts, and credit/debit card numbers.  Perhaps if drugs really were the only commodity on sale at the Silk Road this case would have more popular appeal. As it stands, however, DPR looks less like a Libertarian hero, and more like your typical gangster, especially if the allegations that he attempted to hire a hitman are true.
The trial is set to begin in November.  At the moment, the outlook is grim for Ulbricht, but only time will tell what his true fate will be.