The Bitcoin ATM manufacturer Robocoin is launching its new Ambassador Program, which is gathering commercial representatives around the world to sell and promote the company's machines.
The rules of the program state the ambassadors are tasked with finding potential Robocoin operators and help them purchase the machine. Promoting the Bitcoin ATM in the local market is also a goal. Each closed sale will result in a compensation of $10,000 for the ambassador, Robocoin guarantees.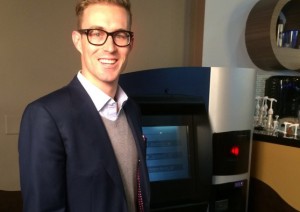 "We are really excited to move forward with this program. We have already seem some amazing Ambassadors yielding incredible sales on every corner of the world", Jordan Kelley. CEO of Robocoin, wrote on Reddit.
However, the reward won't come immediately. "For each Robocoin you sell you'll earn 25 percent of our fee revenue until you've collected the full $10,000 USD in Bitcoin", the company explains, also claiming that these representatives won't only be promoting Robocoin, but also cryptocurrency.
You aren't just a Robocoin Ambassador, but you're an ambassador for Bitcoin. Your job is to source incredible operators, teach them about Robocoin and help close the deal.
The Las Vegas-based firm is looking for people who love Bitcoin and understand Robocoin's role and importance to the ecosystem, as well as potential representatives who are deeply connected to their local crypto-community.
According to Kelley, the Robocoin Ambassador program is "a great way to get people from all over the community engaged in Robocoin operations. Thus far, people see Robocoin ATMs as Bitcoin's on-ramp to the masses. The more people involved, and that means people who may not have the bandwidth or capital to operate, the better for Bitcoin".
To become an ambassador, all you have to do is visit the program's official website and send your information to Robocoin.
Images from Robocoin