It hasn't even been a month since I last reported on the war for the heart and soul of cannabis cryptocurrency, but I think it is safe to say that the war has ended. A cheap copy-paste ripoff appeared on the scene and was widely ignored, while Dopecoin continues to quietly exist, lurking in the shadows of the the crypto movement while not actually doing anything except take up space, but really there were only two contenders:  Potcoin and Cannacoin.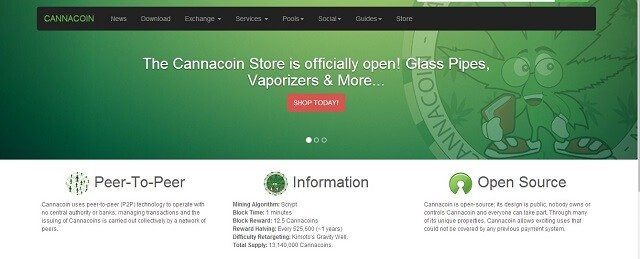 For a brief moment it seemed as if Cannacoin might actually make a power move as the development team produced a slick new website, and expanded the coin's presence to a second crypto exchange, Bittrex, giving potential adopters two places where they could purchase cannacoins. They even announced their first market place, adding much-needed utility to their coin. However, the selection of goods was severely limited, despite constant assurances that the developers were in negotiations with the biggest names in the Washington State MMJ market.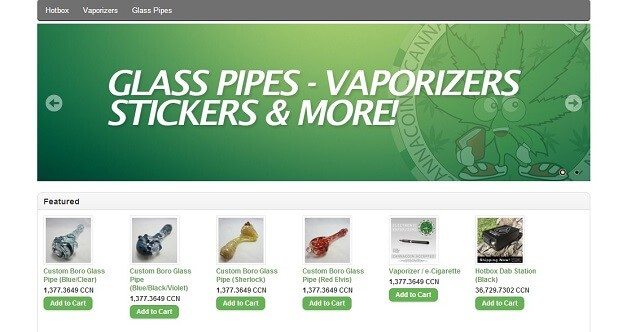 So far these attempts at gaining credibility, and market share, have failed to have the desired effect. The price of Cannacoin has continued to fall, down to $.00927755 as of the time of this writing (6/21/2014 8:31 am) with no reason to expect that trend will end. As seen in the graph below, Cannacoin has seen some sharp spikes in price, each of which coincides with the updates mentioned above, but overall the trend is downward.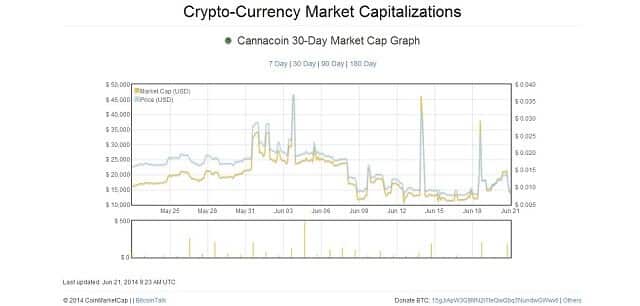 Potcoin, on the other hand, has been making serious, determined moves in their attempt to become the dominant force on the cannabis scene, making almost daily announcements about real, actual developments. Like Cannacoin, they have also redesigned their website (even snagging the .com suffix) keeping their classic silver-white-green motif yet going for a slick, 21st Century design that is undeniably sexy.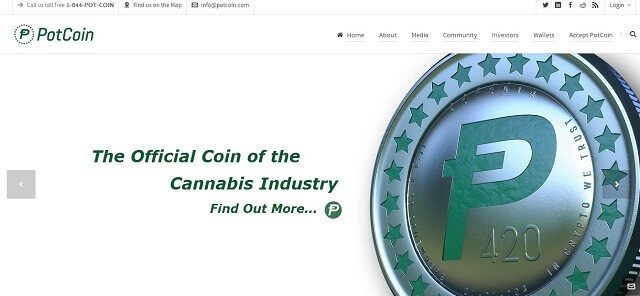 The dev team has moved their headquarters to Old Montreal, and tripled the number of merchants accepting Potcoin to 22, including Amsterdam-based Azarius, a pothead favorite since 1999.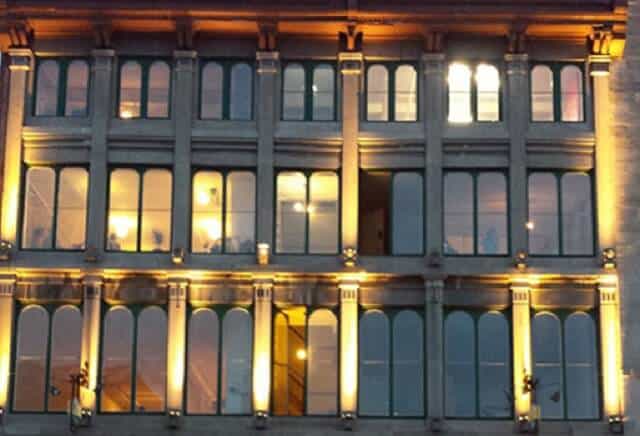 They have also joined forces with Potcoin contributor (and fellow crypto journalist) Bobby Gooding, better known as Ironhammer5, to sponsor Potfunder, a crowd-funding site whose first campaign is to finance research into the treatment of the birth defect Fragile X Syndrome. In the 3 days that Potfunder has been online it has added another charity, the Cannabis Health Service, a non-profit based in the UK, and bounties for open-source Potcoin wallets.
This news has been greeted very favorably by the market, as seen in the graph below, where the price of Potcoin can be seen on a more-or-less steady upward trend. The price has fluctuated as early adopters and selfish miners have dumped their holdings in response to upward ticks, but notice how the declines are rarely precipitous.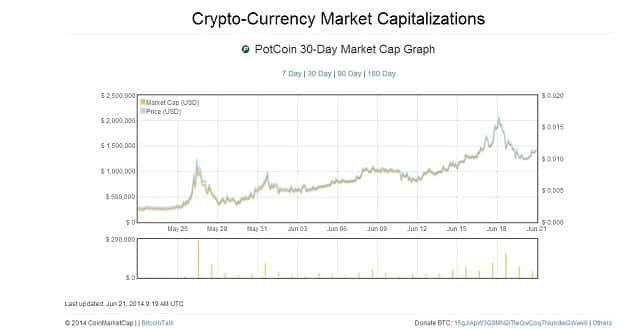 Past performance is never a guarantee of future trends, however, but I have reason to suspect the Potcoin is about to break out in a major way. And that reason was unveiled yesterday when Potcoin debuted their pre-paid Potcoin cards, a game-changing advance in cryptocurrency distribution. The biggest stumbling block in consumer adoption of cryptocurrency is access, and preloaded cards will shatter that barrier while simultaneously spurring merchant adoption, creating a positive-feedback cycle that will drive the price of Potcoin higher.
That's the theory, at any rate. Only time will reveal if this strategy will be successful, but I for one will be carefully tracking this. Potcoin will be represented at the San Francisco Cannabis Cup on June 28-29 where they plan to distribute Potcards as part of their Summer of Potcoin promotion.