Prime XBT review – A Beginner's Guide
Last updated: 8/18/19
Prime XBT is a relatively new trading platform for trading cryptocurrencies and other assets such as stocks and commodities. This review will cover my experience with the exchange and what you need to be aware about before using it.
Prime XBT Review Summary
Prime XBT is a trading platform providing cryptocurrency, Forex and commodity markets combined with leverage options. The features and fees provided by the exchange are extremely competitive and promising. The exchange is unregulated and works with cryptocurrencies only.
While the exchange opens up great opportunities for profit, using excessive leverage combined with an unregulated platform can lead to large losses, so trade responsibly.
That's Prime XBT in a nutshell. For a more detailed review keep on reading, here's what I'll cover:
---
1. Company Overview
The company was launched in 2018 from Seychelles, operating a global dynamic trading platform aimed at cryptocurrency traders. It's hard to pin down a lot of company information but it has grown exponentially after almost a year in business.
A customer-centric expanding platform, large market selection and high leverage options appear to add competition to industry leaders in margin trading like Bitmex.
As a completely Bitcoin-based exchange, Prime XBT operates in an almost borderless global manner with minimal compliance to regulation.
---
2. PrimeXBT Services
The trading platform offers a wealth of options not seen on many Bitcoin-based exchanges. I say Bitcoin-based as all accounts are funded only by Bitcoin.
100x leverage cryptocurrency markets are the flagship service with 5 different assets to choose from.
Forex trading markets add to this selection with leverage up 1000x. An incredibly high margin and something generally only found on unregulated Forex platforms.
Prime XBT also offers high profile indices to trade against including S&P500, FTSE100 and JAPAN, as well as such commodities as Gold, Natural Gas, Crude Oil, Silver and more.

All trading is carried out in one slick trading platform that boasts customizable widgets for users to design their trading view.
Covesting integrates directly with the trading platform allowing users to view and mirror the tactics of other proven traders.
---
3. Currencies and Payment Methods
Customer accounts are completely Bitcoin-based. This means deposits, withdrawals and account balances are all kept in Bitcoin.
Upon deposit, there is a neat API linked to Changelly which allows users to buy Bitcoin or exchange altcoins into Bitcoin for trading purposes.
Bitcoin, Ethereum, EOS, Litecoin and XRP are all available to trade in Bitcoin or USD pairs. It makes up a decent selection of coins for a margin trading platform although fewer options than Bitmex.
Forex trading adds the big fiat currencies to the trading roster with Australian Dollar, Euro, British Pound, US Dollar, Canadian Dollar, Swiss Franc and Japanese Yen on offer in various pairs.
Be aware that while you can margin trade on these markets, fiat currency support is minimal with no deposit/withdraw options (i.e. you'll need to withdraw your profits in Bitcoin).
---
4. PrimeXBT Fees
Prime XBT tries to be as transparent as possible when it comes to fees. With so many different trading markets provided it is important to understand when and where you will be charged.
For example, day trading without margin creates a different fee structure to longer-term leverage.
The cryptocurrency fee is 0.05% for all trades, no difference for the maker or taker. This is a comparable price to competitors.
Margin trading adds an overnight financing fee which is about $8.00 per day per 1BTC for long trades and may vary depending on market conditions.
Since fees vary from asset to asset be sure to check carefully here before starting to trade. Be careful as overnight/days are calculated in UTC time so be sure not to initiate trades around midnight UTC! There are reports of other users not realizing this and acquiring surprise fees.
---
5. Limits
Various limits apply depending on what assets you trade.
Minimum order size is 0.01BTC. Quite a high minimum trade, especially if you just want to try out the platform. Many other exchanges allow you to trade with just $1 or a few satoshis.
Maximum single trades and maximum exposure are both set at 100BTC. So you can leverage your way to $1 million trades should you fancy.
You can see the full list of Prime XBT limits here.
---
6. Supported Countries
The platform is advertised as a global exchange, but Prime XBT is not available for traders from the US. This is due to the company's aversion to regulation which is growing, especially in the States. However, there is no in-depth verification process that allows them to identify such customers.
Running Bitcoin only accounts does create a borderless trading exchange everywhere else though. No fiat support means no need to comply with local banking restrictions. A trait of many cryptocurrency only exchanges.
The service has a decent language selection too, including English, Chinese, Spanish, Korean, Portuguese, Russian and Turkish.
---
7. Customer Support and Reviews
I didn't have a very good experience with the customer service offered by Prime XBT. There is a live chat function on the website, however, for a long while it was unresponsive, we're talking a couple of hours. Then when a reply did arrive it simply pushed me a support email contact.
Upon emailing the supplied email address, no reply was returned. Company stats supplied for this review claim that the average response time is 9 minutes, so this may have just been a singular case.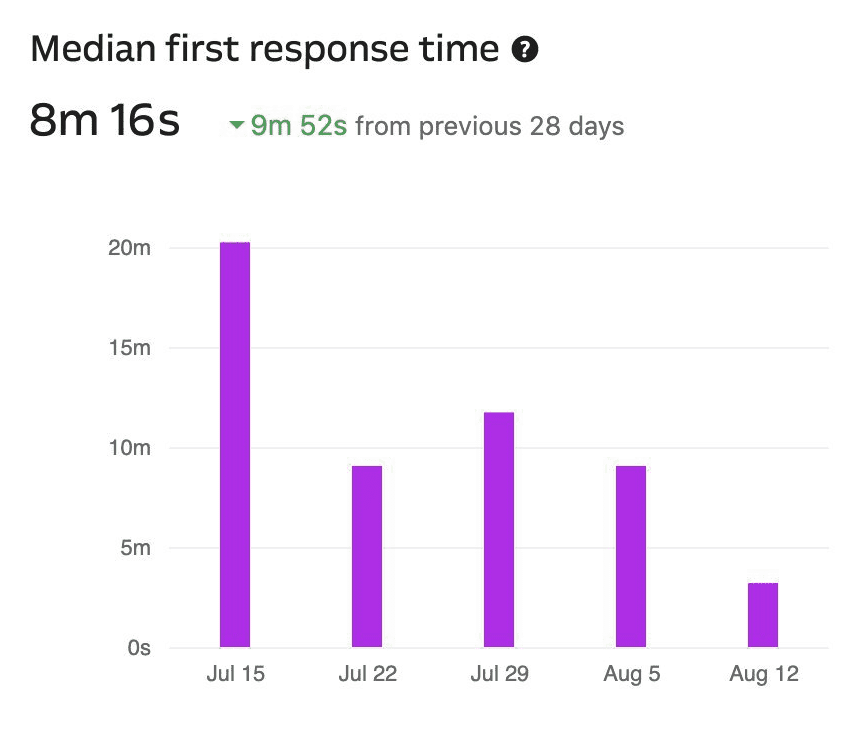 The company also supplies a knowledge base and video tutorials that help users understand the platform fast and easy.
Plenty of glowing customer reviews appear when checking out the companies reputation. Many 5-star ratings have been left on review sites, however some people question the reviews legitimacy.
For example, forum members on BitcoinTalk have accused staff posing as customers along with pointing out some interesting anomalies.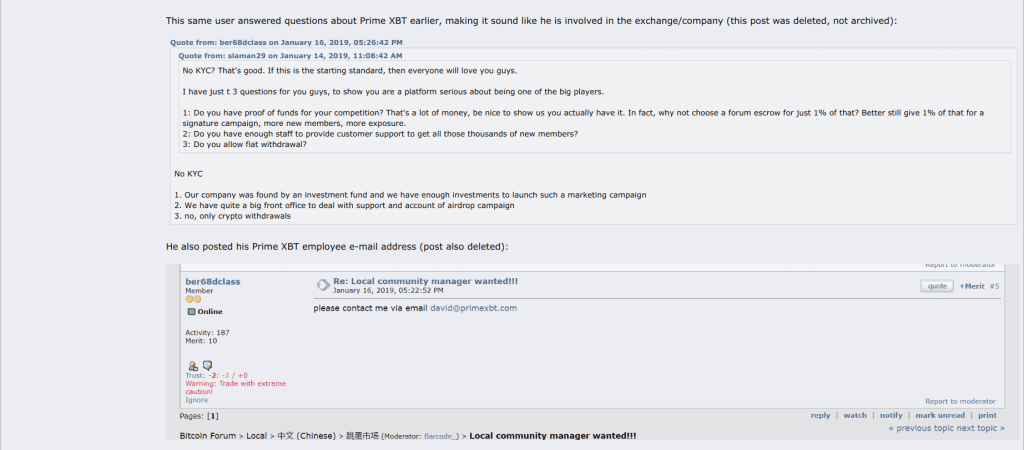 However the company itself says they don't have any official presence on BitcoinTalk and that it may have been a scammer trying to cheat people out of their funds.
---
8. Conclusion
Prime XBT is a nearly worldwide advanced trading exchange with a plethora of markets and features. The user interface is friendly and even allows a customizable widget setup. Fees are generally low and there is freedom for customers to trade with plenty of leverage.
A few points do exist with little company information available, customer support that didn't live up to the expectations in my particular case and a relatively new company that hasn't gained enough reputation in the cryptocurrency space.
Overall a neat product, but keep in mind that while unregulated exchanges are extremely flexible, they also have no oversight. So be aware and don't leave money lying around in any exchange if it's not in use for trading.
Also, excessive leveraging may lead to losing money faster than intended, so only use leverage if you're an experienced trader.
Have you used Prime XBT Yourself? Let me know what you think in the comment section below.