I was trying to think of something witty and insightful for my first post as a Coin Representative for Potcoin, but recent events and developments have meant that I am left with no choice but to try and round them all up into an introductory article. The fact that some of these developments flew below my own radar until recently should tell you something. So without further ado, here is a summary of everything Potcoin – spliced with a bit of personal analysis – to illustrate the reasons why I thought, and now know, Potcoin is where it's at (daddio)!
Potcoin Has A Great, and Growing, Development Team
While the whole of crypto has only recently become obsessed by Proof-of-Developer, Potcoin was ahead of the curve and has only continued to outstrip the competition. The official website, Potcoin.com, has to be one of the most comprehensive, slick, user-friendly, and multi-faceted cryptocurrency-based website out there, with dedicated media, merchant, investing, community, and merchandise portals (including T-shirts and pre-loaded PotCards redeemable online). All developers and management have long been named, with profiles featuring details of their vast, collective experience in a variety of capacities. Recent editions to the team have seen appointments in sales, marketing, and social media coordination, and I am particularly stoked about the addition of Matt Bernier for web development given his considerable skills, experience, and general crypto-nerdiness. On top of this, the Potcoin Developer Programme is, in effect, gathering together and supporting the skills of the community. Additionally, not only have Potcoin settled into their new offices in Montreal, they have a toll-free number emblazoned on the top-left of the website homepage. Which other coin has that?
Summer of Potcoin and the Potcoin Ambassador Programme
As much as it turns some people off (RIP Bill Hicks), marketing is a crucial aspect of any venture and needn't be an inherent evil. The Summer of Potcoin promotional tour is in full sway, with the crew working hard to promote Potcoin with stands at the recent Cannabis Cup in San Francisco, and the American Glass Expo in Las Vegas. Yet it's not only the developers working to promote Potcoin; the commission-based Potcoin Ambassador programme is also underway, with community members being signed up around the world and supplied with promotional packs to promote Potcoin to vendors in their area. Face-to-face communication is evidently a major focus of the whole team, and the eagerness with which so many are willing to put their face behind the cause bodes well for the future.
Potcoin's PotLabs
The recently founded PotLabs (new website in the works) has been hard at work following the creation of Potcoinjoint, a popular community forum with freshly integrated IM and chat-room features. Their current project is PotWallet, an online wallet with SMS (North America only at present) and Email Potcoin transfer facilities. Now you can email anyone some POT, and the resulting process will guide the beneficiaries seamlessly through the creation of a PotWallet to receive their coins (which can be cancelled until redemption). Following this feat, their next goal is the creation of a Local Potcoins site complete with escrow for buying and selling Potcoins off-market. Expect a lot more from the synergies evolving between these guys, the developer team, and the the community… just don't expect them to be shouting about it. Watch this space closely!
Potfunder for Potcoin Supported Charities
While Dogecoin and Bitcoin, among others, have had their share of charitable drives, Potfunder focuses the Potcoin community on specific goals. Established by community heavyweights @deemington and @Ironhammer5 – the latter having recently been promoted into an official position as Potcoin social media co-ordinator – Potfunder is a slick and already much-loved Potcoin institution-in-progress raising large sums for charity and development bounties. The first charity drive target was smashed out of the park, with $2000 (200k POT) raised for FRAXA, a charity organization developing a cannabis-related treatment for Fragile X Syndrome. With so many health benefits of cannabis just waiting to be accepted by the medical community, or more to the point, by governments, expect this to become a very worthwhile theme that can hopefully garner the mainstream attention it so thoroughly deserves.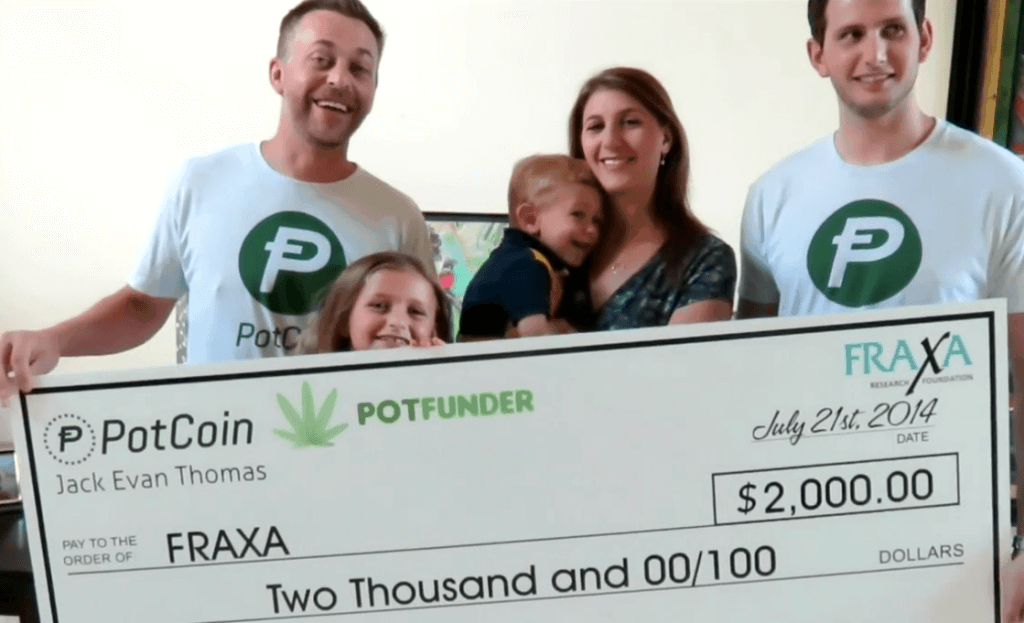 The Cultural Niche of Potcoin
Thousands of years of independent and linked cultural evolution has gone into the smoking of cannabis, from Hindu's, to hippies, and beyond. There is already a universal culture to draw upon; make the OK sign with your fingers, and now put your joining fingertips to your mouth – it is almost as universal a sign-language as tapping your wrist to ask someone the time. History has shown that altered states of consciousness, combined with a shared history of oppression, is a pretty damn tight basis for a community, and this is particularly true in a newly connected age that is collectively and rapidly delegitimising said oppression. That's a strong cause for a coin community, including the developers, to believe in.
Crucially, that community also implicitly includes the majority of potential vendors who, more-often-than-not, are stoners themselves, and have more than a simple monetary drive to help support the Potcoin. Vendors are signing up all the time, including Europe's biggest online head shop Azarius.com, giving Potcoin real-world usage that the community actively wants. You can even buy seeds with Potcoin, and while you'll have to check laws in your area, that's a helluva guaranteed return on investment in the medium-term!
The Potcoin Community
The pot smoking community, as well as being global and diverse, have disproportionately more time on their hands to contribute to growing the community, trading, and using Potcoin with vendors. Pot smokers are, I imagine, also disproportionately more active internet users, and are certainly a disproportionately creative bunch. Already, the community have been the source of many of the achievements of Potcoin; Potfunder and PotcoinJoint have already been mentioned, but additionally there is the Potcoin news site HighonPotcoin (again, thanks to @ironhammer5) featuring regular podcasts – including developer hangouts – broadcast and recorded live; the development and release of a beta-stage Electrum wallet; the Reddit tip-bot to supplement an active sub-reddit, and a general vibe that is exactly what you would expect from a bunch of pioneering potheads. It's a nice place to visit, but it's an even nicer place to stay, and one that allows you to happily bag-hold, regardless of the current price, so long as it keeps you tied together as a group.
In Conclusion, My Thoughts on Potcoin in the Long-Term
Potcoin has every attribute required for long-term success. Competent and passionate developers that interact and feedback off a dedicated and growing community, a target niche-market that is so broad and global that it feels odd to even call it a niche, a serious amount of time and creativity capacity on which to draw upon, and a wonderful mixture of professionalism and lulz, with even Chevy Chase getting in on the act at Montreal's "Just for Laughs" Festival. What's more, Potcoin has emerged at a great time within the wider context of sweeping decriminalization efforts not only in the States, but consequently around the world. Every lobbying attempt, every bit of press interest represents an opportunity for Potcoin to not only push it's own interests, but also more lofty goals in the fields of health and justice. For those interests are one, and it is for this reason above all those I have outlined that has led me to commit to this coin.
Do your own research, and I look forward to joining everyone in welcoming you to the fold.