Portugal might be one of the few European countries where Bitcoin hasn't really turned into a trend. Actually, most people don't even know what cryptocurrency is and there are no reports of any merchants accepting BTC. Nevertheless, the country will soon witness the arrival of its first Bitcoin ATM.
Yet, 'arrival' might be a strong word. The Lamassu machine won't have to travel a lot of miles, since the devices are being produced in the northern region of the country, where the ATM will be installed. The American company responsible for the machine decided to manufacture the ATM in Portugal since the beginning of the process. Even its designer, who talked to 99Bitcoins a while ago, is Portuguese.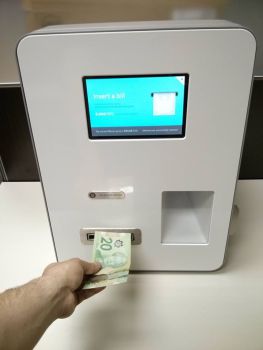 The Bitcoin exchange device, which allows the users to quickly buy BTC using fiat currency, will be located in Matosinhos, near the more famous city of Porto. However, the specific location of the ATM is not known yet.
Back in July 2013, the designer Cláudio Castro said that, "although this kind of currency is almost unknown in Portugal, there is already a lot of information available".
At the time, he told 99Bitcoins that "Portugal's ignorance towards this kind of currency" left the country "one step behind" in the game. "However, I believe that things will change in the next year (…) I believe that Portuguese people will, eventually, start to use Bitcoin. Over the years, Portugal has always been a distrustful  country towards new things, but sooner or later we always yield to new trends", he added. And he was apparently right.
The Portuguese manufacturer that is producing the ATMs is keeping its identity anonymous. Still, Lamassu has announced that 120 machines are currently being built in the European country, after the first 40 units concluded in 2013.