Overstock unveiled an impressive piece of technology on Tuesday (4th): a blockchain-based trading platform.
Overstock was already a major player in the Bitcoin community, being one of the first global companies to accept cryptocurrency for purchases. Now the company has unveiled its long-awaited equity trading platform.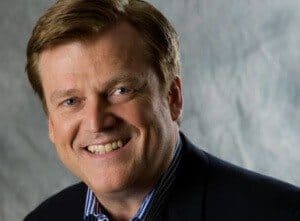 The oddly named 'tØ' platform, which is pronounced "tee-zero", could potentially revolutionize the trading industry. Patrick Byrne unveiled the trading platform at the NASDAQ stock exchange headquarters in New York yesterday.
The platform, first announced in 2014, will allow for the trading of public and private equities via instantaneous transactions. Byrne believes that the technology could reduce 80 to 90 percent of systemic costs since settlement currently makes up most of the overall costs.
If his predictions are proven true, the new platform could potentially disrupt the entire global financial system, ushering in a new era of secure and low-cost trading.
[tweet_box design="default"]Overstock has unveiled its long-awaited equity trading platform named tØ. The company plans to completely revolutionize the industry.[/tweet_box]
Byrne has already announced a partnership to test the platform with the Industrial and Commercial Bank of China (ICBC), which is considered the world's largest bank. He also claimed that five other banks, which will remain unnamed for now, agreed to test out the tech.
Byrne has been a big supporter of Bitcoin, in part thanks to his generally libertarian political views. The idea of a government-free currency has been popular among libertarians. The famed CEO emphasized, however, that the tØ trading platform is going to be ledger agnostic. This means that it will be able to work with any decentralized ledger.
In other words, the new tech isn't Bitcoin-specific, but instead borrows Bitcoin's now famous blockchain technology. Many financial experts have been predicting that blockchain tech will revolutionize the financial industry, owing to its potential to disrupt the current technology market. Now it looks like Patrick Byrne has made the future come early.
However, it should be noted that Byrne put his money where his mouth is in regards to supporting cryptocurrency. Each attendee at the event was given $25 dollars worth of Bitcoin. Beyond the monetary gift, digital money was largely left out of the discussion. Instead, the blockchain itself was the key focus.
Blockchain technology has emerged as a hot topic lately, with numerous financial, non-profit and government experts referring to it as a potentially disruptive technology. Long story short, blockchain technology essentially allows for the decentralized processing of vast amounts of data, thus allowing the entire Bitcoin currency to exist without any need for a centralized processing center or even overseeing authority.
Where there is huge amounts of data that needs to be sorted and tracked, blockchain technology could prove to be the source of cost saving innovations.
Numerous other companies are working on blockchain-based technology. The NASDAQ itself is also working on a similar trading platform, though it's unclear if it will rival Overstock's platform or will instead target a different market.
The continued development of blockchain-based technologies should help push Bitcoin into the spotlight. Even if cryptocurrency is not directly involved with a given technology, it's unlikely anyone will be forgetting that the digital currency was the initial source of inspiration.