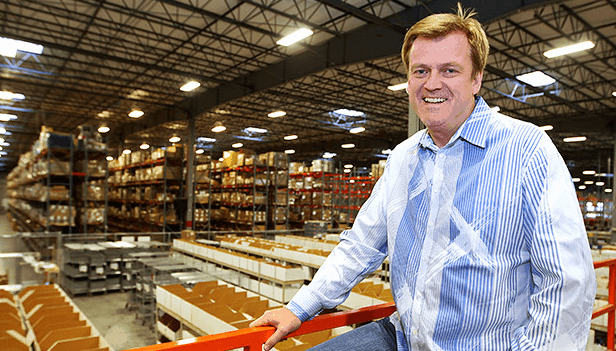 Overstock bitcoin sales – Overstock is one of the early adapters of bitcoin payment. The online retail company started accepting bitcoins as payment soon the virtual currency started going mainstream and they're now ripping the benefits. Overstock CEO Patrick Byrne reported today (May 27, 2014) that the company racked in $1.6 million worth in bitcoin sales. The reported Overstock bitcoin sales should pump up bitcoin a little bit and encourage more fortune 500 companies to start adopting and accepting bitcoins as payment giving how well Overstock is doing.
Overstock Bitcoin Sales
Overstock reported bitcoin sales around $1 million about two months ago. The new report today shows a $.6 million increase in Overstock bitcoin sales. Overstock started accepting bitcoins as payment in January and Overstock hippy CEO Patrick Byrne, although unintended, become one of the early figureheads for the bitcoin community.
Related: Cheapair Now Accepts Bitcoins for Hotels and Flights
Mr. Burne gave an interview to FOX Network program Opening Bell where he stated that:
"Bitcoin is tiny at this point, but it's growing about 25% a month. In terms of actual transactions in a day, I think it's $300m a day. It's surpassing PayPal, at this point, in terms of transactions. […] But, it is growing very quickly."
Overstock Bitcoin Sales – CEO Patrick Burne Discussed Accepting Bitcoins

Video Credit: Overstock Newsroom
Mr. Burne was one of the featured keynote speakers for Bitcion2014 in  in Amsterdam, Netherlands; one of the biggest and most popular bitcoin conferences bringing bitcoin enthusiasts and investors from all over the world together to discuss ways to advance bitcoin, bitcoin security, platforms etc. Burne seems to fall short of Overstock bitcoin sales projection. He projected back in March that Overstock will bring in roughly $3-$5m to as high as $10-20m in bitcoin sales.
Nonetheless, that is a milestone for bitcoin and the bitcoin community. Bitcoin enthusiasts and investors should feel very good about the prospects of bitcoin and the virtual currency's future. This is really +1 news for bitcoin!
Source: Coindesk