Last updated on March 17th, 2015 at 05:29 pm
Although six percent of Americans still think Bitcoin is an Xbox game, 42 percent already knows what this name means: a virtual currency. Still, 46 percent still have no idea about what Bitcoin represents, a poll published by Bloomberg revealed.
The answers were obtained between December 6 and 9 through a telephone survey that questioned 1,004 Americans with a margin of error of plus or minus 3.1 percentage points. Here is a chart released by Bloomberg: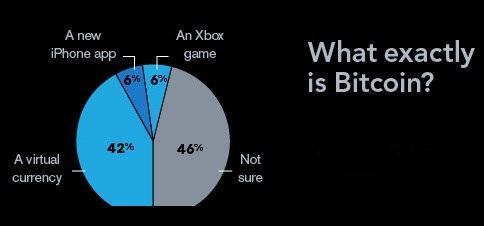 Now, take a look at some of the opinions registered by the authors of the poll:
I'm not sure what the value of it is, and what I'd be able to exchange it for.

Olga Ruff, 62, Dallas

I don't necessarily know if it's something I would think about using to make purchases.

Jeremy Labadie, 32, New York

There was someone who was using it for something illegal, and it took the FBI a long time to sort it out.

John Berg, 62, Minnesota

With all new systems, they need time to develop, and regulation can come later. It seems like something to watch and see how it goes.

Matthew Gouaux, 35, San Francisco
Maria is an experienced journalist currently living in the UK. She has been writing about Bitcoin and the altcoin universe since 2013. She is also a member of the Lifeboat Foundation's New Money Systems Board and a big cryptocurrency supporter.