The forecasts say that it will arrive in August. We are talking about the new Bitcoin ATM machine created by Lamassu, which presented the device during the recent Bitcoin London conference.
The machine allows users to convert bank notes from over 200 countries into digital currency in just 15 seconds and its developers will start accepting pre-orders really soon.
Each device will cost around $4,000, but the price is not scaring any possible buyers. According to the co-founder of Lamassu, the company has received inquiries from the four corners of the planet. "I don't want to speculate at this point, but we have received over 80 inquiries from more than 40 countries. We are optimistic that we will see our machines in all continents by the end of the year", Zach Harvey told CNBC.
Soon, Lamassu's creation might be available at places like coffee shops, restaurants and retail units, which are the main targets of the startup. "We met with our Portuguese design and manufacturing team today [8 July] and we expect to start accepting pre-orders within two to three weeks", he added.
Zach Harvey states that some of the buyers "would like to have a single machine in their retail establishment, others would like to distribute large quantities in several different countries". The entrepreneur claims that "there are many different business models" for the machine, "but the basic premise is the same: let anyone purchase Bitcoin".
So, how does it work? It's quite simple. The owners of Bitcoin accounts can download a software to their smartphone that enables them to scan a matrix code on the machine while they deposit their money. Then, users only need to insert dollars or other currencies into the machine and the digital Bitcoin account receives the currency now transformed in digital coin.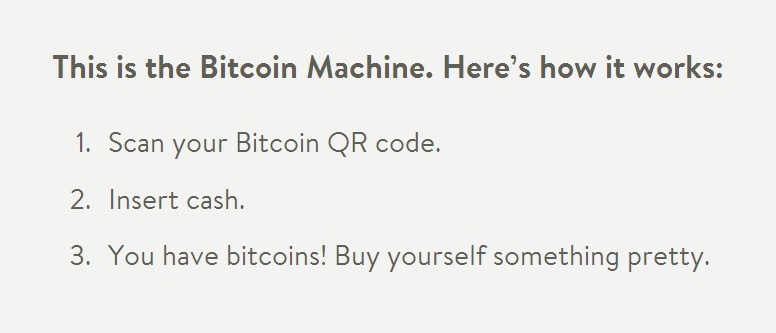 For now, the prototype can only accept deposits, but a lot of new features will arise in a near future, Zach Harvey assures. "One of the main differences is that our Bitcoin Machine was built from ground up to be a Bitcoin kiosk, and the other projects are traditional ATMs with some software modifications", so there's a lot of room to grow.