One of the most common questions I get asked by our users is how can I invest my Bitcoins. I'll start out by saying that I'm no investment expert but throughout the year and half I've been dealing with Bitcoins I've gained some insight about the different options for investing. This post lists my own personal and uneducated opinion about Bitcoin investments – use it at your own risk.

Option #1 – Keep your Bitcoin for the long term
This option is as simple as it sounds. Buy as much Bitcoins as you can afford losing (don't ever invest an amount you can't afford to lose) and hold on to them until they reach a profitable target goal. For example, I bought my first Bitcoins when they were $120. Even if I sell them now I'd still be at a 350% profit. My personal opinion is that the price of Bitcoin will rise as it gets more and more mainstream so I prefer to use times like these when the price is low to buy and wait for at least a 20% profit before selling. You won't find a better ROI (Return On Investment) anywhere else.
Option #2 – Loan Bitcoins to "strangers" for a steady monthly yield
One of the more promising startups I've encountered lately is BTCJam. The site acts as a peer to peer lending network were you can lend your Bitcoins to strangers that are in need of a loan and they are committed to paying you back under certain terms. The annual percentage rate (APR) for these types of loan can reach almost %20 which is huge.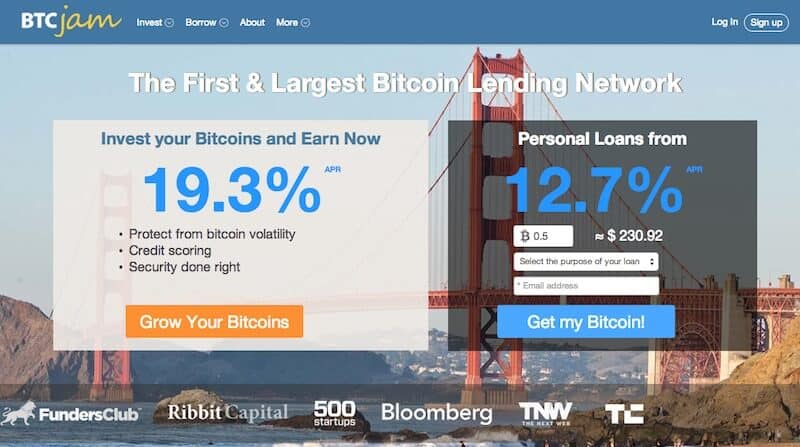 This investment method is a bit risker since you are trusting someone you do not know to pay you back. Having said that, keep in mind that all transactions are done through BTCJam and that loaners have specific credit scores according to the amount of credibility they have (verification of identity, paid out previous loans etc.).
I loaned my first Bitcoins this month and am currently waiting for my first payment to come in, once I have it I will update how much profit I made from this transaction. The advantage of using this method is that if all goes well you are actively increasing your number of Bitcoins month by month. For the record – I'm not affiliated in any way with BTCJam.
Option #3 – HYIP (High Yield Investment Programs)
About 2 months ago I was introduced the the concept of HYIP. The basic idea is that you invest some money and get a high yield on that money pretty quickly. Almost all of these programs are complete scam. At the time I wasn't aware of this and decide to take my chances on a website called MyDailyBitcoin (the site is no longer active). The site promised to give you a 10% return daily for the amount you invested.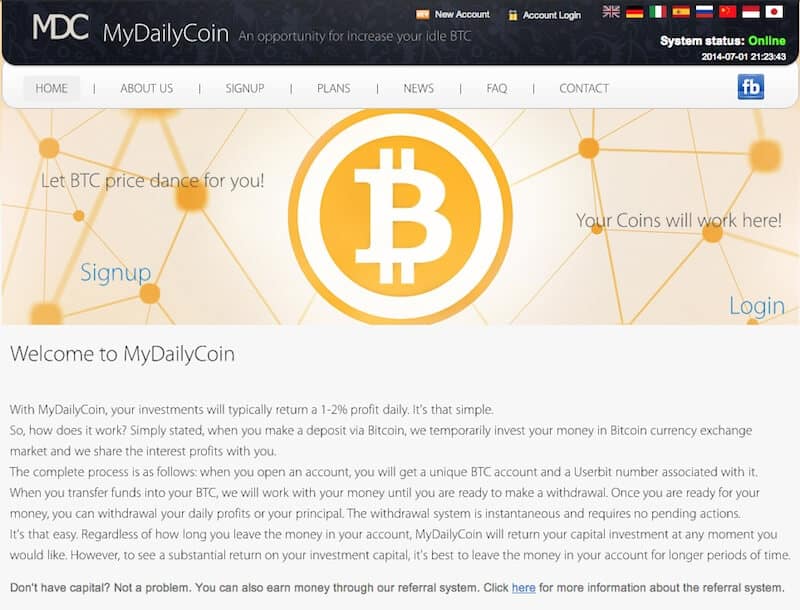 Since I was pretty skeptical I initially invested a small amount of 0.1 Bitcoins. I waited for 2 weeks and saw that I actually got paid what I was promised. I then invested a larger amount of 1 Bitcoin. About a week or so after the site became inaccessible. I've searched the Bitcointalk forum and found a post debating the legitimacy of MyDailyBitcoin. Reading through the threads it seemed that MyDailyCoin was closing shop and several people stated that if you send your public address to a woman name Alana Tor you will supposedly get a refund.
I was hesitant about this since the email was just a general email address ([email protected]) not even related to the domain MyDailyBitcoin.com – this is typical of Bitcoin scams. Also, no actual verification was required other than sending your public address and your email address. After debating this for a while I decided to actually give it shot. Amazingly enough I got my refund, but as I continued to read through the post on BitcoinTalk I saw that I was lucky – many people didn't get any response or refunds from MyDailyCoin.
To sum it up I would advise you to avoid any HYIP investments you find. If you're still considering such an option I'd look for an informative "about" page of the company which includes actual people and their personal profiles on LinkedIn or Facebook. I'd also inquire a bit about the investment process and of course not spend more than I can afford to lose.
If you have any other forms of investments you use to profit from your Bitcoins I'd love for you to share your thoughts about them in the comment section below.
Update: Following this post I got a lot of emails with other various investment opportunities which I will list here. I am not affiliated in any way with these site nor do I recommend them since I haven't had any experience with them. Use these sites at your own risk.
Bitcoin Trader – Another HYIP that so far seems to be paying out for most people that contacted me and also has some testimonials on Google + which seem to be legit.
BTC Lending Club – Seems to be some sort of a HYIP (400%+ APR) although they claim to make their money through lending and borrowing just like BTCJam.