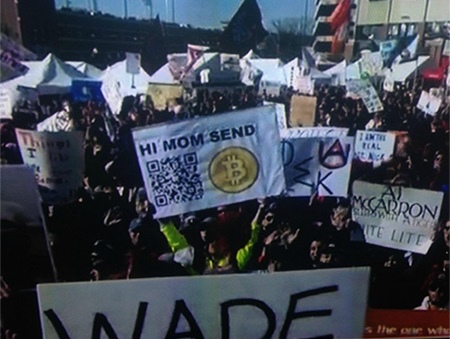 Sometimes a funny image can go viral, but a lot changes when that happens within the Bitcoin community.
Check out the example of this college student from Auburn University, in Alabama, who became the star of the most recent ESPN's College GameDay, a college  football show that is filmed at a different college campus each week. He simply waved a Bitcoin sign on TV that said "Hi Mom, Send [Bitcoin]" with a Bitcoin logo and a QR code representing his wallet address. In a few hours, he received around $25,000 in cryptocurrency, according to the current exchange rates.
After the guy appeared on television, some Redditors enhanced the QR code from the screen and identified his wallet, Yahoo reports. Soon, the image became viral and got to Reddit's front page, encouraging people to donate Bitcoins.
Total, the college student got more than 100 transactions with 22.33 BTC. Some donations were really generous: apparently, four Bitcoiners donated 5.3 BTC, 4.7 BTC, 4.2 BTC and 5.8 BTC.
The student was already identified as BitcoinPitcher2 on Reddit. In the meantime, he announced he would only be keeping 2 BTC and giving the rest of the donations to Sean's Outpost, the homeless shelter and outreach in Pensacola that helps people through Bitcoin power.